A Guide to the Best Shows in Munich
For the opening week of Various Others, here are five unmissable exhibitions to see this autumn
Tony Cokes
Kunstverein München
10 June – 11 September
Haus der Kunst
20 June – 23 October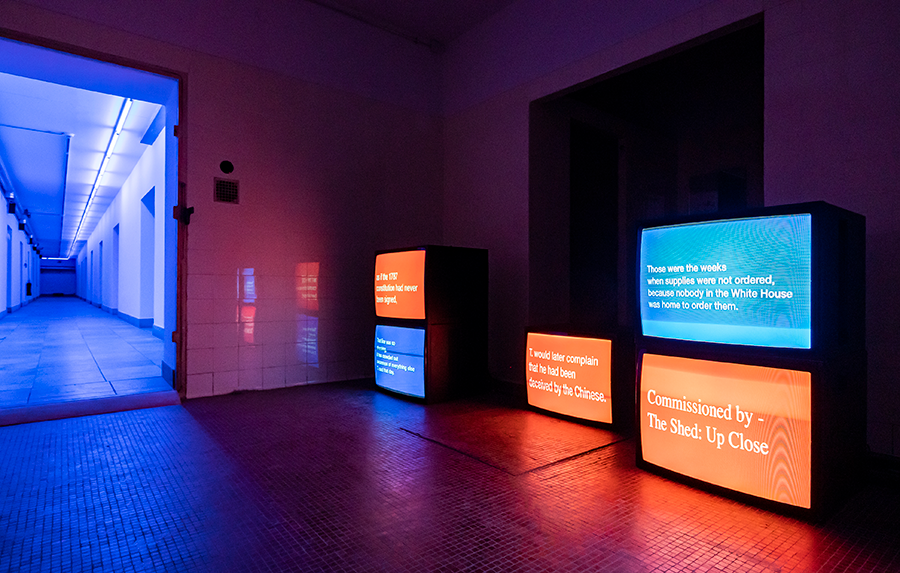 'There's nothing rocket-sciencey about [my work],' Tony Cokes told frieze contributing editor Shiv Kotcha earlier this summer. While this may be true, it's arguably the simplicity of Cokes's video installations – flashing found text set against brightly coloured backgrounds combined with pulsing pop music – that makes them so mesmerising. For his first institutional solo exhibition in Germany, initiated by a joint invitation from Kunstverein München and Haus der Kunst, Cokes examines the chequered pasts of both venues by drawing attention to historical events. In particular, he looks at the Nazi-era 'Degenerate Art Exhibition' (1937), which took place in the building that now houses Kunstverein München, and the city's 1972 Olympic Games, which aimed to clean up the country's image after Berlin's infamous 'Nazi Olympics' in 1936.
Christine Sun Kim and Thomas Mader
Kunstraum München
10 September – 23 October
For the last ten years, artist couple Christine Sun Kim and Thomas Mader have collaborated on projects that spring from their experience of communicating in American Sign Language as a native and a non-native signer. For 'Attention', at Kunstraum München, the duo has installed a vinyl drawing with directional arrows that depict the hand gestures for 'look here' and 'look there'. The wall piece is part of a larger installation, also titled Attention (2022), which unfolds in the next room and features a set of comically oversized inflatable arms that mirror these signs. Kept erect by fans – like the wacky 'tube men' used to advertise car dealerships – the arms twitch and gyrate against a rock acquired from a local quarry. Get up close and you can see that part of the rock has been worn smooth, as if the artwork's demand for attention has taken its toll. By its reference to the dopamine-releasing – yet anxiety-inducing – act of scrolling through social media, the exhibition appears to critique our attention economy while being, at the same time, irresistibly 'grammable.
Paula Rego
Jahn und Jahn hosting Victoria Miro, Cristea Roberts Gallery and dépendance
10 September – 15 October
In her 2021 portrait of Paula Rego for frieze, author Katherine Angel describes the characters in the late artist's 2002 work Convulsion as 'a kind of nightmarish apparition'. I feel the same about the etching Circumcision (2009), currently on view at Jahn und Jahn, which depicts a young girl being held down by older women while a looming figure prepares to mutilate her genitals. Despite the work's shocking subject matter, the sympathy etched into the face of the woman who cradles the girl's head eschews easy moralizing. Other quieter, more tender drawings on display are dedicated to historical female figures, including Jane Eyre (2022) and Study for St Christina (2009), in which the saint is shown rowing a boat with a baby strapped to her back. It's unclear where she's heading, but she looks determined and fearless, her strong hands capable of weathering any storm.
'(un)forgiving, surprising, blessing'
Nir Altman hosting LC Queisser and Sundy
10 September – 30 October
A collaboration between three galleries dedicated to showcasing emerging talent, '(un)forgiving, surprising, blessing' brings together a trio of young artists working with sound and language. Emmanuel Awuni and Won Cha's wall-based paintings and collages draw on personal memories of living in the diaspora (Awuni was born in Ghana and lives in London; Cha was born in South Korea and lives in Philadelphia), while Paris-based Ndayé Kouagou's contribution begins, as all his work does, with a self-penned text. In this case, he pairs three poems with fabric collages. How do they connect? I dare not speculate: one of these poems appears to chastise the viewer for expecting the answer to such an obvious question. 'That's the problem with you, you always want things to be related,' it reads. 'Well, that's not how life works.'
'Future Bodies from a Recent Past: Sculpture, Technology and the Body since the 1950s'
Museum Brandhorst
2 June 2022 – 15 January 2023
What will bodies look like in the future? This large-scale exhibition, spread across two floors of Museum Brandhorst, presents artistic responses to this question that range from the 1950s to the present day. 'It's about visions of the future', explain the curators in an accompanying video, but also about seeing what predictions have stood the test of time. Inspired by emergent heart transplant technology, for example, Joachim Bandau's sculptures – such as Transplantationsobjekt VI (Kölner Spritze) (Transplant Object VI, Cologne Syringe, 1968) – presciently imagine the body as a collection of interchangeable parts. Decades later, Aleksandra Domanović's work continues in this vein: Mayura Mudra and Little Sister (both 2013) are 3D-printed upgrades of the Belgrade Hand prosthesis, which was first designed by Rajko Tomović in 1963 for soldiers who had lost their hands in World War II.
Main image: Paweł Althamer, Bródno People, 2010, installation view at 'Future Bodies from a Recent Past—Sculpture, Technology, and the Body since the 1950s' at Museum Brandhorst. Courtesy: the artist and Sammlung Goetz, Munich; photo: Elisabeth Greil