Featured in
How Curator Okwui Enwezor (1963-2019) Changed the Course of Art
A tribute to the Nigeria-born poet, critic and 'most important curator of his generation', who persistently bid us to open our eyes
Last time I was in touch with Okwui Enwezor, in January of this year, he wrote a message saying he was optimistic he would pull through. I'm still shaken by the news this morning that, incredibly sadly, he didn't.
We had been in touch because of my research for a newspaper piece about circumstances at Munich's Haus der Kunst after he had stepped down from his position as Director there in June 2018, at a point when it had already become publically known he had been battling with cancer for years. That turn of events had been anything but gratifying, as major exhibitions that he had still programmed, by Joan Jonas and Adrian Piper, had been cancelled by the institution, citing budgetary problems. There had been an underhanded tendency of one of the institution's representatives to scapegoat the institution's problems on its former Director. But this is not a moment to engage in refuting these petty accusations. What Enwezor's death at the age of 55 abruptly brings to mind is how he has achieved no less than changing the course of art.
Born in 1963 in Nigeria, Enwezor moved to New York City in 1982. I never got to talk to him about these early years, but in retrospect – thinking of his elegant, precise, yet uncontrived eloquence in conversation and writing – it doesn't seem surprising that his path towards curating had started out with his studies and practice of poetry in the New York downtown scene. First coming to prominence as an expert curator of African contemporary art and photography – for example with his Johannesburg Biennale of 1997 and his widely acclaimed show 'In/Sight. African Photographers 1940 to the Present' at the Guggenheim that same year – he was appointed Artistic Director of Documenta 11 in 1998. The following years, culminating with the Kassel exhibition in 2002, became a key period for contemporary art in general. Enwezor clearly emerged as one of the strongest curatorial and intellectual voices to tackle the art world's persistent Euro- and Western-centrism, and his Documenta was a radiantly persuasive argument to radically open your eyes, to just open your mind to global art. Smartly he achieved this not least by juxtaposing the work of hitherto underappreciated figures of the Western canon with non-Western counterparts, highlighting affinities and contrasts that were as intellectually stimulating as they were aesthetically satisfying. I have to think, to give just one example, of how he created a wonderful space at Kassel's Kulturbahnhof in 2002 by bringing together Isa Genzken's coloured glass models of skyscrapers – eerie back then, in the immediate aftermath of 9/11 – with David Goldblatt's piercingly observant documentary photographs of post-Apartheid Johannesburg, laying bare the effects of racism on the very way urban environments are structured; and Bodys Isek Kingelez's mind-blowing utopian dream model cities, glamorously crossing Las Vegas with Lagos and Dubai modulations. This was literally a conversation between works, and Okwui had made it possible.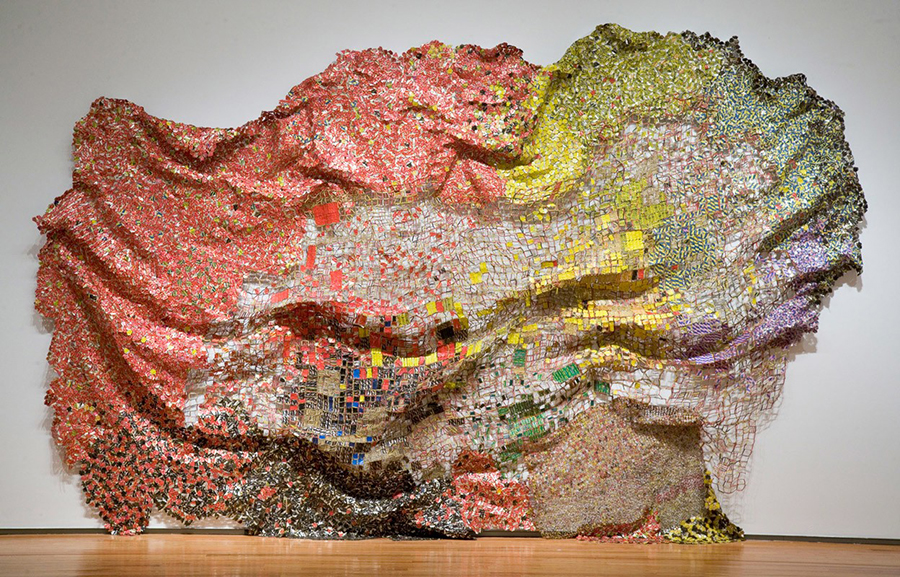 He went on to helm a string of important major exhibitions, including the Gwangju Biennial in 2008, the 2012 Paris Triennial and 2015 Venice Biennale. His thematic group exhibitions, as much as his time at the Haus der Kunst from 2011 until his 2018 resignation, set him apart from a class of curators mainly thriving on associating themselves with big solo names and shows, instead continuously proposing thematic group shows and constellations that redefined art history well into the present in the wake of post-colonial and decolonial thought, while pushing the envelope of what should be accepted as the 'canon'. The 2016–7 Haus der Kunst exhibition 'Postwar: Art Between the Atlantic and the Pacific, 1945-65' (curated with Katy Siegel and Ulrich Wilmes), with its pioneering research on and presentation of artists from around the globe doing significant work in that period, now stands – much too early – as the final keystone of this bold and brilliant endeavour. With no overestimation, Enwezor was perhaps the most important curator of his generation, who has paved the way for the next.
This article appeared in frieze issue 203 with the headline 'Okwui Enwezor 1963-2019'
Main image: Okwui Enwezor at the Venice Biennale, 2015. Courtesy: La Biennale di Venezia; photograph: Giorgio Zuchhiatti