Kelly Reichardt's Tender Vision of the American Frontier
'First Cow', the director's seventh feature film, which began streaming 10 July, offers a humanistic alternative to the grand myths of Manifest Destiny
The poet Robert Frost had it wrong: depending on how you look, America isn't, in fact, that hard to see. Violence and political turmoil, endemic to the history and founding mythologies of the US, are memorialized and recapitulated across the country's art and literature. With painterly precision and a keen, sedulous approach to the intimate details of landscape and setting, Kelly Reichardt has been steadily refashioning the familiar favourites of American genre film – Westerns, capers, heists, road movies – on her own terms, imparting upon her viewers ways to look anew at land, nation and people, and the subtle relationships that undergird them.
In First Cow (2019), Reichardt's seventh and most recent feature film (co-written with and adapted from Jonathan Raymond's 2004 novel The Half-Life), these relationships are yoked to capital: how it quickly defines the fate of man and country, how it seeps into daily life. Announced subtly with a languid shot of a barge moving across the pristine blue waters of the Columbia River, the opening scene recalls the rumbling freight trains that commence her 2008 film Wendy and Lucy. Like all of Reichardt's feature films – with the exception of her 1994 debut and one of the greatest Florida films, River of Grass, and 2016's Certain Women, which is set in Montana – First Cow takes place in Oregon. In the present day, the chance discovery by an unnamed woman (Alia Shawkat) of two skeletons, buried side by side in the dirt, transports the viewer across time and place to the 1820s, when the territory was still largely untrammelled wilderness.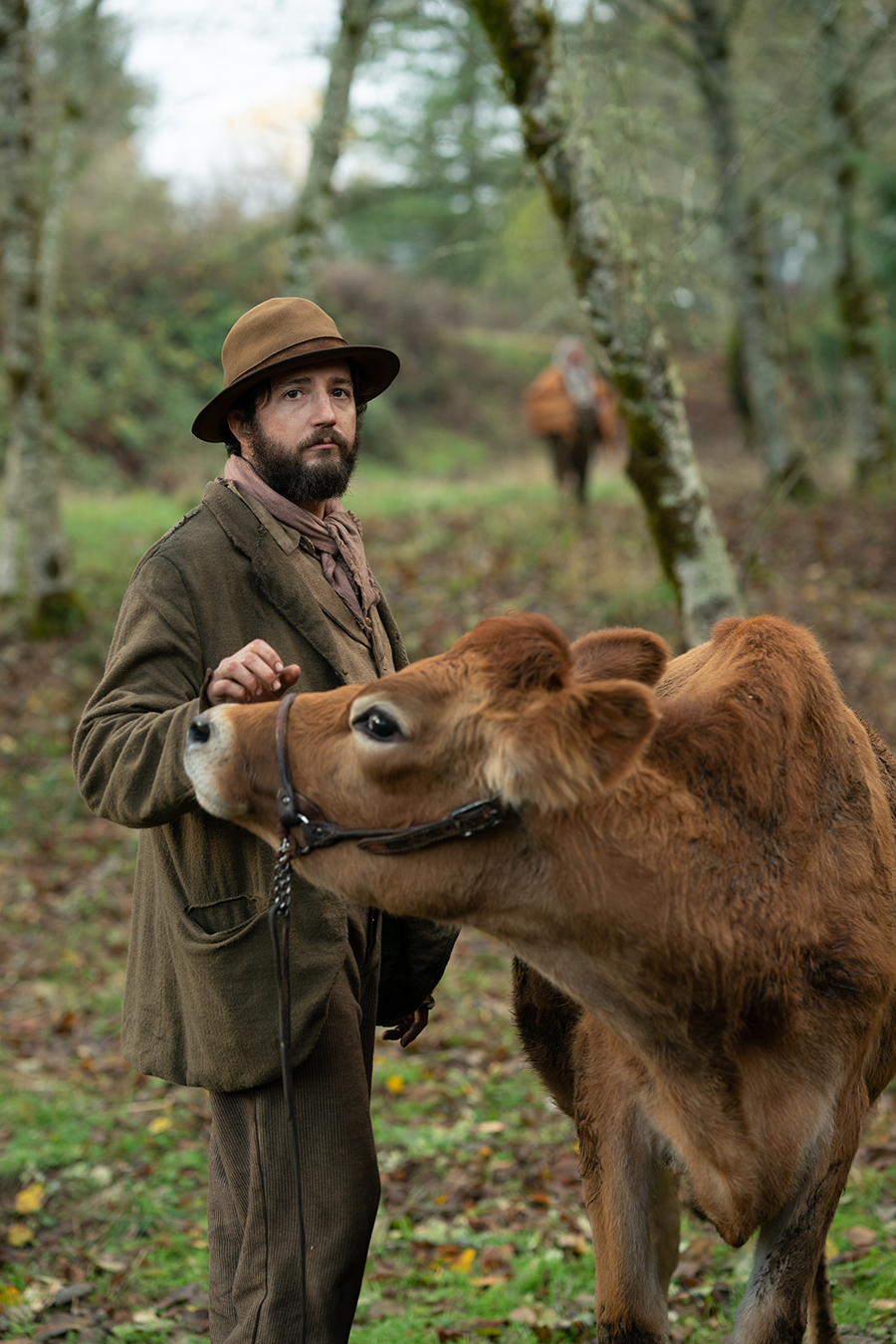 Against this prelapsarian backdrop, Otis 'Cookie' Figowitz (John Magaro) scrounges the dirt for vittles to feed a crew of rowdy fur trappers. His gentle demeanour indicates that he is different from the rough crowd: Reichardt lingers on Cookie's delicate movements through the lush forest, observing as he turns over a supine salamander. 'This is a land of abundance,' Cookie's companions remind him, and the fecund shots of the landscape reinforce this claim. Here, in the dead of night, he encounters a naked and hungry King-Lu, a Chinese immigrant who claims to be on the lam from Russian soldiers. From the very beginning, Reichardt imbues their relationship with a tenderness so sincere it is barely noticeable except in small gestures: the blanket Cookie drapes over King-Lu as he sleeps, the look King-Lu casts toward his new companion as Cookie hides him from the rest of the crew, indicating his trust before the two separate. A hallmark of Reichardt's minimalist style, these incandescent moments propel plot, shape character and render setting; they insist that what defines us is not a matter of circumstance, but a sustained compassion toward others.
Following a chance encounter in the settlement – which Reichardt renders in a beautiful cacophony of Chinook dialects, the clang of sharp silver coins and the sounds of domesticated animals – Cookie and King-Lu reconnect and start up an easy friendship. Here, Reichardt's protagonists, as in her past films, are drifters in search of a better life, though rarely are they certain of that life's contours. Orphaned at a young age and once apprenticed to a baker, Cookie 'never stopped moving' and hopes to one day open a hotel for itinerants; King-Lu claims to have been everywhere from 'London to Africa', but senses opportunity in the Pacific Northwest. 'History isn't here yet, but it's coming,' he insists to Cookie. 'Maybe this time we can be ready for it. We can take it on our own terms.'
When the titular cow, the first in the territory, arrives on a barge, King-Lu hatches a scheme to steal its milk in the dead of night to make and sell 'oily cakes' to the settlers. His joint venture with Cookie becomes a lucrative business. The Hudson Bay Company's chief factor (Toby Young) finds in the fried doughnuts a taste of his native England and invites the pair to serve a clafoutis to impress a visiting captain. As Cookie tests out recipes, King-Lu broods over what price to charge for the dessert; their visions for happiness are starkly contrasted by the value they assign to success and the price they are willing to pay for their ambition. What becomes of their ambitions is secondary to the faith they have in their power to shape their own lives.
Cookie and King-Lu's hopes align with those of the thousands who sought their fortunes in the Western US, their claims to manifest destiny ushering a wave of settlement and expansion. Yet, by homing in on the discrete moments that comprise their relationship and their journey toward mutual understanding, Reichardt has crafted an origin story from small, humanist details, rather than grand narratives of successes and failures. And, in this story, the promise of freedom, that abstract claim hewed to nationalist mythmaking, is portrayed in all its contexts and held up in the light.
Main Image: John Magaro in First Cow, film still, 2020. Courtesy: A24, New York, photograph: Allyson Riggs