Featured in
Craft Works
Alexandra Bircken uses found objects and lost materials to create wildly associative and unruly sculptures
A giant sheet of chainmail stands propped against a wall. The latticed interlocking coils glint in the sunlight piercing the high lancet windows of the almost empty former chapel. Following the loops of steel is a test in concentration. Their simple repetition clashes with the overall visual noise of the piece.The links seem to be cascading, matrix-like, downwards or running horizontal, like endless rows of the letter 'O' generated by a finger stuck on a computer keyboard. In front of this work, Uknit S.V. (2011), slats of mirror lie in rows in the middle of the floor (Abyss, 2011). Two square openings in the mirror surface break the image of the reflected ceiling while mimicking two trapdoors in the roof itself. The clean, minimal lines of the slatted mirror jarr with the visually dissonant scene of the ornate ceiling decorations reflected in the surface. Blackened beams and cornices overload the clean simplicity of the floor piece.
The Cologne-based artist Alexandra Bircken seems to revel in the oscillating difference between simple units of production and their repetition into ever more tangled structures. Note the title of the chainmail piece, punning between the abstract 'unit' and the direct 'you knit'. Often using the interlocking loops of knitting, Bircken constructs individual works with repeated motifs, relying on the mechanical gestures of craft while producing autonomous sculptures. In her sculptural practice, the artist rummages around in the attic for found materials and in the basement of art history – drawing on assemblage, Minimalism, installation and Modernist sculpture while casting sideways nods to historical and contemporary practitioners. Comparisons have been made to artists such as Joseph Beuys, Eva Hesse, Isa Genzken, Ernesto Neto and Rosemarie Trockel. Like with Beuys's faithfulness to felt and fat, Bircken's fidelity to the knit, the weave, drapery and hosiery – techniques more akin to the fashion industry – is also underpinned by a biographical detail: Bircken studied Fashion rather than Fine Art at Central Saint Martin's College London in the early 1990s.
Her show at Studio Voltaire, London in 2011 featured not only Uknit S.V. and Abyss in the cool materials of steel and mirror but also more customary homespun knitted fabric and wood pieces. These works clung or tarried close to the edges of the hall, physically distant from the mirrors on the floor yet, like the ceiling, visible on their surface, depending on the position of the viewer. Birch Field (2011) – interlocking squares of cloth knitted with birch branches and mortar – protruded from the wall opposite Uknit S.V. The chequerboard segments are punctuated by a medley of different sized holes, which recalled both a nesting box for birds and a flag for a child's den. On a step in a corner, Knochen (Bone, 2011) also looks as if it has been found in a nearby woodland – from a distance conch-like; closer up, a desiccated beehive – yet the work is actually a lump of knitted wool, cast in bronze.
Harvesting materials from natural sources, Bircken patches up, stitches together or reassembles them in a DIY repurposing of discarded odds and ends. Her sculptures and assemblages are populated by a motley constellation of bric-a-brac, scraps, thingamajigs and what-nots. Soul lution (2010) – yet another punning title – comprises a bike sprocket and chain, a bag and a knitted child's cardigan, all strung by string from a drooping tree branch. The branches might be bodies; the objects, memories or disconcertingly fleeting narratives.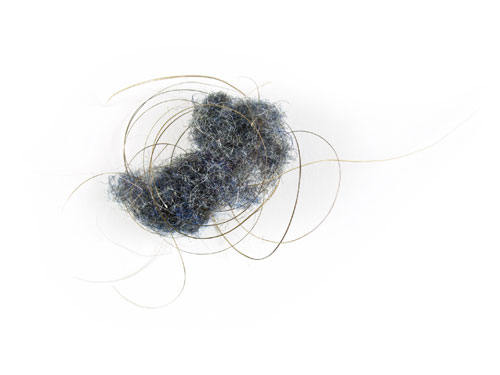 The body – or rather its absence – was made apparent through both the materials and form in Bircken's recent show at Herald St, London. Projected flights-of-fancy take place in many of her anthropomorphized sculptures with parts standing in for the whole. Appendage-like forms slouched on plinths in GiMoto (2012), a forearm from a motorbike jacket, and in Twiggy (2012), a curiously shapely pair of twigs held in a G clamp and sporting tights. Here, Bircken invokes the British icon, Lesley Lawson, who came to prominence in the London fashion world of the swinging sixties. Blondie – the title of the artist's Kölnischer Kunstverein show in 2010 – made a similar call back to a Pop icon. Clothing comes across as both concealment and show in two works featuring tights, albeit migrated to the walls. Repeat I (2012), a stitching of tan and black stretched nylon, suggests a wallpaper pattern, somewhere between a chequerboard and Rolling Stones-esque lips. Mixed Race (2012) sees a more geometrically abstracted assortment of light and dark tights, ranging from super sheer to opaque second skins.
Along with clothing, branches form the basis for many sculptures, either as stand-ins for the human body or as a support structure on which to load other materials. Chariot (2012), shown in the back room at Herald St, is a skateboard supporting a bike frame, loaded with branches lashed together with mortar and cloth bandages. An assortment of tin can lids dangle like earrings by their pull rings from the frame as well as a bramble of trinkets and charms that hung off the branches:a pair of scissors, a row of feathered ornaments, a handful of hay, an assortment of rags, a firework. Immobilized and silenced, the objects nevertheless maintained their potential for movement and sound: the tin cans chiming in the wind, the firework exploding in a burst of light. As in Soul lution, the flotsam of everyday life seems caught up in this work, more like the remnants of a trawler's net. Whereas these castoffs and debris would appear useless to many, Bircken uses them to form her own web of associations. Yet she also uses branches as stand ins for a more collective history. In her aHead series (2011) – primitive-like totems shown at Kimmerich, New York in 2011 – an age-old sculptural tradition for shaping human forms undergoes Bircken's pragmatic approach: an oblong ball of wrapped wool on a naturally slanting branch stuck in a mound of plaster wrapped in cloth. This synthesis of branch and fabric binds the domestic to the wild, the interior with the unruly exterior, the man-made with the naturally-formed.
At Hausrat (Household Objects), her 2012 show at the Kunstverein Hamburg, domestic associations abounded across discretely positioned sculptures. Chariot was joined by other kinetically-prefigured works Pferdchen (Little Horsey, 2008) features a spiderweb of thick knit wool, enveloped a small rocking horse, itself perhaps an allusion to Dada, which began with the French children's word for the hobby horse. Cagey (2012) – a thickly woven bonfire stack of material onto of a trolley – was parked on bricks. The giant pendulous leather punch bag Demolition Ball (2011) hung motionless while a sapling sprouted out of an ironing board in Cheri Cheri Lady (2012). Elsewhere a bathtub mounted on a Persian rug was coated in material dunked in concrete (Mud Bath, 2012).
Bircken works in call and response between various art historical movements: not just with hints at Dada and Minimalism but also with the methods of folk art, handicraft and the Arts and Crafts movement, which rose against the backdrop of late 19th century industrialization. Her use of craft techniques like knitting and her preference for fabrics recall a feminist discourse that sought to emancipate women from the immaterial labour of the home and from the role of the dutiful housewife. Bircken may darn, knit, fix and mend, yet she does so with metal, concrete or steel. If there is a nostalgia in the materials she refers to time and again – clothing and branches – such references are balanced by her sly appropriation of Pop culture, from the swinging sixties to the unstable present: in her Kunstverein Hamburg show hung a print of a David Beckham underwear campaign for H&M simply, plainly, on a wall (Beckham, 2012). Packing even one of her exhibitions into a neat bundle is far from an easy task. Untidy, unruly even, Bircken's work is overloaded with touchstones, readings and recognizable references which ensnare the viewer in a tangle of associations. Her matter-of-fact juxtaposition of objects and materials – her evocation of private combinations and narrative constellations – spiral ever outwards, like the knitted web of her objects themselves.