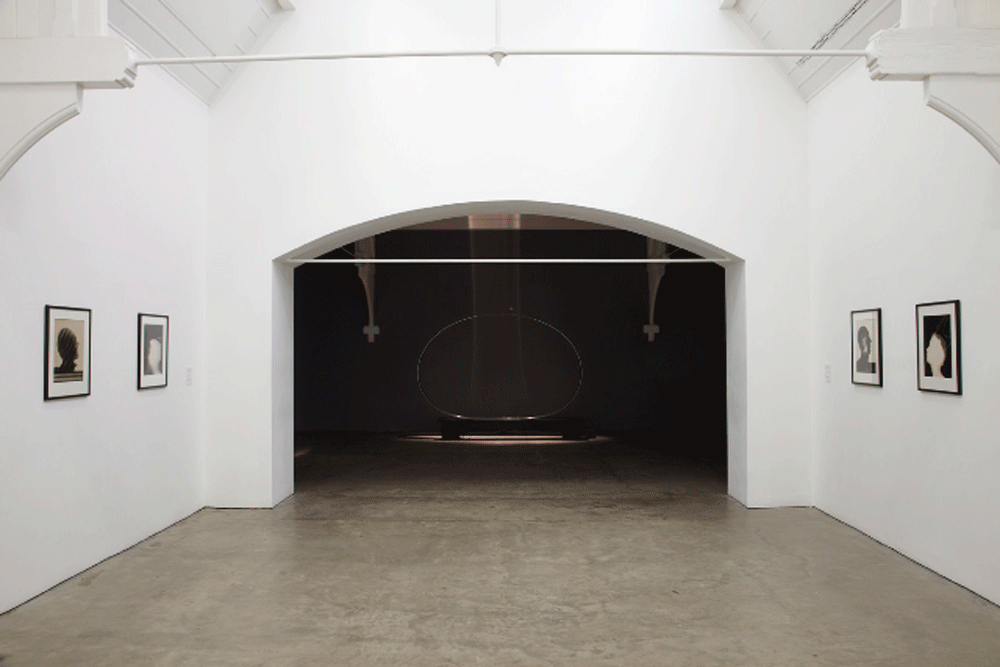 Full of energy and excitement, 'Len Lye – The Body Electric' at Ikon was the most stimulating exhibition I have seen in a very long time. Billed as a retrospective, it was long overdue: though this seminal artist died some 30 years ago, it was the first serious review of his work in the UK. I didn't discover Lye's films until after I had made my own move from painting to film in the late 1960s, though even then it was a struggle to see the actual work. If the importance of his films is now better recognized, 'The Body Electric' demonstrated that Lye was both equally original as a painter and truly innovative as a kinetic sculptor.
His early paintings explore the iconography of indigenous cultures in the South Pacific, particularly Samoa. Lye did not appropriate the Maori iconography of his native New Zealand, he lived it and learned from it, as is demonstrated by his many notebooks held in the Govett-Brewster Art Gallery's archive in New Plymouth. In his early work, such as the batik Polynesian Connection (1928), this imagery opens a psychological symbolism that celebrates the sensual body. His first film, Tusalava (1929), hints at Lye's dominating engagement with the dynamics of motion and rhythm, so powerful in his extraordinary films of the 1930s. Supported through the GPO Film Unit, A Colour Box (1935), Rainbow Dance (1936) and Trade Tattoo (1936) are absolutely crucial works in the history of visual art as well as cinema. Their innovation was simultaneously aesthetic and technical, applying processes similar to the sequential printing of batik to the then-new Dufaycolor and Gasparcolor film systems. More than 70 years on, these explorations still look fresh and relevant to contemporary digital culture.
Lye's final phase refined his concern with motion and rhythm. Though mainly sculptural this period also includes his most pared-down, economical films, which were made when Lye lived in the US. Free Radicals (1958/79) and Particles in Space (1979) involve scraping calligraphic figures directly onto the black surface of exposed film, timed to African drum rhythms. (These extraordinary films were also recently shown at Between Bridges in London.) Though the medium is different, the 'sound' sculptures, made from high-tensile spring steel, develop and focus this aesthetic concern.
Ikon's retrospective was my first encounter with these powerful kinetic works. Being in the presence of the large undulating steel loop of Universe (1976/98), the vertical shimmering Storm King (1965/97) and the terrifying rotating steel gong Blade (1959/87) is revelatory. Sometimes producing enormously loud but harmonic sound patterns, each creates an intense physical experience of moving light broken and reflected by the vibrating steel. Lye increasingly resisted a concern with art as an object. In the films, the pace makes even the visual images transient, shifting to an abstracted experience of motion and rhythm; it is an exceptional achievement that large works of sheet steel can also defy their object-ness. In Shirley Horrocks' excellent documentary Flip and Two Twisters (1995), Lye says: 'What is important in kinetic art is the emphasis on the pattern of motion rather than the object making it,' going on to describe the implicit harmonics in the motion and resulting sound of springy steel as the 'natural frequencies of the material.' At Ikon, this separation of the 'pattern of motion' from the 'object making it' was evident in the magnificent Fountain III (1963/76), constructed from fine steel rods undulating like long grass in the wind. It was also elegantly demonstrated in the striped single rod, Zebra (1965/2009), rotating to different frequencies to form a slowly shifting virtual object only existing as an optical trace.
In the accompanying catalogue, which is published by the Govett-Brewster and the Len Lye Foundation, light is shed on another significant characteristic of Lye's work: though the artist produced actual versions of his sculptures, he never saw them as definitive. Using the analogy of variable scale in film projection, co-curator Tyler Cann describes how these sculptures could be made at different sizes for different locations. Or, if some aspect of the work went beyond Lye's available technology, it might be completely re-constructed posthumously from his plans. So Lye was not concerned with the unique object – sculpture may be reproduced, or 're-printed' like a film. However, though wonderful in conception, Lye's art only becomes real in the excitement of the physical encounter.