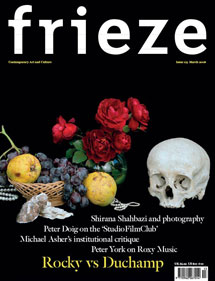 Featured in
Life in Film: Peter Doig
In 'Life in Film', an ongoing series, frieze asks artists and filmmakers to list the movies that have influenced their practice.
When I moved to Port of Spain in Trinidad five years ago, there was a small Caribbean film festival on, which I went to see. They showed a documentary, A Hard Road To Travel (2001, directed by Chris Browne), on the making of The Harder they Come (1972, directed by Perry Henzell, Browne's uncle), the classic film starring Jimmy Cliff. I realized that many people of a younger generation in Port of Spain had never seen The Harder They Come. As there's no cinema in town that shows old films, I decided to screen it. It was a one-off idea, but it was popular, so we started the StudioFilmClub. I now run it with a Trinidadian artist, Che Lovelace. Initially we wanted to show films that we thought were appropriate to a Trinidadian audience, where the narrative might have some connection to the place, but in the end we realized that was somehow patronizing; instead, we decided to show films that we simply liked or thought important or interesting – we only do one film a week and jump around between genres and countries and directors, covering the spectrum from art-house to mainstream. For example, the second film we showed was Agnès Varda's The Gleaners and I (2000), and after that Jim Jarmusch's Ghost Dog: The Way of the Samurai (1999). I don't think we've ever put on a bad film.
It usually takes about a day of discussion to work out what to screen. Presenting a film of your own choosing is such an incredible thing to be able to do: it's like a fantasy. Although DVD has opened up a big back catalogue and made a lot of old or obscure films accessible, I much prefer watching films with a group to watching on my own. For instance, we showed Pan's Labyrinth (2006, directed by Guillermo del Toro) recently in the film club, and the atmosphere was incredible; you could have heard a pin drop.
The Harder They Come (2005)
My studio is in Caribbean Contemporary Arts in Laventille. It's a large warehouse where they used to make Fernando's Rum, which was the most popular rum in Trinidad. The warehouse is huge, but I don't need that much space as I like painting in a small room. So I use a section to paint in, and we have the makeshift cinema and a viewing area for my paintings in the rest of the space. On average we get about 60 people, but sometimes we have around 100, and one night we had well over 400 for a screening of Calypso Dreams (2004, directed by Geoffrey Dunn and Michael Horne) – a really great documentary on the history of calypso. Anything with local content is really popular, as not many films have been made in Trinidad and the region.
We have shown a lot of older films, but fewer people come to those nights. I don't mind if five people come or 100, as long as they enjoy it. I met a guy recently, though, who used to run a film club in Trinidad in the 1940s that showed Jean Renoir films and had about 800 members, which is a lot more than we have. We're coming up to our 200th film and are hoping that Anton Corbijn will come out and screen his film Control (2007) for us. As Jeremy Deller said when he visited Port of Spain, Control is the least Trinidad-like film you could possibly imagine, but I think there will definitely be an audience for it. People in Trinidad read about films that are being shown around the world, but they don't have a chance to see many of them, despite the fact that there is a great tradition of cinema in the country. A lot of the early steel bands were named after characters in film noir gangster movies from the 1940s or famous war films, which were mainly from Hollywood and, to a lesser extent, Britain.
Growing up in Toronto was great, in that there were so many cinemas there. But going to see movies then wasn't just about the films: it was a social scene as well. Early Punk bands would play there; we would go to the cinema to drink and smoke and hang out. When I moved to London in 1979, I made lists of all the films I wanted to see. I was really into film noir, especially Fritz Lang, and there was a good chance you could see even relatively obscure films by him somewhere. There was an amazing circuit of repertory cinemas in London, such as the Ritzy in Brixton, the National Film Theatre, the Everyman in Hampstead and the Scala in Charlotte Street, just near Tottenham Court Road Tube Station. At least once a week, in the afternoon, we'd leave our studios at St Martin's and go and watch films at the Scala – it was like the cinema was connected to the college.
I've done a poster for most of the films we've shown. I started doing them sort of by accident. We were going to screen Black Orpheus (1959, directed by Marcel Camus), and I had a work on paper that I had discarded of a figure reflected in the water. It reminded me of the moment when Jean Cocteau filmed Jean Marais reflected in mercury in his version of the Orpheus myth (Orphée, 1950), so I just wrote over it, in crude letters, 'Black Orpheus' and pinned it on the wall. There were quite a lot of artists working in the building, and I wanted to advertise the film club with a disposable poster – like posters at college advertising an event that evening.
Recently we were invited to participate in the Trinidad and Tobago Film Festival, which is now in its second year. The festival concentrates on films made in the region, so we decided to screen, over three nights, a series of films by or about West Indians in London. We called it Babylondon. We started off with Horace Ové's Pressure (1976), which is considered the first black British feature film. Horace is a great filmmaker and a big supporter of the club; he's given talks, and we've screened a lot of his films. On the second night we screened Babylon (1980, directed by Franco Rosso), which is absolutely brilliant – a real slice of life about young Jamaicans in London the late 1970s. It was shot by Chris Menges, who also filmed Kes (1969, directed by Ken Loach), and it has the most incredible reggae dub soundtrack, which was composed for the film by Dennis Bovell. We also showed Isaac Julien's Territories (1984), an experimental film he made in his last year at St Martin's, about black Diaspora culture in Britain and the 1976 Notting Hill Gate riots.
A lot of people have assumed my paintings are influenced by or based on films, but it's not that literal. I've directly referenced only one film still in my work, a figure in a canoe on a lake taken from Friday the 13th (1980, directed by Sean S. Cunningham). Of course, all artists are interested in film – I don't know one that doesn't have an opinion about music or movies. Cinema is, after all, the most important art form of our time.
Peter Doig is an artist who lives and works in Port of Spain, Trinidad. A major exhibition of his work is on show at Tate Britain until 27 April. The exhibition will tour to ARC/Musée d'Art moderne de la Ville de Paris, France, from 29 May – 7 September 2008 and Schirn Kunsthalle Frankfurt, Germany, from 9 October 2008 – 4 January 2009.