Made to Measure
Trajal Harrell talks 'realness', daydreaming, and his performance Twenty Looks or Paris is Burning at the Judson Church (S)
Trajal Harrell is in London to perform Twenty Looks or Paris is Burning at the Judson Church (S) (2010) at Sadler's Wells – the UK debut of this piece, which forms part of Block Universe, the performance festival whose impressive second edition also featured UK premieres of works by Martin Spangenberg and niv Acosta, and new commissions from Jesse Darling and Raju Rage, Grace Schwindt and Erica Scourti, among others. 
Twenty Looks … gives shape to a counter-historical speculation: what kind of performance would have emerged if, in the early 1960s, a dancer from the formative years of Vogueing in New York had headed downtown from Harlem to the Judson Memorial Church, where Trisha Brown, Lucinda Childs, Steve Paxton et al. were developing what would become 'postmodern dance'? If instead of 'saying no' – as per her 1965 manifesto – to spectacle, virtuosity, glamour style, camp and seduction, among other things, Yvonne Rainer had said YES?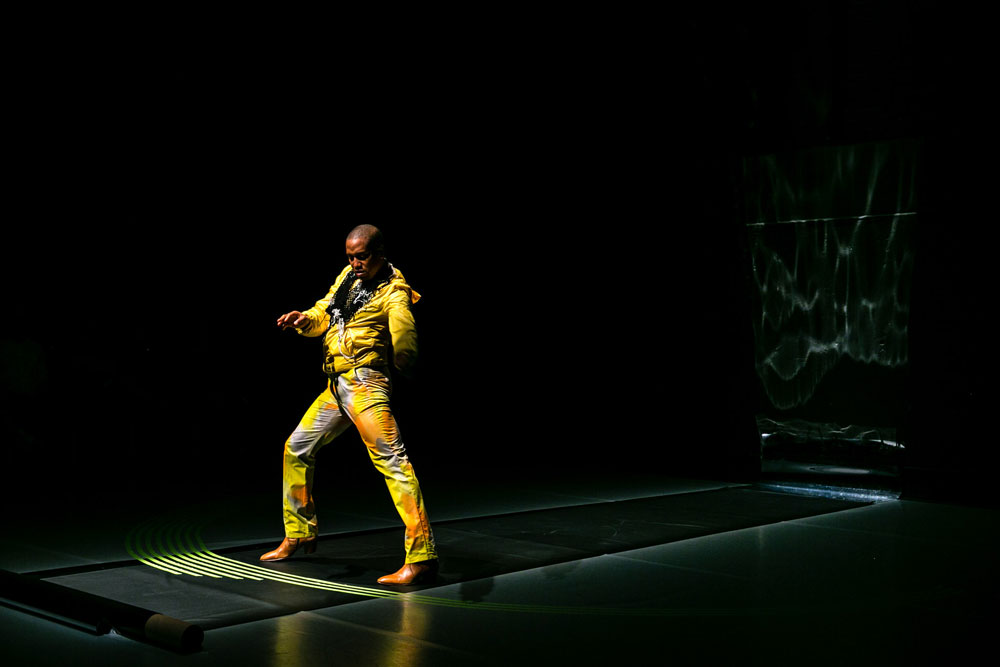 From 2009 on, in venues from Vienna to Rio de Janeiro, Harrell has mapped the possibilities of this thought across a series of performances, each a kind of remix of the other, nominally distinguished by sizes, like garments: from (XS) to (XL) to (M2M) – 'made to measure'. Along the way, he's been nominated for a Bessie (The New York Dance and Performance Awards), lavishly praised by the New Yorker and the New York Times, and (bizarrely) hailed as 'the next Martha Graham' in the Huffington Post.
The idea of producing the work in sizes was inspired, Harrell says, by the different sizes of the snowballs sold by David Hammons in his Bliz-aard Ball Sale (1983), as well as Rem Koolhaas' 1995 volume of the OMA archive, S,M,L,XL. (Harrell is passionate about Twenty Looks … ultimately taking the form of a publication). 
Yet the sizing of the work is also a winning – and winningly transparent – negotiation of the choreographer's position as a practitioner without a fixed audience or network of patronage.  'I never had the dream of building a company that will perpetuate itself after I die', he says, the company model having, he feels, 'fallen apart' for choreographers of his generation. As such, variability is key: a visual arts institution (Harrell has himself just completed a two-year residency at MoMA) with a regular flow of busy visitors and limited dedicated performance space might welcome a short commission in a way that a dance theatre selling tickets might not. 'Who wants to hire a babysitter and come out for a ten-minute piece?' Harrell asked in a post-show conversation at Sadler's Wells. (As it happens, (M) and (L), each usually clocking in at around two hours, tour the most.)
Harrell explains that the multiple versions of Twenty Looks … also 'work against the idea of having a specific viewer or an ideal audience', which is to say its explicitly modular format puts upfront the impossibility of there being any priority within the series. It's possible to see the whole series – each work was performed in sequence at The Kitchen in New York in 2014, for example – but no size is definitive, much less any one night's performance of it: no experience of any part of the work is the 'real thing', and every experience is.
'Realness', as it pertains to original Ballroom culture is, indeed, one of the piece's key occupations. To quote Dorian Corey from the famous 1990 Jennie Livingston documentary from which Twenty Looks …  subtitle derives, 'realness' in this context means 'undetectable': a mode of self-presentation that allows the performer to 'walk out of that ballroom into the sunlight and onto the subway and get home, and still have all their clothes and no blood running off their bodies'. 'Realness' is practical and tactical – a matter of appearance and perception (and survival). More fundamentally, it's not a question of being ontologically identical to something or of inner essence: 'realness' is conditional on not being identical to something. 
In this way, there is a temptation to read the piece in terms of erasure, re-insertion and the righting of historical injustices. There is scope for redress: postmodern dance is overwhelmingly white; sexuality in much of the Judson group's works is oddly illegible, given that many of its key figure are or were queer; and Vogueing, while hardly unacknowledged (I can't get over the vine of two white tweens death-dropping in a school gym), lacks institutional recognition. Yet, as Harrell told Ariel Scott in a 2011 interview: 'I don't start from a politics to make my work.' While he's happy, even proud, if Twenty Looks … increases the visibility of Vogue and Ball culture, it's not his primary aim: 'I am not a Voguer,' he tells me 'and I have never felt that Vogueing needs me.' (Again, not being a dyed-in-the-wool exponent of the thing he's performing seems key to kind of realness that interests Harrell.) Twenty Looks … was instead a way to break out of some of conceptual dance's more deadening tendencies. 'For a time, there was not a lot of movement,' he puts it diplomatically. Harrell's performance at Sadler's Wells, in contrast, though it has its static moments, is essentially all movement – slouchy at times, pointed at others, febrile in its intensity, each gesture seeming almost to vibrate. For all its elegance, it's also tense – I was struck by a walk in which Harrell's arms are subtly held out just above his hip, as if holding an invisible hoop. Growing up in south Georgia, Harrell told Scott in the 2011 interview, meant: 'I really fought […] even to cross my legs." 
'I always say: "I don't know how to make a dance,"' Harrell admits when I ask him about his working method. His research usually begins a year before entering a studio with other dancers – reading, listening to music, practicing on his own body – but he is reluctant to rely on predetermined formulae. Though his choreography is becoming increasingly refined in its movements, treating the body as object (perhaps, he speculates, one result of spending time in visual arts institutions), there's still a sense of being without a 'recipe book', in Harrell's words. 
Yet in the history of dance – on the stage and in popular crazes, in Hoochie Coochie shows and all that which he calls 'dance before it knew itself as "dance"' – Harrell does have a recipe book, or a scrap book, at least: a dossier of gesture and inspiration. Recently, while researching the development of the Japanese dance theatre Butoh for pieces such as The Ghost of Montpellier Meets the Samurai (2015) – another 'cultural fiction' hinging on fusion, this time an imagined encounter between Tatsumi Hijikata and Dominique Bagouet, the star of France's nouvelle dance who died of AIDs at just 41 in the 1990s, in a New York bar – Harrell discovered that Hijikata had been influenced by Catherine Dunham, the influential African-American choreographer, whose repertoire drew on her anthropological fieldwork in Haiti. Tracing a line from Butoh to Voodoo: it starts to make sense, in the light of such semi-historical conjectures, that Harrell should sometimes refer to dancing as a kind of 'archiving'.
Just as in Twenty Looks … runway fertilized postmodernism, historical content seems to spark Harrell's inventiveness – his 'addiction to the past' (in another paradoxical manoeuvre) 'frees my imagination'. 'I don't know if I'll ever get fully into abstraction without history,' he says. This commitment to the past is striking, given that dance compared to, say, painting, has a history backed-up by an extremely partial record. (Though its widely accepted as the pivotal moment in 20th-century dance, no-one can confidently say what Vaslav Nijinsky's 1913 Rite of Spring actually looked like). But Harrell embraces the gaps.  'If you're a choreographer, you have to love that problematizing,' he says; if he can see too much of a moment, too concretely, 'it becomes too didactic, too mimetic'. I wonder whether, as performance increasingly becomes the subject of institutional collecting, this will change. 'That's a big issue – how's that done, what the parameters are,' Harrell says, though he's receptive to the idea; thanks to the likes of Tino Sehgal, Harrell thinks the market for dance works will be utterly different in 20 years' time, though he doesn't know how. For now, then, more research, more speculation, more realness, more imagination. To close, I ask Harrell if he was a daydreamer as a child. 'I was! I am a daydreamer as an adult too. I have to think more and more about what do I want to with my time, and I think I really need more time to daydream.'