Featured in
Mary Ann Unger's Patterns of Movement
A recent survey at the Williams College Museum of Art, Massachusetts, celebrates a career-long preoccupation with biomorphic forms
It has been more than 20 years since the last museum survey devoted to the work of formidable sculptor and draughtswoman Mary Ann Unger. At Williams College Museum of Art, this long-overdue exhibition, sensitively curated by Horace D. Ballard, spans two decades of Unger's materially restless artistic production from 1975 to 1997. Assimilating a wide range of works – including her bronze torsos cast from twigs, her exactingly gridded watercolours, and her large-scale sculptural abstractions – 'To Shape a Moon from Bone' foregrounds Unger's exploratory ethos as it draws out the investments in modularity, biomorphism and tactility that permeated her work throughout her career.
Eschewing a strict chronological or material marshalling, the retrospective organizes Unger's oeuvre in rhyming clusters that centre around a theme, form or gesture. One grouping underscores Unger's preoccupation with systematic and structural patterning, which manifested most overtly around the time of her involvement with Criss-Cross, an artist co-operative associated with the Pattern and Decoration movement of the mid-1970s and early 1980s. Two delicate watercolours, both titled Benchmarks (1977), each depicts a set of hugging tubular forms. A sculpture, also titled Benchmarks (1977), features three pairs of the same interlocking tubes, this time realized in bonded iron. The watercolours don't appear to be studies; Unger was working through the same form in different media, exploring the repeated elements, held in tension, that undergird all kinds of architectures.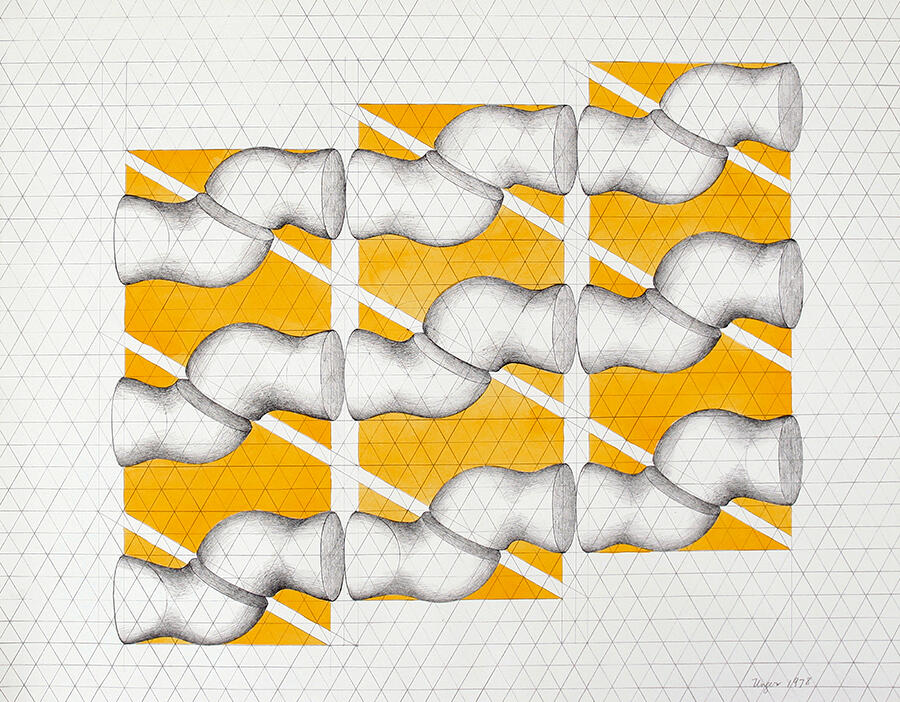 In the mid-1970s, Unger began to bend, weave or otherwise manipulate aluminium mesh into architectural and organic sculptures. Wall-mounted examples loosely evoking rib cages and spinal columns led to Red Vertebrae (1980), a diagrammatic or stop-motion succession of five increasingly bright and compressed arciform spines, precisely cut from plywood and painted varying shades of red. While the artist often left wooden or steel scaffolding visible in her more architectonic pieces, by the late 1980s she began to sheathe her steel armatures in a textural skin of layered, plaster-dipped cheesecloth. Shanks (1996–97), a sculpture fabricated using this process, comprises an imposing trio of two-and-a-half-metre-tall white verticals that resemble legbones. Displayed alongside related osseous drawings, these colossal, tapered forms lean against the wall with apparent ease via mounts that simulate joint sockets.
The room-sized installation Across the Bering Strait (1992–94) features more than 30 large, grey sculptural elements – made from dipped cloth on armatures – that are evocative of torsos or limbs in sober post-and-lintel arrangements. As they cradle and carry one another, these biomorphic forms render not the attachments within a single person but the laboured and loving connections between bodies. The work, which Unger described in an artist statement as 'an abstract sculpture about migration […] evok[ing] memories of our primeval history', was originally accompanied by a soundscape inspired by Tibetan and Inuit chants. 
Tucked into a corner of the survey are six modest ceramic sculptures – tubular tangles evoking innards or oblong forms recalling carapaces – next to a related print. All are part of the series 'New Relics' (2014–ongoing), made by Unger's daughter, artist Eve Biddle, in response to her mother's oeuvre. A smaller, concurrent exhibition, curated by William Hathaway at Unger's former live-work space in Manhattan, intersperses Unger's sculptures and works on paper with photos of the artist and her family taken by her husband, photographer Geoffrey Biddle, who maintained a darkroom in the loft. The intermixing of works gestures to modes of making and thinking about art that acknowledge and engage a variety of interconnections, networks and dialogues, laying the grounds for a considered display of the artist's beautiful and expansive practice.
'Mary Ann Unger: To Shape a Moon from Bone' is on view at Williams College Art Museum, Williamstown, USA, until 22 December. 'The Sword in the Stone' is on view by appointment at the Mary Ann Unger Estate, New York, USA, through December.
Main image: Mary Ann Unger using a disc sander on the roof of her studio, Third Street, New York, 1977.
Courtesy: the artist; photograph: Geoffrey Biddle