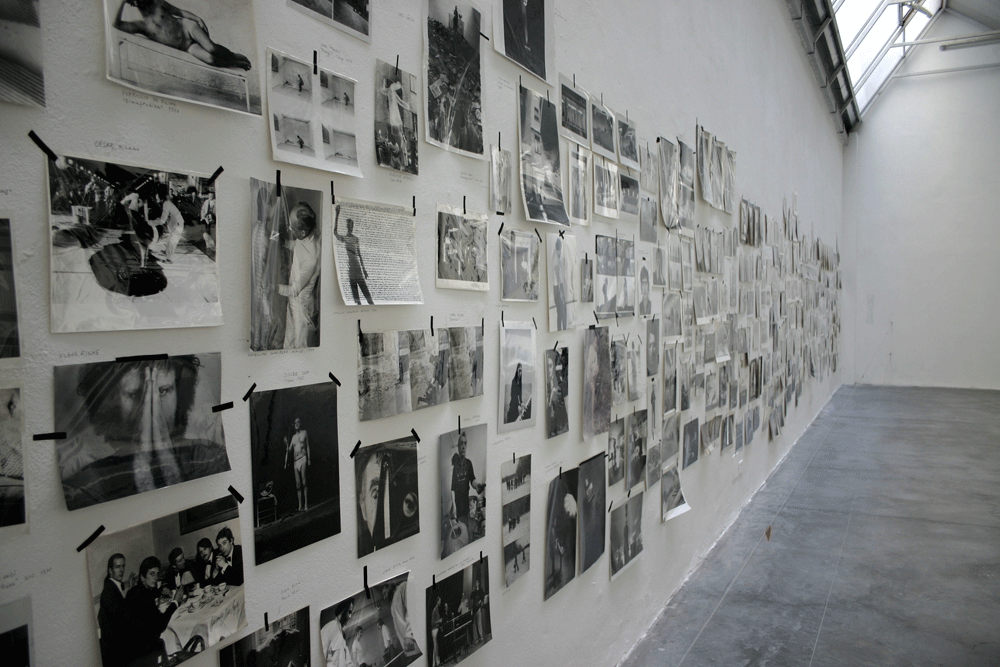 Exhibitions of art documentation, which have recently been experiencing a surge in popularity, often carry the burden of suspicion. Are we not a little too keen on the visual rhetoric of archival materials that stir up nostalgia for sepia-toned paper, grainy photographs and flickering projections? Focusing on documentation can run the risk of overshadowing its purported content, endowing it with a layer of meaning and visual strength that the original might well have lacked.
'Matter of Action: Performance in Photographs, Videos, Books and Records' – which was curated by Giorgio Maffei, Samuele Menin and Sara Serighelli, in the not-for-profit space O' – managed to rise above such concerns. The exhibition comprised more than 200 photographs documenting key performances from the 1950s to the late '70s, by artists ranging from Marcel Duchamp and Hermann Nitsch to Marina Abramovic´, Piero Manzoni, Vito Acconci and Gina Pane. It also included a selection of original books and records; their content, however, was inaccessible, and thus their mute but visible presence felt slightly fetishistic. The photographs, on the other hand, were unassumingly clustered on the space's main wall, unframed and hanging from strips of gaffer tape, from above eye level almost to the floor. No logical arrangement could be discerned from this set-up, which intertwined iconic and immediately recognizable images with lesser-known ones. The visitor was left to explore the array of documents through a process of association and analogy that recalled Aby Warburg's Mnemosyne Atlas, which, at the time of the art historian's death in 1929, comprised 79 wooden panels on which were displayed around 2,000 photographs from his collection. This deliberate underplaying of the individual photographs' aesthetic qualities in order to prompt a discussion of their historical context and representational role was at the core of the exhibition's strength.
'Matter of Action' also included a programme of performances by contemporary Italian artists, both live and on film, underlining similarities and affiliations between current research and practices from the '60s and '70s. This section outlined how performance has increasingly become central to much recent Italian art, with live works by two generations of artists including Igor Muroni, Michele Bazzana, Simone Berti, Christian Frosi and Diego Perrone. It also highlighted the limits of documents to fully represent movement in space: the gallery's main wall, lined with hundreds of photographs, loomed over the live performances like a black and white memento mori. The public was left to wonder what would become of the events it was witnessing; how faithful or misleading the documentation would be. A few days before 'Matter of Action' opened, the Museum of Modern Art in New York also opened 'Staging Action: Performance in Photography since 1960', a show which was very similar in intention if not in form. This is revealing, not only in relation to the recognition of the issues at stake, but more importantly as to how, in the relative absence of significant public institutions in Italy, the research of such crucial themes is left to small-scale independent organizations such as O'. This spur to private action could be seen as a beneficial cure to institutional absence, since much of the flourishing Milan art scene depends on such initiatives: but, of course, a cure is only required by the ill.