Featured in
Na Chainkua Reindorf Creates an All-Female Masquerade
At Nubuke Foundation, Accra, the artist's mysterious paintings are laced with historical references and religious iconography
In West African Vodun, a religion practiced in the ancient kingdom of Dahomey, in what is now Benin, Mawu is known for creating the Earth as we know it, along with all the knowledge possessed on the planet. Currently on show at Nubuke Foundation, Accra, Na Chainkua Reindorf's painting series 'Mawu Nyonu' (2020–ongoing) introduces us to seven fictional female characters, or glanu (skins), each with their own stories of deviancy and each possessing the ability to shapeshift in order to avoid being truly known or understood, as the exhibition's title, 'Up to No Good', suggests.
In Tokpe: Anyway, Anyhow (2022), for instance, a two-headed torso emerges from a hole in the ground holding an umbrella, while a kneeling figure and a detached segment of an arm reach outwards, beyond our sight, into a wall. An isolated hand from above pours a bucket of unknown liquid onto the umbrella sheltering the two-headed form. Questions emerge: are all three elements part of the same body and, therefore, the same mind? What does it mean for Tokpe, or any of the other characters in Reindorf's narrative, to be up to no good?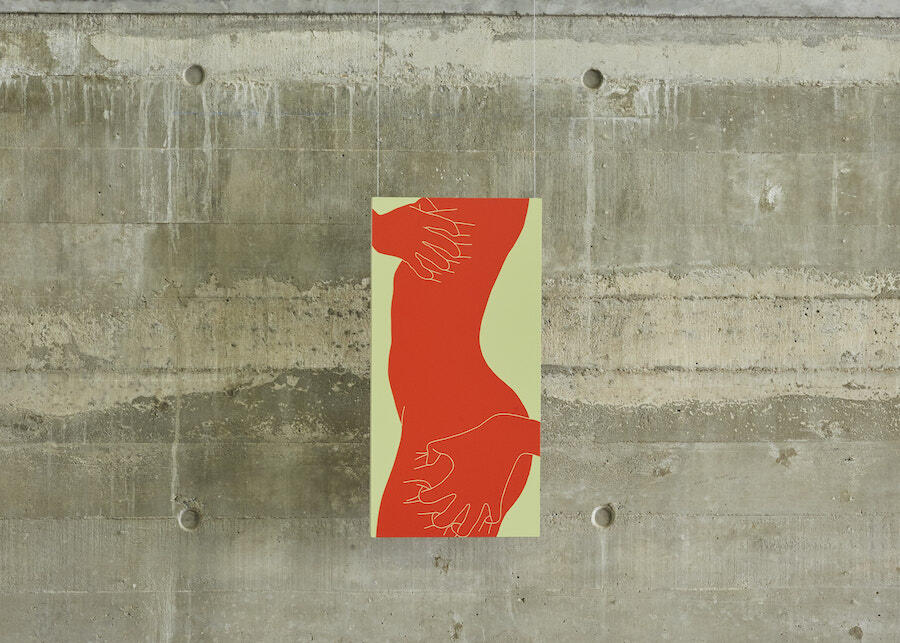 In the exhibition notes, Reindorf describes Tokpe – who recurs in different iterations of the 'Mawu Nyonu' series – as a 'troublemaker', with her two heads denoting a dual personality which may lead to mischief. Each character is presented in a diptych, with a much smaller companion painting homing in on isolated body parts of the character depicted in the larger work: sharp, pointed teeth in Bite (2022), for instance, or sensual hands gripping fleshy hips and breasts in Grasp (2022). The smaller works in the pairings reiterate that the women in these paintings cannot be contained within one canvas.
There are rich layers of meaning to the paintings on display, with the borders of the larger works appearing to nod towards kente cloth, a textile popularized by the Akan of Ghana in the 18th century, that carried symbolic meaning through pattern and colour. Reindorf's striking technical ability, typified by the precise lines and bold use of colour in works such as the jewel-toned Gedu: Ascension (2022), further serves to give this series an otherworldly feel. Stylistically, the flatness and lack of shadow or highlight could also be seen to reference the Asafo flags produced by the Fante of Ghana in the late 18th century to communicate power to rivals and enemies in neighbouring communities.
A self-described mythmaker, Reindorf is in firm control of this fantastical world of her own invention, which draws on historical references, such as the legendary Mino – an all-female army regiment of Dahomey. Like these warrior women, Reindorf's cast of characters conduct their lives, loves and desires in secret, away from the foreboding glare of men and rigid gender norms. The artist's astute gaze offers reflections on gender politics and representation, with the series title, 'Mawu Nyonu', translating roughly to 'God is a woman' in the Ewe language used in southern coastal regions of present-day Ghana, Benin and Togo.
Vodun also includes the act of masquerade – at its core, a way of seeing the world without the world truly being able to see you – as a means of evading evil spirits. Alluding to this tradition, in the top-left corner of each of the larger paintings, the artist has incorporated an eye. These women can see you, Reindorf seems to be saying, but the power of masquerade and of storytelling is such that their gaze can't be reciprocated.
Na Chainkua Reindorf's 'Up to No Good' is on view at Nubuke Foundation, Accra, until 11 March
Main image: Na Chainkua Reindorf, Nyeti: Sharp Sharp Dimensions (detail), 2022, acrylic gouache and fabric on claybord, 1.8 × 1.2 cm. Courtesy: the artist