On Our Radar: Highlights from Frieze Week
From Olivia Erlanger's aspirational interiors to Juliette Blightman's Dorothy Iannone-inspired Tarot deck, here are the best shows in and around London 
Olivia Erlanger at Soft Opening, London
Olivia Erlanger has furnished Soft Opening with the trappings of an aspirational household – plants, Evian bottles, an Isamu Noguchi coffee table – all replicated in miniature and magnified under Plexiglas dome-eyes. Made during lockdown and taking the form five uninhabited rooms, 'Home Is a Body' continues the LA-based artist's investigation into the psychic terrain of domestic life with a newfound, eerie slickness. The show is on view until 7 November.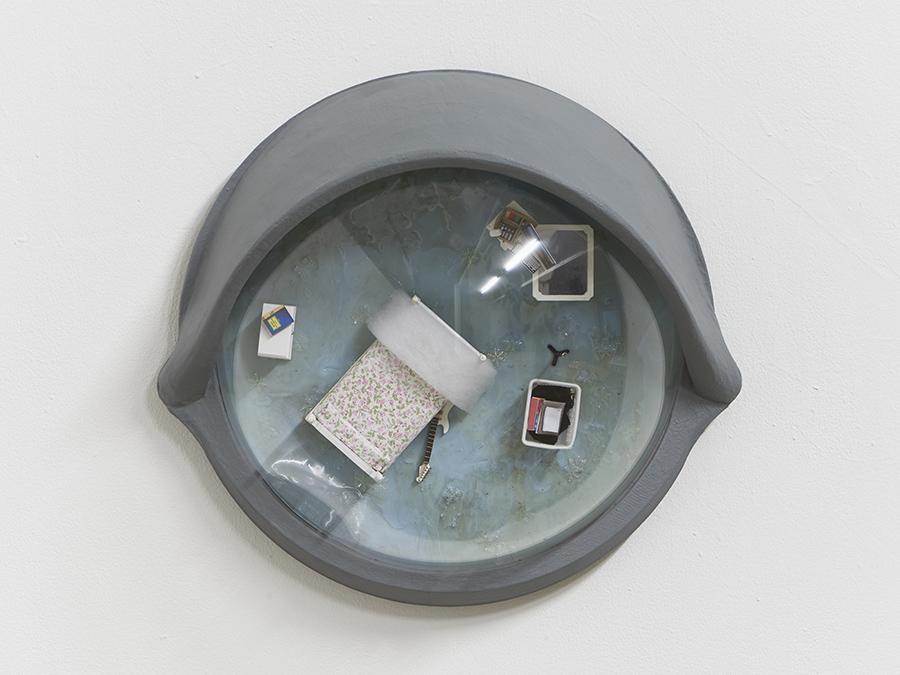 Jadé Fadojutimi at Pippy Houldsworth Gallery, London
Jadé Fadojutimi works on several canvases at a time – often while blaring music plays – charging each painting with energy, emotion and movement. Layered with oil and acrylic, her works open up kinetic and emotive worlds of colour and gesture; her distinctive surface marks are almost like dancing. This is Pippy Houldsworth Gallery's second exhibition with the 27-year-old artist, whose work was acquired by Tate earlier this year. It continues until 31 October.
Rebecca Ackroyd at Lock Up International, London
Transient project space Lock Up International invites you to a storage unit at the Barbican for Rebecca Ackroyd's 'Tonguing the Fence'. A pair of resin and fibreglass legs in bloodstained boots and fishnet tights bends forward over a murky pub carpet clutching a Polly Pocket dolls' house. Dangling from a stool that looks like a metal mincer, the truncated figure is accompanied by a comic strip on the gallery website depicting someone pushing an artist through a meat grinder. In this 2016 article from the frieze archive, Ackroyd selects the artworks that have made the greatest impression on her.
Juliette Blightman and Dorothy Iannone at Arcadia Missa, London
A 'Pussy Flower' seed packet pictures a hairy fruit bearing a clitoris. This is one of Juliette Blightman's Tarot cards, from Stages of Seed Development (2020), which are displayed alongside their inspiration, Dorothea Iannone's (Ta)Rot Pack (1968–69). Where Blightman's set explores the sexual potency of everyday objects, Iannone's depicts daily erotic experiences with her then-partner, artist Dieter Roth. Across generations, these artists boldly insist on uncensored female pleasure. 'Prologue' is on view until 22 October.
'To Dream Effectively' at Focal Point Gallery, Southend-on-Sea
Focal Point Gallery's current programme of video screenings, online projects and site-specific installations is party based on Ursula K. Le Guin's The Lathe of Heaven (1971). Set in Portland in 2002, amidst climate disaster and war, the novel features a protagonist who claims to have the power to change reality by dreaming 'effectively', which has unintended consequences at the hands of an ambitious psychiatrist. Bringing together existing works and new commissions by 12 artists, including Larry Achiampong, Sophia Al-Maria and Rosie Grace-Ward, 'To Dream Effectively' confounds conventional ideas of 'progress' in our present reality. The show continues until January 2021.
José Luis Vargas and Katherine Bernhardt at Carl Freedman, Margate
In 2018, Heinz announced the launch of Mayochup in the US: a ketchup-mayonnaise hybrid long familiar to many and particularly ingrained in Puerto Rican cuisine. 'Voodoo Mayo Ketchup', a joint exhibition by Katherine Bernhardt and José Luis Vargas, explores the colonial implications of this arbitrarily marketed condiment. Where Vargas collapses images from Puerto Rican history and folklore into amphibious specimens and 'UFOs', Bernhardt spray-paints a bottle of Mayochup amidst the repeated word 'Xanax'. On view until 25 October.
Plus: the first retrospective of dance legend Michael Clark, who was the subject of a profile by Brian Dillon in our summer issue, has opened at the Barbican. The exhibition not only captures 35 years of dance, but also the anarchic spirit that inspired Clark's rebellion against the stuffy conventions of traditional ballet. At Modern Art's Helmet Row space, Ron Nagle – who Fanny Singer praised in the April issue for his 'uncanny admixture of sardonic humour, high style, wit and sheer, breathtaking beauty' – presents new ceramic sculptures, while at Chisenhale Gallery, Thao Nguyen Phan's first solo show offers views of  'a world adrift on the verge of ecological disaster', as Maika Pollack writes in our October issue. While in east London, be sure to stop by Emalin, in Shoreditch, for new work by Sung Tieu, who Berlin-based critic Kito Nedo named last year as one of the top artists to watch in 2020. And don't miss Helen Cammock's 'I Decided I Want to Walk' at Kate MacGarry, one of a trio of current London shows – alongside Klara Lidén at Sadie Coles and Bruce Nauman at Tate Modern – that, as Philomena Epps wrote recently, 'complicate the idea that being active always yields tangible results'. 
Main image: Rebecca Ackroyd, 'Tonguing the Fence', 2020, installation view. Courtesy: the artist and Lock Up International; photograph: Stephen White & Co