What to See During Paris+ and Paris Internationale
From Lydia Ourahmane's filmic exploration of central Saharan mountains at Fondation Louis Vuitton to P Staff's 'Love Life' at Galerie Sultana
Victor Man
Galerie Max Hetzler 
3 September – 22 October
The nine works on canvas, cardboard and paper in 'From Wounds and Starry Dreams' – Victor Man's current solo show at Galerie Max Hetzler – are all illuminated by an obscure, sallow light. The subjects, mostly women, sleep or gaze off into the distance. In Untitled (2022), for instance, a woman opens her shirt to reveal an unusual red rash and sunken ribcage. The accompanying press release comprises a dialogue from 'A Golden Chalice' (1909), by Austrian expressionist poet Georg Trakl, in which two characters, Agathon and Marcellus, discuss women as they walk toward the city of Jerusalem at dusk. Man's paintings compel for a similar reason as Trakl's brooding poems – their meanings seem both direct and vague, like crepuscular light.
P Staff 
Galerie Sultana
23 September – 12 November
In 'Love Life', P Staff explores the boundaries between love and suffering, incorporating various elements, from rats to butchers' knives. Wall-mounted works Love Life (Tongues) and Love Life (Bottles) (all works 2022) contain photographs and material, such as hair and insects, encased in resin. For Between 2pm and 10am, the artist simulated stomach acid and sealed it in used wine bottles, which appear in a small constellation beneath a pillar. In Let the Devil In, we see a pile of human bones. Despite the contrast between the content – abject objects, phrases or images – and the show's title, which evokes romance and platitudes, 'Love Life' is far from ironic. On the contrary, it celebrates even those elements of existence that might harm us.
Sam Szafran 
Musée de l'Orangerie
28 September – 16 January
Sam Szafran, who died three years ago at the age of 85, rendered in watercolour and pastel the same subjects obsessively: staircases, a Parisian printshop, his studio, plants and greenhouses. His work undoubtedly offers absorbing and detailed new perspectives on quotidian interiors. His output accords with certain Parisian painters of his generation, such as Avigdor Arikha, who, although active in modernist circles, chose to pursue representational figuration, which was viewed at the time as unfashionable. While historically Arikha and Szafran's British contemporaries – such as Frank Auerbach and Lucian Freud – have typically received more acclaim, this exhibition throws some much-needed light on Szafran's extraordinary practice.
Lydia Ourahmane 
Fondation Louis Vuitton
7 October – 23 January
Lydia Ourahmane's moving and hypnotic film Tassili (2022) explores Tassili n'Ajjer, a mountainous UNESCO World Heritage Site in the central Sahara in southern Algeria. The region is the ancestral home of the Tuareg people and contains thousands of rock engravings and cave paintings. Tassili feels somewhere between Werner Herzog's documentary Cave of Forgotten Dreams (2010) and the opening sequence of Godfrey Reggio's epic Koyaanisqatsi (1982), and fascinates for many reasons: Ourahmane documents a place that feels movingly outside of time, deploying wide-angle shots that, on occasion, distort perspective. The music, scored as an exquisite corpse by four musicians – Sega Bodega, felicita, Nicolás Jaar and Yawning Portal – consistently offsets the film's mysticism and sentimentality, which might otherwise overwhelm. Ourahmane allows the wonder of Tassili n'Ajjer to resonate.
Omer Fast 
Chapelle des Petits-Augustins 
École des Beaux-Arts
18 October – 23 October
Karla (2020) is an immersive holographic installation that presents an avatar of a young woman working as a content moderator for an online video platform. Fashioned from facial recognition technologies, her face slowly morphs while she responds to questions about the kind of videos she is supposed to remove from the platform. Alongside Karla are other works by Fast, such as Untitled M.B. (2020), a series of copies of a 1917 self-portrait by the German painter Max Beckmann. The chapel – which is the only remnant of a 16th century convent that later served as the Museum for French Monuments before becoming part of the École des Beaux-Arts – is still full of medieval and renaissance artworks, further enhancing the experience of visiting this normally difficult-to-access site.
Anri Sala 
Pinault Collection – Bourse de Commerce
14 October – 16 January
Anri Sala's large video projection Time No Longer (2021) wraps around one-half of the interior of the Tadao Ando-designed rotunda. A turntable plays a recording of Olivier Messiaen's Quartet for the End of Time (1940–41) as the camera rotates and appears to spin. At one point, it becomes apparent that the turntable is, in fact, revolving inside a space shuttle. Then, it seems to float away, like an object lost in the stratosphere. In the basement of the Bourse are two further films by Sala, Nocturnes (1999) and 1396 Days without Red (2011), both of which address the conflicts in the former Yugoslavia during the 1990s – works that speak eloquently to our current moment of crisis. 
'Reversing the Eye: Arte Povera and Beyond 1960–75: Photography, Film, Video' 
Jeu de Paume and Le Bal
11 October – 29 January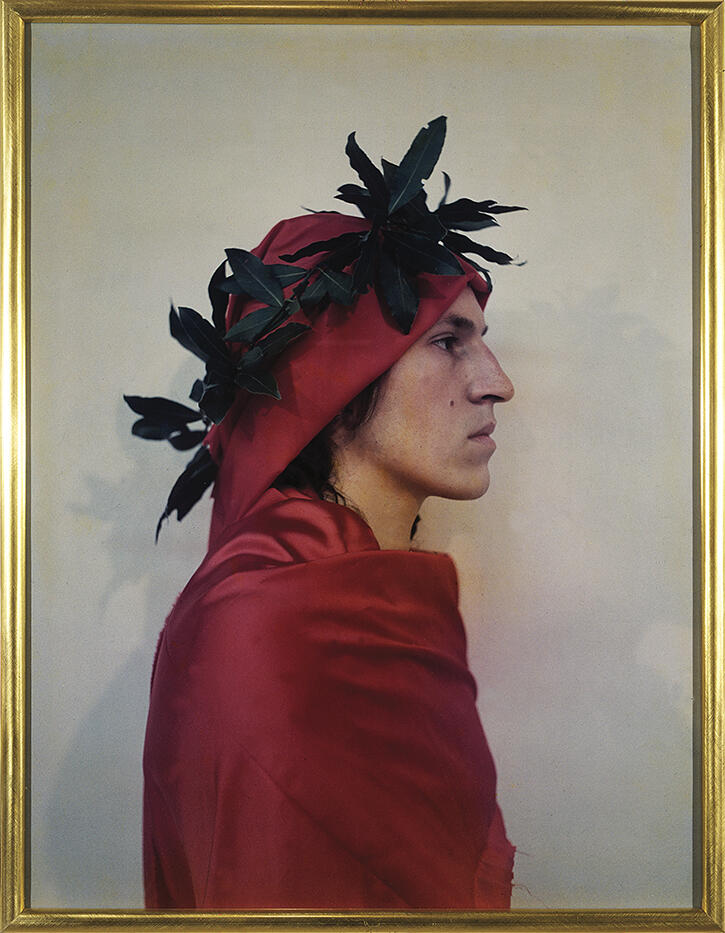 A collaboration between two legendary lens-based institutions in Paris, 'Reversing the Eye' explores the role of photography, film and video in Italian art practices during the heyday of Arte Povera. Divided into four thematic categories – 'Experience', 'Image', 'Theatre' (at Jeu de Paume) and 'Body' (at Le Bal) – it contains works by 49 artists. In Giulio Paolini's Young Man Looking at Lorenzo Lotto (1967), the artist creates a mise-en-abyme by placing one photograph as an image inside another. There are also works by Luca Maria Patella on emulsified canvas, such as Signed Sea (1965). It's refreshing to see the role Italian photographers played in developing conceptual practices and performance art, especially when discourse so often circulates around artists from Germany or the US.
Suzy Lake
mfc Michèle Didier 
14 October – 23 December
Between 1972 and '74, the Detroit-born, Toronto-based artist Suzy Lake made a series of self-portraits in which she dressed up as different personas, interspersed with text works that discuss self-identity. 'On Stage' predates Cindy Sherman's 'Untitled Film Stills' (1977–80) by three years, and Sherman herself has acknowledged the influence it had on her own practice. This exhibition seeks to reappraise Lake's landmark series with a selection of other photographic works, such as Miss Chatelaine (1973), which also explore the relationship between perception, identity and self-presentation. Lake assumes a series of guises to question how fixed our ideas about the self really are. 
Paris+ par Art Basel runs at Grand Palais Éphémère and Paris Internationale at 35 boulevard des Capucines 75002 until Sunday 23 October 
Main image: Giuseppe Penone, Rovesciare i propri occhi - progetto, 1970, photo-collage, tirage au gélatino-bromure d'argent virés au sélénium sur papier baryté, 40 × 30 cm. Courtesy: © Archivio Penone / Adagp, Paris, 2022