A lot of hard graft went into the making of Pieter Schoolwerth's exhibition 'Model as Painting'. The main hall at Capitain Petzel is crowded with large, jazzily coloured paintings, collages and monochrome wooden reliefs that are mounted on both the walls and room dividers. Playing off the title of Yve-Alain Bois's essay collection, Painting as Model (1990), Schoolwerth's multidimensional canvases resist the flat planes and gridded abstractions of Piet Mondrian (one of the figures examined in Bois's book). Studies of the friction between human beings, Schoolwerth's paintings mingle digital innovation with craft and manual experimentation. The works reflect a comical, jousting process of circuitous production in multiple media.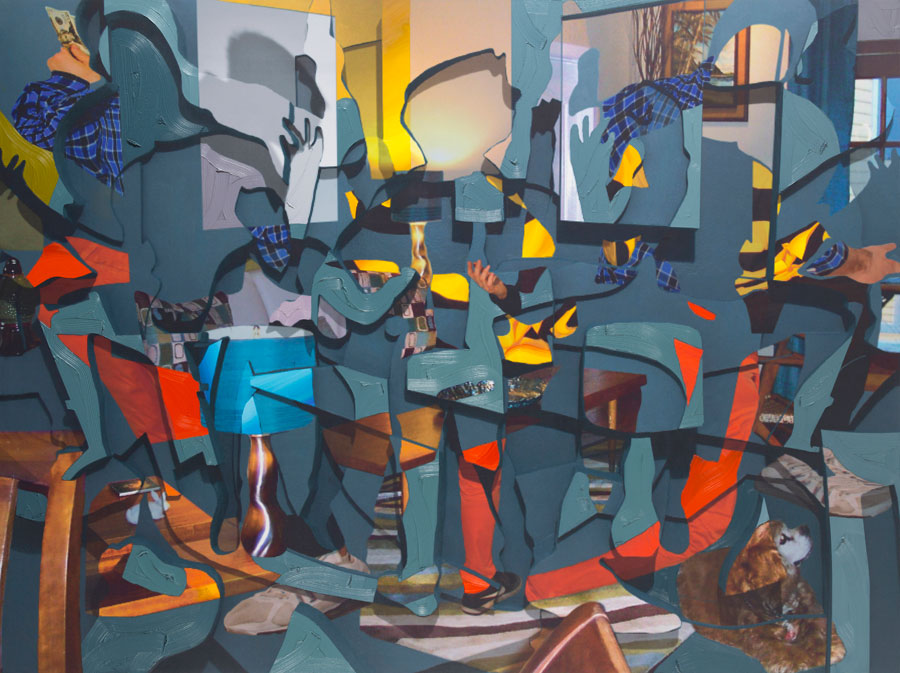 To make his works, Schoolwerth begins with a photography session, in which shadows cast by friends are used as bases for drawing and collages –as evidenced here by the mixed-media collage A Couple Arguing #00 (2016). This work provides the foundation for relief sculptures, also on view, which are manually cut out of foamcore, such as Model for 'Green Model of a Couple Arguing about Their Abysmal Financial Situation' (2016). The foamcore chunks are then taped together, screwed into a wall and photographed. After this image is uploaded, digitally altered and printed onto canvas, Schoolwerth applies thick, gestural curves of paint: such as the orange Nike logo ticked over the flat teal of a trainer in Fuck Me #4 (2016).
Representations of human disagreement and dispute run throughout the show. The theme of personal skirmishing finds an echo in Schoolwerth's forms in tension: a collision of painting and sculpture, and digital and analogue processes, in a great multimedia face-off. In Blue Model of a Couple Arguing about Football in Berlin (2016), the blue logos of two rival German football teams, Hertha BSC and 1. FC Union, are inverted. In other sequences we see one couple arguing about their personal budget, another splitting up (one of the 'Break Up' series) and, in the 'Fuck Me' sequence, amid a jumble of shapes and lines, we are all given the finger.
Further evidence of Schoolwerth's industry of forms comes in a short film made with Alexandra Lerman, The Casting Agent (2017). In the video, ghostly digitally animated humanoid figures are suggested by cut-out shapes that emerge from spaces in background furnishings. These figures, mysteriously and amusingly represented as outlined voids, express themselves enigmatically in non-verbal grunts and squeals: another of the show's references to the challenges of communication. 'Reverse cubism' is one phrase Schoolwerth has used in the past to describe his way of representing multiple objects from a single point in time: an analogy for our contemporary habit of doing several things simultaneously in the digital world, and the interpersonal conflicts that can result.
For Schoolwerth, there persists something resolutely handmade within our age of facile digital production. This is emphasized in the last stage of the artist's working process, where a router machine is used to cut digitally rendered shapes out of wood, which are then recombined as relief sculptures. With their sharp edges and overlapping imagery, they suggest the crystal cubism of Juan Gris or his epigone Patrick Caulfield. But Schoolwerth's recurring imagery of Rubik's cubes also testifies to the ludic, riddling nature of his work. More than exercises in experimental production, these works are metaphysically teasing. The artist's visual koans are replete with retinal trickery. Schoolwerth, faced with a faulty vacuum cleaner, once made works inspired by the pun 'this vacuum sucks'. As I left, and in a similar vein to Schoolwerth's technological slapstick, I thought: the vacuum may suck, but the show doesn't.
Main image: Pieter Schoolwerth, Blue Model of a Couple Arguing About Football In Berlin, 2016, oil, acrylic, and giclée print on canvas, 1.5 x 2 m. Courtesy: Capitain Petzel, Berlin