Portfolio: Nicholas Hatfull
Impromptu street sculptures and ice cream with Cy Twombly: the London-based artist shares a selection of important images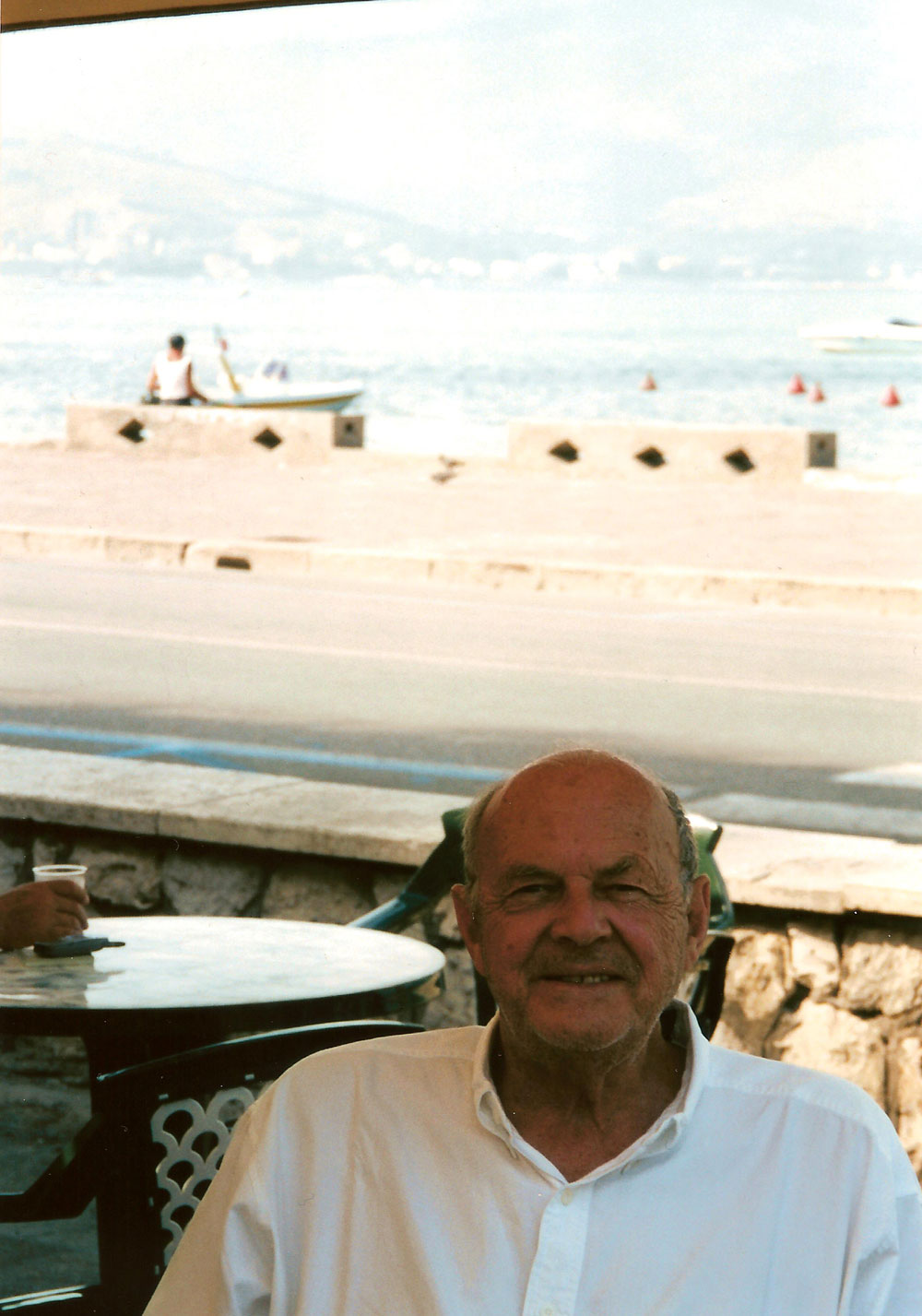 Ice cream with C.T.
I took this picture of Cy Twombly in 2002 following a visit to his studio in the Italian town of Gaeta. My abysmal sense of direction had nearly scuppered the whole meeting, but thankfully some time in the afternoon I found myself having an ice cream by the sea with Cy and his long-term assistant, Nicola del Roscio. He was quite taken with his garish plastic ice cream cup and spoon, arranging it in various ways and chuckling: 'I'm gonna collect these. That's a sculpture in itself'. It must have been giving off nautical signals. I was already an inveterate collector of packaging, but after seeing this most lyrical of artists enamored of a plastic cup, I needed no further assurance this habit was O.K.
Yvette embellishes a sidewalk
A true Psychobuilding. I distinctly remember Blue Peter presenter Yvette Fielding contriving a homemade version of this sewer playset from a cardboard box, yoghurt pots and toilet rolls. The clip has proven elusive but, very memorably, she drew crazed pavement on the street level, explaining with conviction: 'that's how they are in New York'. The worlds-apart difference between the rustic charms of the 'make' version and the obdurate perfection of Playmates Toys' injection moulding made quite an impression on me, too.
Kyōko Kishida in Sanma no Aji (The Taste of Mackerel Pike) or An Autumn Afternoon, 1962

My favourite Yasujirô Ozu moment: ChishūRyū's character is led to a bar by an old Navy acquaintance. The bar-owner (Kyōko Kishida) who reminds Ryū of his late wife asks 'shall I put on that song?' Aan old patriotic tune starts up. The next 60 seconds are a bittersweet eternity. Bobbing around in their seats, holding salutes and smiling, Ozu lingers over Kishida and Ryū's eye contact longer than you'd think feasible, andreality is suspended as they share a mysterious, unspoken consoling.
Surface grazing on Georges Seurat's Bathers at Asnières
 (1884)
Can you carve a dandelion? Georges Seurat's riverbank does seem to have been sculpted from prismatic seed heads. Even after noticing the definitive feel of its precision-milled profiles, the whole scene could apparently be dispersed with an unkind gust. How a painting with so much evident toil in it wound up shimmering and airy is beyond me. The irradiation – not yet epidemic – is beautiful and, maybe due to the epic scale, there's a ravishingly variegated surface; from straw-brittle to, as white accumulates, a sort of slurred cream. Riddled with craquelure, but fresh as a mythic lawn should be.
Trophy reliefs at the base of Trajan's Column
Somewhat perversely, when the opportunity came to climb Trajan's Column in Rome, what really impressed me were the Dacian trophy reliefs at the base. The trophy relief, which sees a defeated province's culture translated into formal caprice, has continued to be a fascination of mine. I remain hopeful that I might one day transpose Pret a Manger recyclables into such a musical arrangement. Cup lids and plastic cutlery are now irretrievably muddled with the trophy in my mind, that's for sure. Here, a fiendish, kaleidoscopic surface of arms and armour has been cajoled into dancing. As with anything that really catches you unawares, it's hard to say precisely what's so exquisite about these (and hard to crowbar any quotations, as the literature on the base is scant), but it's the department of rhythm and poise.
From the series 'Hatfull at Large
'
Once in a while, an impromptu street sculpture glimpsed in passing will appear to hint at the most incredible world of forms; variation and nuance disporting themselves with ineffable perfection. Closer inspection may reveal that said vision was, to some degree, a mirage, but the experience is no less powerful for that.
Robert Gober, Slides of a Changing Painting (1982-83) (déjà vu)
I first saw this aged about 18 in Venice knowing little about contemporary art, nothing about Robert Gober, and took it as a sort of cartoon howl on the nightmarish endlessness of painting.
Since then, I must have mulled it over far more than I realised, because seeing it again last month at the Met Breuer was not a little moving (in part, because I'd only been able to refer to a few still images of the work in the interim). Gripped by fear that I might not stand in front of it again, I videoed all 15 minutes like a loon. I love the inimitable timbre of the imagery, the bluntly vivid paint application, the sense of dogged restlessness salved by an unerring flow of motifs, and the beautiful phasing that one minute generates an awkward hybrid, the next a fluent apparition. It's beautiful that he didn't initially realise he'd illuminated his own lexicon. For me this work runs deep because it seems to confront the most unfathomable aspects of creativity and plough on regardless. That, plus the fact that I can still relate to my first, somewhat limited reading of it as a work concerning eternal dissatisfaction and compulsive revision.