Postcard from Aspen
In the Rocky Mountains resort town, boutique facades hide the remnants of a surprising counterculture 
I knew Aspen was different the moment the plane wheels touched the tarmac: the world famous ski resort's airport is a log cabin, floating in a sea of private jets. The town itself, much of it built during a 19th-century silver-mining boom, would be quaint, were it not for the designer stores that pack its short, clean streets. Verdant trails and churning river rapids within city limits mean that access to precious freshwater and Rocky Mountain air are never in short supply. With global warming making dire headlines these past few weeks, it's hard not to imagine wealthy elites holing out the climate apocalypse here in their mountain lodges.
It wasn't always that way. In 1969, Hunter S. Thompson was bunkered in the bar of the Jerome Hotel, waging what he would come to call, in an essay for Rolling Stone by the same name, 'The Battle of Aspen': a fight to save the legendary hippie commune in the Rockies from the creeping forces of gentrification. In his campaign to be elected sheriff of Pitkin County, and win his biker friend Joe Edwards the post of mayor, Dr. Gonzo wrote an expletive-ridden manifesto that he called 'Freak Power', and promised, among other things, to 'rip up all the city streets with jackhammers', change Aspen's name to 'Fat City' and 'savagely harass all those engaged in land-rape'. (The rest of the piece is mostly unprintable.) You can still hit the quirky bar at Woody Creek Tavern, where campaign meetings were held, but the Jerome is now a beautifully remodelled luxury hotel. It's clear who won the battle, and the war.
If there's one place in Aspen where the creative spirit of counterculture might still thrive, it's at Anderson Ranch Arts Center, a community arts centre with a storied residency programme, housed in a campus that dates to Colorado's Silver Rush. It was founded in 1966 by artist Paul Soldner, and several years later merged two extant programmes: the Center for the Eye, a photography workshop that included the likes of Ansel Adams, Imogen Cunningham and Minor White, and the Center for the Hand, a ceramics workshop founded in part by Peter Voulkos. (There is not, regrettably, a Center for the Ear). The influence of photography's greats, coupled with the vibrant new ceramics movement out of California, gave the Ranch just what it needed to rise – if not in a linear fashion. It's a lush, peaceful compound that seems at once hypermodern and steeped in historical nostalgia. A photograph from the 1930s, of Adams, White and others partying in the basement of the Jerome, hangs in the entryway to the digital photography lab. A colourful medley of ceramic pots (and one beautiful cracked bowl by Voulkos) have been hung from hooks on the weathered wall of a log cabin, just across from a studio packed with laser-cutting machines and 3D printers.
Though not technically in Aspen but in Snowmass, a sleepy skiing town ten kilometres away, the Ranch has benefited from its proximity to the region's wealthy donors; it has also attracted a long list of internationally renowned artists, from Julie Mehretu and Ron Nagle to Theaster Gates and Ursula Von Rydingsvard. For several summers in the 1970s, Ken Price joined his California colleagues there, making many of his iconic, iridescent ceramic sculptures on the property. Today, that kind of craftsmanship is taught in as many as 150 workshops a year, for more than 1,000 students. There are technically-oriented classes like woodworking, taught by designer and furniture-maker Wendy Moriyama, as well as photojournalism, with Ed Kashi and James Estrin of The New York Times. One exclusive Visiting Artist slot each summer is offered to a master artist, most recently to Takashi Nakazato, a 13th-generation Japanese ceramicist. Some visiting artists stay for a shorter term, and allow their students to experiment freely with different materials in two-week courses organized around a general subject. During my visit, Mark Dion's students were using Magic Sculpt to capture their interpretations of biological organisms, many of which resembled the specimens in his zoological installations and wunderkammer displays. On the heels of his recent show at The Drawing Center, New York, and in advance of his retrospective at ICA Boston, Dion gave a public lecture revealing the origin of his study of such methods and the history of William Beebe, a popular biologist who brought teams of artists and research scientists on expeditions in the 1930s. He explained that artists with a wide variety of training – from none at all to MFAs – could come to the Ranch to explore these subjects creatively, but with a scientific degree of precision.
On the Ranch campus, the lack of pretence is refreshing; students and teachers chat freely over cafeteria-style lunches or play pick-up volleyball games barefoot in the grass. Even for its laid-back vacation set, though, Aspen is never so unpolished. In the city proper, several sparkling art spaces catering to seasonal residents would impress any regular visitor to Chelsea galleries. In March, New York power gallerist Marianne Boesky opened a space there, and on my visit, the gallery's show of Larry Bell and Frank Stella was bright, airy and clean. Several ghostly, iridescent glass boxes by Bell made perfect company for late, compact steel sculptures by Stella – presented at a manageable size, more tastefully restrained than his larger harlequin follies. Upstairs, a showroom presentation of ceramic works by William J. O'Brien – with colourful glaze cracking and uneven – felt like a more fitting echo of the California ceramics I saw on Anderson Ranch's campus, a tradition deeply embedded in Colorado mountain culture.
The gallery's white-cube aesthetics seemed to encroach on the Aspen Art Museum, just around the corner, where a collaborative work by Peter Fischli and Wade Guyton – a tall, L-shaped white plaster wall – bisected the broad sidewalk in front of the museum's elegant Shigeru Ban façade, with its rattan-like screen of woven steel. The work was one of several similar walls that obstructed views or movement through the artists' joint exhibition, installed in every gallery. Through the street-side windows of a ground floor gallery, Fischli/Weiss's iconic polyurethane sculptures of mundane studio objects looked like an installation in process; in that same space, they met cheekily with stacks of Guyton's hallmark glitchy digital photographs, enlarged and printed on canvas, which leaned against the wall. Realistic polyurethane sculptures of blue painters' tape lay on the floor near real strips of the stuff, used to mark off a door used by museum preparators. Sly juxtapositions abounded throughout the show; the flat, outmoded technical appeal of Guyton's work felt enervated by Fischli's puckish humour. In the basement, Fischli/Weiss's Rat and Bear (Sleeping) (2008) warmed their feet by the snaking flames of Guyton's Untitled (2017), while upstairs, Guyton's untitled paintings of the New York Times website landing page, from 2016, surrounded the long light tables of Fischli/Weiss's Visible World (1987–2013), which bear slides from the artists' travels around the globe. Taken together, the photographs are monolithic: a picture of the world as complete as a single hand-held camera could produce. On closer inspection, though, they present only a fantastical simulacrum, a book of postcards or a desktop screensaver montage. The Times pages similarly promise a complete image of the world, but bifurcated and enlarged, impress more for their leering advertisements and editorial biases. Accompanied by the fuzzy drone of a radio tucked around the corner, playing a local station, the gallery seemed to tap into our current epidemic of data overload, fake news and online chatter – a world of sound and fury.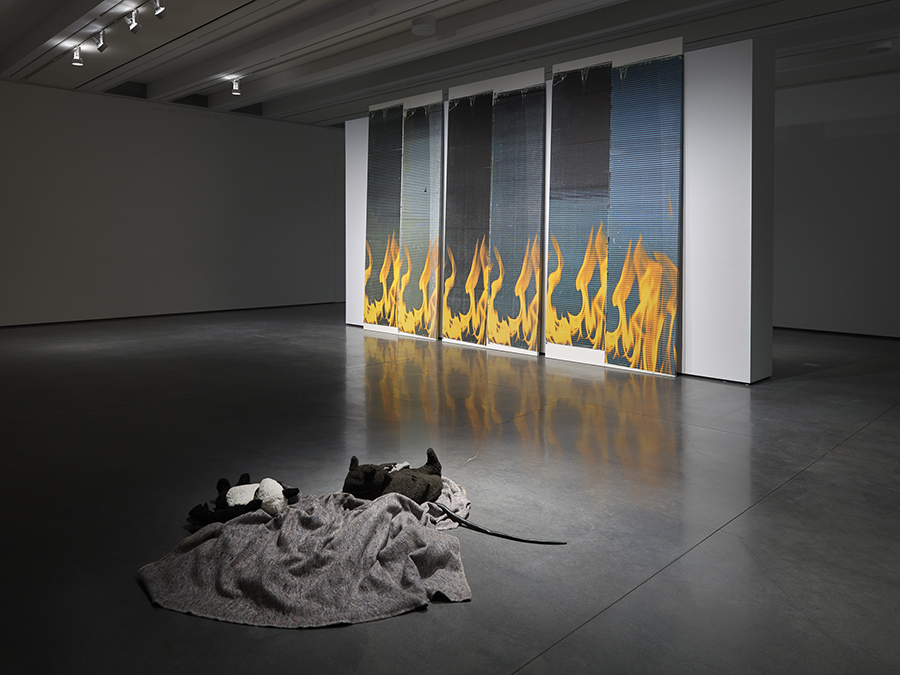 On the eve of my departure, I found myself drinking wine and listening to a lecture by Glenn Ligon on the museum's roof deck. Ligon's presence seemed ironic, given his well-known painting Untitled (Stranger in the Village/Hands #1) (2000), a screenprint of a page from James Baldwin's eponymous 1953 essay about being the only person of colour in a small Swiss hamlet. Aspen today is a fairly homogenous town of wealthy whites, perhaps not unlike the village Baldwin encountered. Still, Ligon's audience was engaged, and coupled with the presence of Wangechi Mutu – the week's visiting lecturer at Anderson Ranch – it seemed clear that locals are interested and willing to engage in conversations about race, if not all thorny aspects of privilege.
As Ligon spoke, I looked back at Fischli and Guyton's white plaster Wall I (2017), which occluded the patio's balcony, exposing only the fir-carpeted slope of a nearby mountain, sliced by an empty ski lift. On the wall, one of Guyton's inkjet on linen paintings (Untitled, 2017) – his signature X form – hung exposed to the elements. A light rain began to fall, running in streaks down the canvas, and the mountain slowly faded into fog, transforming the city of Aspen into a white cube. I wasn't sure if I was inside or outside. In that town, I may never be quite sure.
Main image: Anderson Ranch Arts Center, 2014. Courtesy: ARAC