In Profile: Hoor Al-Qasimi
The Director of the Sharjah Art Foundation talks to frieze about her background and the Foundation's ambitious redevelopment plans
When did you first become interested in art?
Hoor Al-Qasimi  I was interested in art from a very young age. My father was always taking me to museums and galleries, and there were a lot of cultural events taking place around Sharjah. I took after school art classes as well, and when I was 14 I began working with a local carpenter. My mum kept asking me, 'you want to be a carpenter?' [Laughs] At first I wanted to be a chef as well, and then an architect, but in the last year of school my art teacher swayed me.
While I was at school I was also helping teach drawing classes at the Sharjah Art Institute, a local arts centre that is part of Sharjah's Department of Culture. I've grown up in this field, so for me this is home; it's part of my history.
After high school you moved to London to study at the Slade School of Fine Art.
HA-Q  I enrolled on the four-year BA course at the Slade. On graduating in 2002 I decided to take a gap year before studying painting at the Royal Academy of Arts. In 2005 I enrolled on the MA in Curating Contemporary Art from the Royal College of Art, London, graduating in 2008.
During my gap year I was in Berlin with my father and I ended up talking to Britta Schmitz, the director of Hamburger Bahnhof, who recommended I visit Okwui Enwezor's documenta11. I went, and remember thinking wow, this is what a biennial should be. I had been to the Sharjah biennial, of course (it was founded in 1993), but I hadn't experienced anything like Documenta.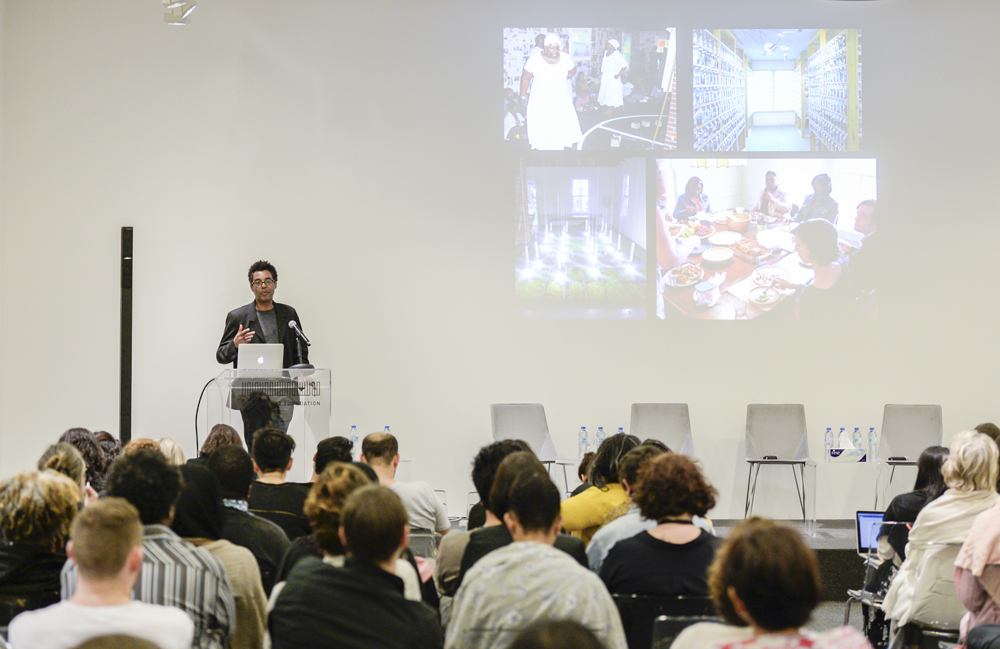 I remember asking my father, 'Can I see how our biennial works? I promise I won't interfere!' So I went to the committee in 2003 and without even expecting it they said, 'you can be the director.' I think they thought that, if they gave me a position, I would just sit behind a desk. Then I started making changes. [Laughs]
For example, I asked why the biennial was held in the Expo Centre and not near the museum, the downtown arts area and the Emirates Fine Arts Society. I also asked why we were still opting for country representation. I said, 'people aren't defined by one place. There are those with more than one nationality, those from mixed marriages, those who can't go back to their own country. Why should artists represent a single country?'
So at 22, the only woman on the committee, I started making these changes with only six months to go before the next biennial.
You had to work fast, then?
HA-Q  For most of that first year I was working seven days a week, 20 hours a day, and I wasn't sleeping! [Laughs] I was sticking labels at 6am before the opening. It was funny, people thought, 'You're the daughter of the Sultan bin Muhammad Al-Qasimi and you're running around with a spirit level and sweeping the floor?' I just said, 'I don't care, it has to be done!' I dealt with the press, the artist communication, I worked on the website – which was terrible – and I worked on the catalogue.
'People aren't defined by one place. There are those with more than one nationality, those from mixed marriages, those who can't go back to their own country. Why should artists represent a single country?'
When was the Sharjah Art Foundation established?
HA-Q  We launched the Foundation in Venice in 2009, as a body pulling everything together – the biennial, the March Meeting (a yearly symposium founded in 2008), and the various on-going projects and exhibitions we support locally. Currently, SAF oversees a number of art spaces across the region, runs an extensive education programme, collaborating with local schools and universities, and manages a publication department, which produces artist books and catalogues. We also award grants every two years to support artists via our Production Programme.
Speaking of Venice, I was wondering how the experience of curating last year's UAE pavilion differed from your previous projects?
HA-Q  I had visited the UAE pavilion a few times before, and I always suspected that visitors might not know what our art scene is like, or understand its history. I also felt that a lot of our artists were being forgotten, so it only made sense to look back at that history. As someone who's come out of it, it really is a part of me.
On that occasion, the commissioning was organized by the Salama bint Hamdan Al Nahyan Foundation, and every now and again they may have had to pull my reins a little bit… [Laughs] They said, 'Stop! You have 15 artists and 120 works!' I just told them that I would make it all fit. I did in my house: my kitchen sink is under the stairs.
Has there been a lot of local interest since the exhibition moved to 'The Flying Saucer' in February?
HA-Q  There has, and in the building, too. The people who live in the neighbourhood have said, 'Wow, does that mean we've got a gallery in our neighbourhood?' I said to them, 'Yes, but it's a "multipurpose space"'. [Laughs] People seem to really appreciate that we saved this iconic old building.
Can you talk a little bit about the Foundation's ongoing redevelopment project?
HA-Q  In 2012 I went on a scouting mission to find buildings that were under threat of being torn down. That was when I found The Flying Saucer, which housed Hassan Khan's project 'UFO! UFO?' in the 2015 biennial. The building has always been owned by the government, but at the time was being used as a chicken restaurant.
We found an old factory in Kalba (an hour's drive south east of Sharjah on the Gulf of Oman coast) around that time as well, and a cinema in Khor Fakkan (north of Kalba) that we're turning into a public film school. We have recently signed the papers to acquire an abandoned kindergarten, also in Kalba.
All of these places have their own communities, and I have noticed that, more than anything else, it is these redevelopments that really touch local hearts. I always get messages from people who are very nostalgic for the buildings, because while they may not be historic, they are still part of their history. The response has been special. 
Hoor Al-Qasimi, is a practicing artist and President and Director of the Sharjah Art Foundation. In 2003 she was appointed curator of Sharjah Biennial 6 and has continued as the Biennial's Director since that time. 
She is Chair of the Advisory Board for the College of Art and Design, University of Sharjah, Member of the Advisory Board, Khoj International Artists' Association, India, and Ullens Center for Contemporary Art, Beijing, and serves on the Board of Directors for MoMA PS1, New York; KW Institute for Contemporary Art, Berlin; the International Biennial Association, Gwangju; and Ashkal Alwan, Beirut. Al-Qasimi is a Visiting Lecturer at Slade School of Fine Art, London and is currently a Scholar-in-Residence with The Institute for Comparative Modernities (ICM) at Cornell University. 
Her recent curatorial projects at SAF include In Spite of it All (2012) and Ilya and Emilia Kabakov: A Collective Memory (2013), and in 2014 Ahmed Mater: 100 Found Objects, Abdullah Al Saadi: Al-Toubay, Rasheed Araeen: Before and After Minimalism, Wael Shawky: Horsemen Adore Perfumes and other stories, and Susan Hefuna: Another Place. Projects in 2016 include Two Suns in a Sunset: Joana Hadjithomas and Khalil Joreige sand solo shows by Simone Fattal and Farideh Lashai, as well as do it [bil'arabi], co-curated with Hans Ulrich Obrist.
Hoor Al-Qasimi curated the National Pavilion of the United Arab Emirates at the 2015 International Art Exhibition – La Biennale di Venezia.