My exhibition 'Solo for Ayumi' (2017), at Esther Schipper in Berlin, centered on a personal and working relationship between myself and the violinist Ayumi Paul, which has spanned almost 16 years. In the show, Ayumi performs from memory a series of musical works I composed, each of which is connected to a specific choreography and position as well as to a score displayed in the space. These scores consist of my handwritten music inscribed over a letter that Ayumi sent me, combined with a specific possession of hers that I selected from her belongings. Four of the twelve letters involve her relationship to someone else – her mother, father, first serious relationship in Berlin and first important violin teacher. For those four letters, I wrote a score for violin and voice: Ayumi begins to sing while playing.
Ayumi and I first worked together on 11 September 2001. In the show, a small page from her calendar lists her appointments for that week, which also included seeing a performance by Sasha Waltz. A letter describes how Ayumi was studying at the Hanns Eisler music conservatory in Berlin. She was beginning to doubt the path of the classical musician, questioning the very things she was being taught. I, too, was making a shift away from my classical training and getting more into the experimental music scene in Berlin, creating works for spaces that don't even exist anymore.
Ayumi writes of how she saw an advertisement in the school lobby from a composer seeking musicians interested in working physically and outside of normal classical training. That composer was me. She auditioned: Ayumi is an incredible performer and I took her into the project. This involved training with a Russian choreographer who was an expert in the Meyerhold technique and the practice of biomechanics. Biomechanics is an acting method that tries – through certain exercises and études – to work on acting from a physical level, which then becomes emotional. I was interested in applying this acting technique to musical performance.
In 2017, I used these letters as the basis of musical compositions, writing the scores over copies, obfuscating or protecting their contents. In the exhibition space, Ayumi plays from memory, taking occasional breaks, so inevitably there are distortions and alterations to the music. In part, I'm very sceptical of the idea of perfection – which can be a very difficult conversation to have, since there are entire musical careers and institutions that are driven by an aspiration to attain it. But who is perfect and who gets to define 'perfection'? It's only that thing which is frozen in time – the recording – that gives us a reference point.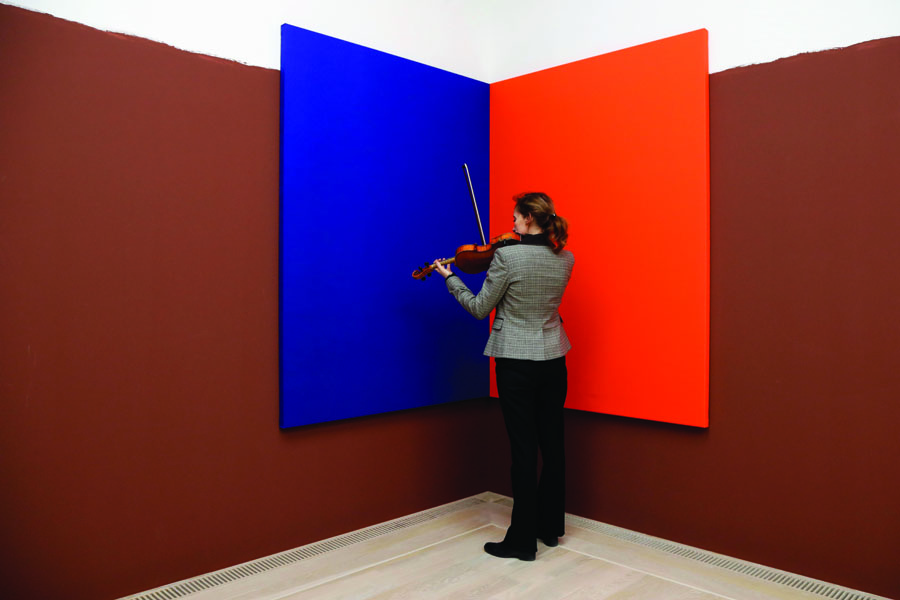 At Hamburger Bahnhof in 2016, I displayed instruments as objects and I showed meta-scores ('Who's Afraid of Sol La Ti', 2016) that were also visual; these elements were activated by a composer (Wojtek Blecharz) and a musician (Susanne Fröhlich) throughout the show. 'Solo for Ayumi' is a further step in confronting the different roles that an object might have, visually and physically, in relationship to music, as well as ways of displaying and performing music in an exhibition. What is Ayumi actually playing: the objects, scores or a memory? What's more important: the score or her own baby shoes next to it? We have the idea of a musician's 'solo', but what are its boundaries, what are its limits? Is the solo only the music the person is playing or is it tied more specifically to that person playing it? Who is that person?
Tellingly, we haven't had our 'institutional critique' moment in the music world. Regardless of whether you're a jazz, rock, pop or experimental musician, you still give concerts and make records. But the business model of a Lady Gaga or a Kanye West has little to do with the experimental contemporary composer who is putting on a concert for a select group of 50 initiates and making records nobody buys. In most classical settings, a concert, an opera or even a theatre performance is almost always an 'event'. There's something happening on a stage and you invariably buy a ticket, which defines your role as a consumer; a very specific kind of contract is entered into for a specific amount of time. But an exhibition usually lasts weeks, if not months, and extends beyond a single event or an easily consumable duration. From that structure flow many things: for instance, you remove the notion of a clear beginning and end; viewers come and go whenever they wish.
When I was young, my dad took me to a revival of Philip Glass's Einstein on the Beach (1976), an opera that has reappeared in important ways in my life. Encountering it for the first time at a young age messed with my little brain – in a good way. The music is repetitive and goes on for hours. But it also has an almost rock-like energy and sound, with amplified organs and saxophones. Since I had been told that this was an 'opera', and that Philip Glass was a 'classical composer', it exploded all sorts of circuits for me. Something similar happened to me when I was even younger and I saw a movie at Radio City Music Hall in New York that had a live, musical intermission: this mix of media was both confusing and inspiring.
Today, if you ask people how they hear music, they speak of digital files. But, imagine if you went back a century and asked someone: 'What is music?' It would be obvious to this person that music was either something you played yourself or that someone played for you. Music is live, performative, spatial and – because it involves people coming together – often political. When music is freed from its 'event' character and its expectations as something mediated, recordable or 'consumable', suddenly a whole range of musical situations and experiences is opened up. Yet, these don't fit neatly in existing music institutions or music-business paradigms.
What happens when you map musical ideas and concepts onto those more usually associated with contemporary art?
The aim of my Kunsthalle for Music, which will debut in January 2018 at Witte de With in Rotterdam, is to have a contemporary space for the live performance of musical work that's not a concert hall: a space that doesn't deal with the 'event' but whose main mode is that of the exhibition. For the inaugural show, I'm asking composers and visual artists to compose scores to be performed daily by an ensemble. What happens when you map musical ideas and concepts onto those more usually associated with contemporary art? Substitute 'composing' for 'curating', a 'repertoire' for a 'collection' and an ensemble and performers for a 'space'. This past June, in Munich's Lenbachhaus, I premiered a work for 80 musicians with one of the great orchestras of the world, the Bavarian Radio Symphony Orchestra. Symphony 80 (2017) is a four-hour composition in three sections. The first is a solo segment in which each musician steps out alone and plays a one-minute composition. The performer walks into the atrium of the museum, plays and is followed in turn by the next one. Each member of the orchestra is playing the same exact piece, though with different instruments and each in their own way.
In a long middle section, performers are choreographed to walk through the museum, moving and playing individually in different galleries. In the final section, they all come together for the first (and last) time; they have been working in shifts up to this point and, suddenly, you can see and hear all 80 of them at once. Only then do you understand what an incredible machine an orchestra is. Whereas previously they had been wearing their concert tails and gowns, as they come together in the atrium where they began with their solos, they appear in their normal, everyday clothes. For the audience in Munich, and for the orchestra too, this was radical: to experience this orchestra – so classical, famous and proud of its tradition – simply as people. Which, of course, is precisely what artists are: simply people.
As told to frieze associate editor, Pablo Larios.
Main image: Ari Benjamin Meyers, 'Solo for Ayumi', 2017, exhibition view, Esther Schipper. Courtesy: the artist and Esther Schipper, Berlin; photograph: Andrea Rossetti