Remembering David Goldblatt: 1930–2018
A tribute to the late South African photographer, creator of idiosyncratic portrayals of everyday life under the yoke of apartheid
'I don't regard any dates as being momentous, unless it is the date of your death or the date of your birth,' said David Goldblatt in 2010, shortly before his 80th birthday, which he celebrated at a roadside dinner with friends. Age was mostly an irrelevance to the photographer, whose death on 25 June at the age of 87 brought to an end a distinguished career characterized by a nuanced portrayal of South Africa and its agitated social circumstances. Even in his old age, this small-framed man with blue eyes, a contrarian liberal disposition and an unfussy preference for short pants would frequently start up his car and drive 1,300km from his home in Johannesburg to Cape Town, where he kept a modestly decorated flat, stopping at points in between to take people-interested photographs of a country fitfully defining itself.
Dates may not have mattered to Goldblatt, but they are important to an appreciation of his life. On 15 September 1963, when Goldblatt formally declared himself a professional photographer, he was in his early 30s, already married with three children. The move followed a duty-bound stint working in his father's clothing business in Randfontein, a mining settlement at the eastern end of Johannesburg. His father's death in 1962 suggested a new beginning. Over the next three decades, Goldblatt mostly earned his keep as an editorial photographer, initially at society magazines like the South African Tatler, and later at current-affairs publications such as Optima and Leadership, where he served as a photo editor.
Along the way, he garnered a reputation as the maker of penetrating photobooks. 'I regard a photographic book as I suppose a musician would regard a musical score, if that is not too grand a comparison,' he told me in 2009. South Africans, however, mostly missed – and just as often misunderstood – the nuance of Goldblatt's idiosyncratic portrayals of everyday life under the yoke of apartheid. His books routinely ended up remaindered. On the Mines (1973), a collaboration with South African writer Nadine Gordimer that looked at Johannesburg's founding gold-mining industry, Some Afrikaners Photographed (1975), an anatomy of white tribalism that had been Goldblatt's earliest calling card on visits abroad, and In Boksburg (1982), a dispassionate enquiry into 'legislated whiteness' seen through the prism of a small town near Johannesburg, were all commercial flops.
These failures are explicable. Writing in a 1988 edition of the literary magazine Staffrider, art critic Joyce Ozynski, an early champion of Goldblatt's photography, highlighted the 'precarious and fragmentary' existence of documentary photography in South Africa and the struggle it faced 'in a culture that gave no encouragement to the making of such images'. Goldblatt's books, more so than the exhibitions that followed, were refusals of this status quo. They also endure as archival repositories of a sort, showcasing a practice that was literally and conceptually predicated on exploration. Goldblatt proudly eschewed the studio. 'I made the decision not to try and become a big-time photographer,' he told me in 2010. 'As a big-time photographer, you needed to have a studio, a secretary, you needed an assistant and a messenger and god knows what else. I specialized, I suppose, in location photography.'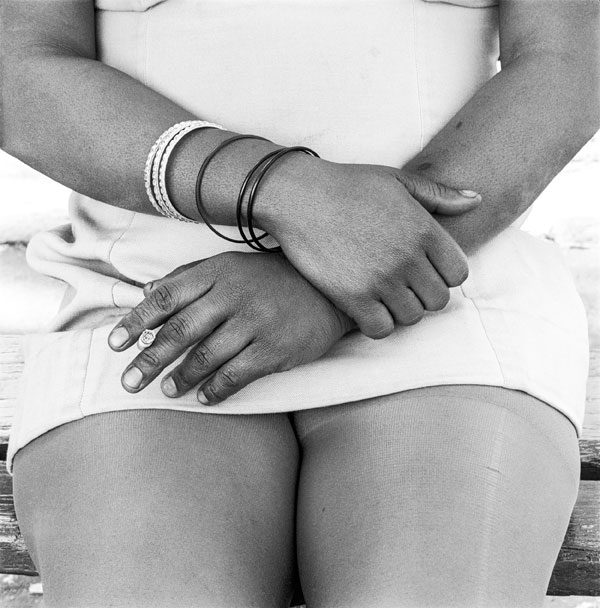 Goldblatt's early model of a 'big-time photographer' was Sam Haskins, whose whimsical nude portraits, collected in books such as Five Girls (1962) and Cowboy Kate & Other Stories (1964), are far removed from Goldblatt's austere and forensic statements on a people and their landscapes. Goldblatt befriended Haskins in the 1960s, while working on what would become Some Afrikaners Photographed. Interested in Goldblatt's project, Haskins offered to make up a dummy book. 'What he sent me was something that changed my life,' Goldblatt said in 2009. 'He showed me for the first time how my photographs could talk, and talk to each other in ways that I had never imagined.' Goldblatt later rejected such radical juxtapositions, but the extreme grain of the early photos in his debut book, On the Mines, are the filigree traces of his 1960s education.
Like his books, Goldblatt's earliest exhibitions also bombed. He described his first international exhibition – at London's Photographers' Gallery in 1974 – as 'a total failure'. By contrast, he recalled a 1974 exhibition on the 50th-floor tourist deck of the Carlton Centre, a newly-opened office tower in central Johannesburg, as 'perhaps the most rewarding show I ever had'. He would routinely wipe hamburger grease off his prints, left by viewers identifying people and places in his Johannesburg photographs.
Soweto, the segregated dormitory suburb established by apartheid planners, formed an irreducible part of the unity that Goldblatt understood as Johannesburg. Never compiled into a standalone book, his Soweto photographs were amongst his most treasured. A 1970 portrait of singer Margaret Singana (born Margaret Mcingana) lazing on a couch at her Soweto home, smoking, was for many years the only photo by Goldblatt that decorated his home. 'It was a crucial photograph that marked a turning point in my way of working,' he told me in 2008. A 1973 still life of businessman Richard Maponya's bedroom typifies what emerged as a hallmark of his work: describing the unspectacular and immanent in an atomized society.
In 1998, at the age of 67, Goldblatt became the first South African artist to present a solo show at the Museum of Modern Art in New York. Curated by Susan Kismaric, 'David Goldblatt: Photographs from South Africa' presented 40 works from his long-term project documenting homes, churches, public buildings, memorials and other structures that when stilled for consideration somehow spoke of larger conditions. (They appeared in the book South Africa: The Structure of Things Then, 1998.) Bigger surveys followed, notably 'Fifty-One Years' (2001), curated by Corinne Diserens and Okwui Enwezor (an ardent champion). Goldblatt's uptake by the museum was followed, consequentially or not, by a third act as gallery artist. This new situation was a point of ambiguity for Goldblatt. He frequently refused the title 'artist'.
'I am not being modest when I say that I know very little about art, and about art in South Africa,' Goldblatt told me in 2007. 'Indeed, I have very little interest in art.' Well, yes. In 2007, on the occasion of painter Marlene Dumas's first solo exhibition in the country of her birth, Goldblatt delivered the opening speech. Standing alongside Dumas, looking awkward in a crisp white shirt, Goldblatt was frequently apologetic, his speech full of disclaimers. In her thanks afterwards, Dumas simply read a passage from Goldblatt's introduction to South Africa: The Structure of Things Then: 'I felt no driving need to record those situations and moments of extremity that were the stuff of the media. It was to the quiet and commonplace where nothing "happened" and yet all was contained and immanent that I was most drawn.' It was, and still remains, a defining valedictory statement.
Main image: David Goldblatt, Oom At Geel, Near Nietverdiend, Marico Bushveld, North-West Province, December 1964. As a boy of fifteen Oom At Geel fought against the British in the South African War (1899 -1902); then against the Germans in South West Africa (now Namibia); the rebels in 1916; the strikers in Johannesburg in 1922; and, as a major, against the Italians and the Germans in the Second World War. At the time of this photograph, at 80, At Geel had just married for the second time, gelatin silver print, 33 x 49 cm. Courtesy: David Goldblatt and Goodman Gallery, Johannesburg / Cape Town © David Goldblatt