Featured in
Unfiguring the Siren of Greek Mythology
At Amant, Brooklyn, the women-led group show fluidly reimagines the mythological creature in a media-spanning exhibition
We are warned against Sirens. 'If anyone goes near them in ignorance, and listens to their voices, that man will never travel to his home', Circe cautions Odysseus in Homer's The Odyssey. The first English-language translation of the epic by a woman (Emily Wilson, 2017), faithful to the earliest written versions of the shape-shifting oral narrative, characterizes the Sirens as mysterious voices of a landscape, rather than the bird-women of classical antiquity. This transformation is unsurprising: in ancient Greece, the unbridled sounds of women were considered dangerous to civic life, even monstrous, an Othering framework that mythology both reflected and reinforced.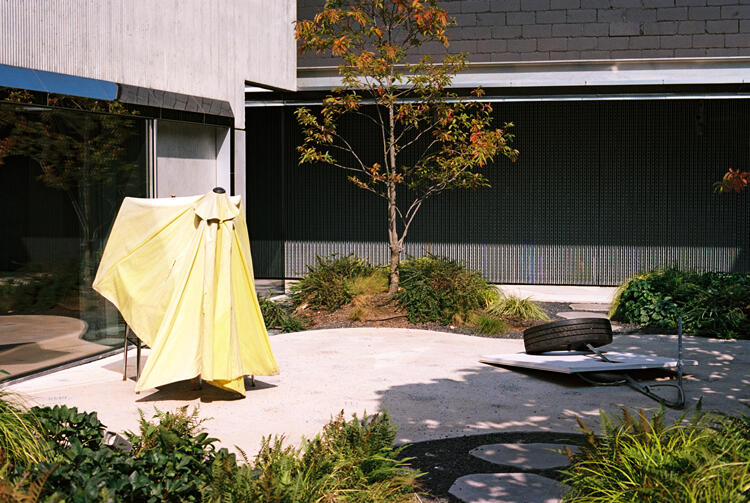 'SIREN (some poetics)', an intergenerational, international women-led show of 17 artists at Amant, invites gallerygoers to traverse a terrain in which the Siren is fluidly figured, refigured and unfigured. Curated by poet and critic Quinn Latimer, the exhibition assembles media-spanning work from the 1970s to the present to explore poetry in the expanded field, a form of language-making that – like the Sirens' song – traffics in the unknowable and unutterable.
Though the show is organized under the sign of the Siren, The Odyssey is rarely overtly cited. An exception is Bia Davou's 1980s installation Untitled (Odyssey). Four linen sails hang, suspended between ceiling and floor, embroidered with the numbers of the Fibonacci sequence and text from Homer's musings on Nostos (homecoming) and Thanatos (death). In braiding structures underlying natural and narrative creation, Davou echoes the classical analogy between weaving and storytelling. Hanging nearby is Dena Yago's Rope and Lead (2018), a length of green cloth on which careful incisions form images of rabbits from popular movies, gathered under a cartoon tree. The slashed fabric obliquely conjures up the generative deconstruction performed by Odysseus's wife Penelope, who unravels the day's weaving each night in her husband's absence and spins a yarn to stave off unwanted suitors.
Like Davou, Rivane Neuenschwander weds text to fabric in her wall hanging The Silence of the Sirens (2013), in which the words 'Sirens' and 'silence', and the letter 's' appear repeatedly on the pale felt. Sliding between a hiss and shush when read aloud, the embroidered poem references Franz Kafka's supposition that the Sirens fell silent when Odysseus passed – perhaps as a mode of refusal. Aura Satz's Preemptive Listening (part 1: The Fork in the Road) (2018) likewise reimagines sirens against the grain. Pairing footage of flashing emergency lights with the insistent wail of Lebanese trumpet player Mazen Kerbaj and spoken ruminations on the role of sirens in the Arab Spring by Egyptian-British activist Khalid Abdalla, the film suggests that sirens might simultaneously be sites of trauma or oppression, and signs of futurity or hope, an indication that the ship is moving yet.
Conceptualized as variously nonhuman, posthuman, more-than-human, or hybrid, the Siren escapes familiar anthropocentric logics. Katja Aufleger locates Sirens in the empty desert of Qatar's singing dunes, where the movement of wind across sand produces a droning sound. Seen rather than heard, the landscape's chorus in Aufleger's silent film Condition 7.3 5pm (Al Wakra) (2019) evokes Odysseus's earplug-donning sailors, who experienced the Sirens' song non-aurally. A companion piece, Sirens (Al Wakra Vol. III) (2019), features ersatz wind flowing through seven large glass pipes made from desert sand, producing a hum so quiet it hovers on the edge of audibility. Spanning species and scales, Jenna Sutela's glossopoetic video nimiia cétiï (2018) uses machine learning to translate the writhing of motile bacteria, believed to be hardy enough to survive on Mars, and the invented language of 19th century artist and medium Hélène Smith, who believed she was speaking Martian, into an opaque semiotic system, a seductive collaboration to which humans appear incidental. After such an encounter, how could Odysseus ever really return home?
'SIREN (some poetics)' is on view at Amant, Brooklyn, USA, until 5 March 2023.
Main image: 'SIREN (some poetics)', installation view. Courtesy: Amant; photograph: Adrianna Glaviano