South Asian Modernists and the London Gallerist Who Championed Them
A show of South Asian art and its links to the UK at the Whitworth reminds us of a brief but important moment of British camaraderie
'New Paintings for Collectors Bergner Bradley Chandra Christoforou Davies Handley Korn Millichip Shariffe Shemza Sironi Southall Souza Themerson Tsingos Weatherson Weston' blares a notice produced by Gallery One in a colliding mess of fonts and text sizes. It also mentions that sculptures by Bakre, D'Aspro, King and Kemeny are available. In the absence of any logic framing nationality, style or punctuation, the names on the poster each demand individual attention – which is no doubt what Victor Musgrave, Gallery One's founder, wanted to suggest to his buyers: where else in London, in 1960, would you have been sure of finding the work of an Israeli, a Pakistani, three Indians, one Sudanese and a Polish painter among their British and Italian counterparts?
Musgrave established Gallery One in London in 1953 with GBP£5. He kept it going for a decade, first in Litchfield Street then D'Arblay Street in Soho, and finally North Audley Street in Mayfair, displaying an offbeat medley of international modernist painters and sculptors. The art dealer John Kasmin, who briefly worked at the gallery, recalls that Musgrave 'stuck to his guns' regarding the artists he chose to display, many of whom were quite unknown in the city's thriving art scene and were therefore supported at some financial risk. More recently, art historian Kobena Mercer's work on 'new Commonwealth internationalism' ­­– an extended moment of artistic fluidity when artists from former colonies were active in mid-century Britain – cites Gallery One and a handful of other spaces as having resisted the popular turn towards American modernism in their early support of non-western artists.1 An interest in artists on the margins runs through Musgrave's career – a trait that would continue throughout subsequent decades and culminated in 'Outsiders', the 1979 exhibition at the Hayward Gallery that he curated with his partner Monika Kinley. He amassed a collection of 800 international works by so-called 'Outsider' artists, which was eventually bequeathed to the Whitworth Gallery in Manchester. 
Musgrave's legacy to the Whitworth sits easily with the museum's recent commitment to the 'New North and South' programme, a venture by British museums and galleries to support and display South Asian artists and collectives. It was in this context that the Whitworth decided to approach Amrita Jhaveri, a prominent gallerist of modern and contemporary South Asian art, with a space Jhaveri Contemporary in Mumbai, to advise on the South Asian artists of Gallery One as a theme for a possible exhibition. What results from their collaboration is 'South Asian Modernists, 1953-63', bringing together the work of the Indian and Pakistani artists that Victor Musgrave displayed at Gallery One. 
A quick look around the exhibition reveals a wonderful prescience on Musgrave's part. Once shuttling between London, Paris and their respective South Asian outposts in search of training and recognition, the artists who Musgrave promoted are now towering figures in the trajectory of Indian and Pakistani modernism. Realising that the gallerist left no records of the names or details of paintings from the exhibitions he staged, the curators of 'South Asian Modernists' chose to display any paintings by the Indian and Pakistani artists represented by the gallery that were executed in its decade of operation. Works acquired from across the United Kingdom include M.F. Husain's Bullock Cart (1961), an early iteration of Husain's life-long interest in the muscular dynamism of beasts of burden; S.H. Raza's Village (1958), a landscape in the flaming reds and yellows that carried into his later artistic explorations of tantrism; and the whorled, careful loops of Avinash Chandra and Anwar Jalal Shemza's respective responses to modernism.
In Musgrave, these artists – who had little recognition in Europe and faced artistic and political turbulence back home – found a source of support when the prospects of solo shows in London were few and far between. The question of how India and Pakistan (raw from the wounds of Partition in 1947) would survive on the world stage, especially in a time of Cold War, loomed large. Closer to home, in cities such as Bombay that were home to many of Gallery One's Indian artists before their departure for Europe, debates raged about the ontology of art after empire: what it would look like, who it was for, and what it would (and should) do. 'We are the primitives of a new age,' the painter KG Subramanyan announced in a 1963 article on the future of Indian art.
It was in part in search of this future that Bakre, Husain, Raza and others had formed the Progressive Artists' Group in 1947. The Group walked a constant tightrope between the two options that faced post-colonial artists of the time: on the one hand, an empty imitation of western modernism and on the other, a retreat to tired themes of Hindu mythology or rural life.Instead, as 'South Asian Modernists'illustrates, these artists sought the sort of cultural merger that was available to them abroad, with the familiar visual idioms from home now heavy with the accents of Alberto Giacometti, Paul Klee, and Pablo Picasso. This did not go unnoticed among the British press: one writer, the critic Frederick Laws, noted of the 1958 show 'Seven Indian Painters in Europe' that the artists 'use variants of half a dozen visual European languages and dialects […] Their common Indian qualities are not easy to define. Perhaps their Indian-ness makes it easier for them to take the hurdle of abstraction in their stride.' Gallery One, in this estimation, was a site where various visual vocabularies merged into a mid-century Creole.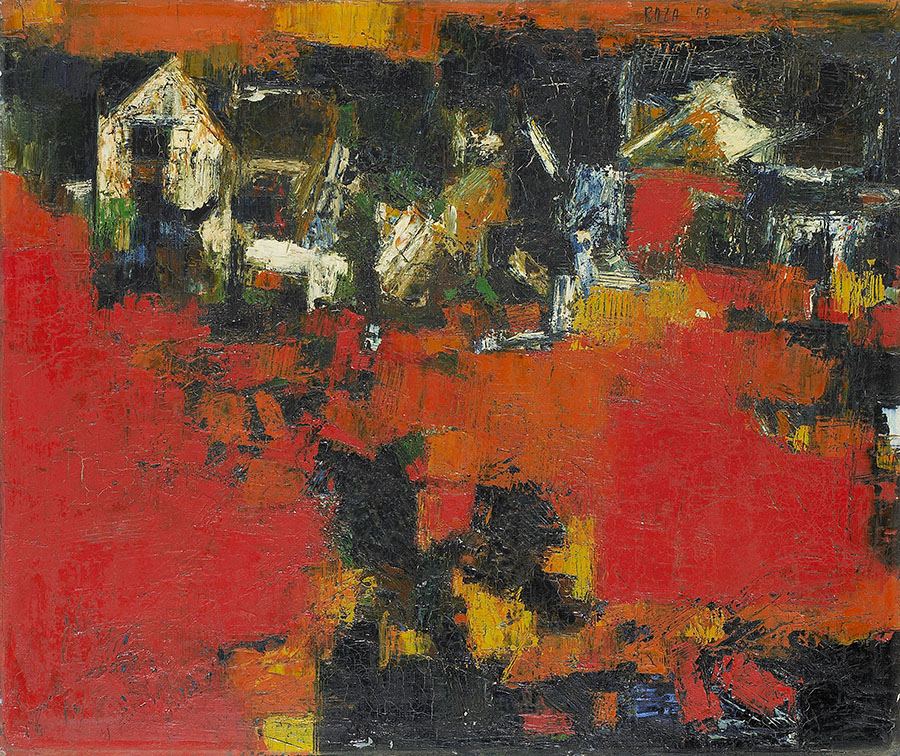 'South Asian Modernists' includes an archival section of the fragile materials which any archaeology of modern South Asian art is ever-dependent. At the heart of the display are vitrines of catalogues and cards published by the gallery, with a particular emphasis on the exhibitions of F.N. Souza and Anwar Jalal Shemza. One long wall displaying three towering paintings by Souza also includes a series of photographs taken of the brooding painter by Musgrave's wife, the Armenian photographer Ida Kar. Visitors can listen to an interview with Kasmin in which he recounts his memories of Kar, Musgrave and Souza, who apparently visited a park every morning to weep because he wasn't as famous as Picasso. Accompanying photographs and a slideshow make clear how Musgrave's openings attracted modern India and Pakistani artists: visitors included the President of Pakistan, General Ayub Khan, at an exhibition of Shemza, and the renowned diplomat Vijaylakshmi Pandit (the sister of Prime Minister Nehru), who opened 'Seven Indian Painters in Europe', which included works by Husain, Raza, Akbar Padamsee and Souza, among others. 
In a history of South Asian art that has only recently begun to take into account the broader networks and constellations that helped forge it, 'South Asian Modernists, 1953-63' provides a window into a brief but important moment of British camaraderie. The exhibition's great success lies in this act of quiet revisionism. 
'South Asian Modernists 1953–63' runs at the Whitworth, Manchester, until 15 April. 
1 Mercer, Kobena. 'Black Atlantic Abstraction: Aubrey Williams and Frank Bowling' in Discrepant Abstraction, ed. Kobena Mercer (2006).
Main Image: Akbar Padamsee, Untitled (Disciples in landscape), 1955, oil on board. Courtesy: Whitworth Art Gallery, Manchester