Featured in
Kate Spencer Stewart and Chadwick Rantanen Throw a Backyard Party
The artists present playfully experimental new work in the convivial outdoor environment of Hakuna Matata, Los Angeles
Launched in 2015, Hakuna Matata is less an exhibition venue than, as noted on its website, 'a sculpture garden, project space, serialized novella'. Here, directors Anh Do and Eli Diner present 'Youth' – their first two-person exhibition which features new works by Chadwick Rantanen and Kate Spencer Stewart – in their steep backyard in Cypress Park, Los Angeles, a space ripe for precarious experimentation.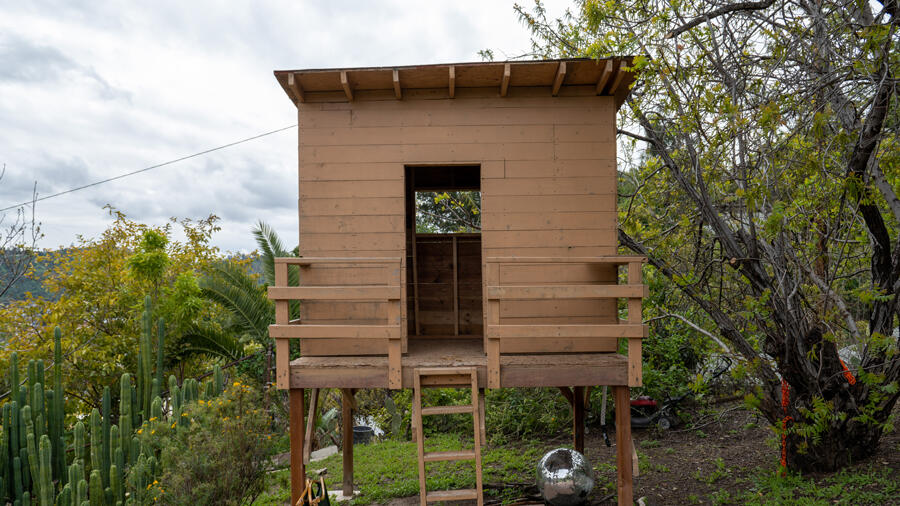 At the edge of the property, visitors gingerly climb a ladder into a treehouse, ducking their heads beneath the doorway. Inside, Stewart's painting All for the Best (2023) is installed on the unfinished plywood ceiling. I sat on a child-sized chair across from a stranger; together, we craned our necks upwards. The encroaching darkness made it difficult to see the work in detail, so the directors-cum-hosts provided a flashlight. Under the beam, the canvas's dense, cloudy surface of black and brown oil paint, typical of Stewart's style of drone-y abstraction, was activated in its installation. Outlines of flowers, rendered in light blue, became fluorescent. Looking at the painting overhead – an unusual perspective in contemporary art – evoked the experience of admiring frescoes on the ceiling of a church in Rome, transforming a Los Angeles treehouse into an almost transcendental experience.
Rantanen shows five sculptures of acoustic guitars made from laser-cut plywood based on a 3D model, each part cut then assembled like a dollhouse (Acoustic Guitar, 2023). Reminiscent of Pablo Picasso's cubist sculpture Guitar (1912), Rantanen's works are devised through a process of negation: he eliminates extraneous detail, printing only the basic structure. The thinly rendered sculptures seemed to morph as I walked around the garden, becoming abstracted from some perspectives and stick-like or near-invisible from others, camouflaging with the thicketed yard. Installed as if carelessly scattered on the lawn,  only one work was damaged during the opening – a remarkable achievement with kids and dogs running amok. Seemingly alluding to their referent's impotent machismo, Rantanen's flimsy sculptures, though produced meticulously, are ultimately unstrummable: they form a silent, almost pathetic jam session serenading their counterpart in the treehouse atop the hill.
Rantanen and Stewart are a couple, as are Do and Diner. Possibly as a result, the show carries a warmth and intimacy that evokes being at the home of friends. The gallerists, indeed, live with one of Stewart's paintings in their parlour. Equipped with that information, visitors might perceive the exhibition in a different light: perhaps the 'Youth' of the show's title alludes to the sense of freedom to experiment and engage with the environment that a space like this affords which traditional, white-cube settings rarely do.
I've grown weary of articles, such as Janelle Zara's article 'Los Angeles is the home of the house gallery' in the Financial Times (2023), heralding the 'house gallery' as Los Angeles's primary contribution to the art world. What may have been borne of scrappy informality in the 1960s has become, in some cases, stilted and awkward and, in others, institutionalized: domesticity has been sterilized by professionalism. The exception is a space like Hakuna Matata, which sustains a spirit of playfulness in relationships and artmaking, and which has no intention of moving into a bigger venue or one with more foot traffic. Like the work and lives of so many young artists before they achieve commercial success, these spaces reflect a lack of rigorous constraint, liberating those who show in them to produce work that allows them to extend past the aesthetic vocabulary which has brought them success to forge new vernaculars. Such spaces exist wherever the owners choose to call home; and, as seen here, artists and audience respond in kind.
Kate Spencer Stewart & Chadwick Rantanen, 'Youth', is on view at Hakuna Matata, Los Angeles, until 19 March. 
Main image: Chadwick Rantanen, Acoustic Guitar, 2023, installation view. Courtesy: the artists