Top Korean Artists to See at Frieze Seoul 2022 
From the fantastic visions of Hun Kyu Kim to icons of Dansaekhwa, South Korea's most famous art movement
Frieze Seoul offers the chance to encounter today's most acclaimed contemporary talents alongside historic masters of Korean art.
In the Focus Asia section for emerging galleries and artists, discover Sungsil Ryu (presented by P21). The artist becomes a virtual subject in her YouTube-inspired videos which investigate themes of consumerism, religion, war, sex, death and the rejection of traditional values such as filial piety – many topics considered taboo. Learn more about Sungsil Ryu with our artist interview.
In contrast to Ryu's provocations, Hejum Bä (Whistle) offers the viewers a quiet meditation on colour. In her work Resolute Tracker, Bä 'tracks' how meaning in abstract painting is generated through the combination of decision, sense, form, and colour.
In the Frieze Masters section for 20th century and historical art at the fair, Korean highlights include a sculpture by Park Hyunki (Gallery Hyundai), an artist known for creating installations which juxtaposed natural objects with video technology; in doing so, he gave form to a singular world of video art that is both spiritual and contemplative.
Haindoo (Hakgojae), was a founding member of the Korean Association of Contemporary Artists and was regarded as a painter who expanded the field of abstract art in Korea. He was known for creating colour field paintings which meditated upon Buddhist concepts. Mandara (1984) is wrought with circles and blue flashes symbolising the universe. The intense and vibrant colours recall Eastern 'dancheong' (traditional decorative colouring on wooden buildings and objects), or Western stained-glass works.
Frieze Masters will also feature works by icons of Dansaekhwa from artists such as Lee Dong-Youb, Lee Kang-So, Park Seo-Bo, and Yun Hyong-Keun (Tokyo Gallery + BTAP). 'Dansaekhwa' means monochrome painting, and the term is applied to a loosely grouped artistic movement that emerged in Korean painting in the mid-1970s, when artists were seeking a new mode of making in a bid to reconcile the impact of Western modernism on Korean artistic culture.
In the main section of the fair, Lehmann Maupin present a selection of new works by Lee Bul, an artist known for working across a diverse range of media, from drawing, sculpture, and painting to performance, installation, and video. Her works explore universal themes including the utopian desire to achieve perfection through technological advances and the dystopian visions and failures that often result.
Also on display will be works by leading contemporary Korean artist Koo Jeong A (PKM Gallery). The artist has gained the attention of the international art world through her distinctive works which poetically capture the fragile and ephemeral nature of mundane objects and everyday life.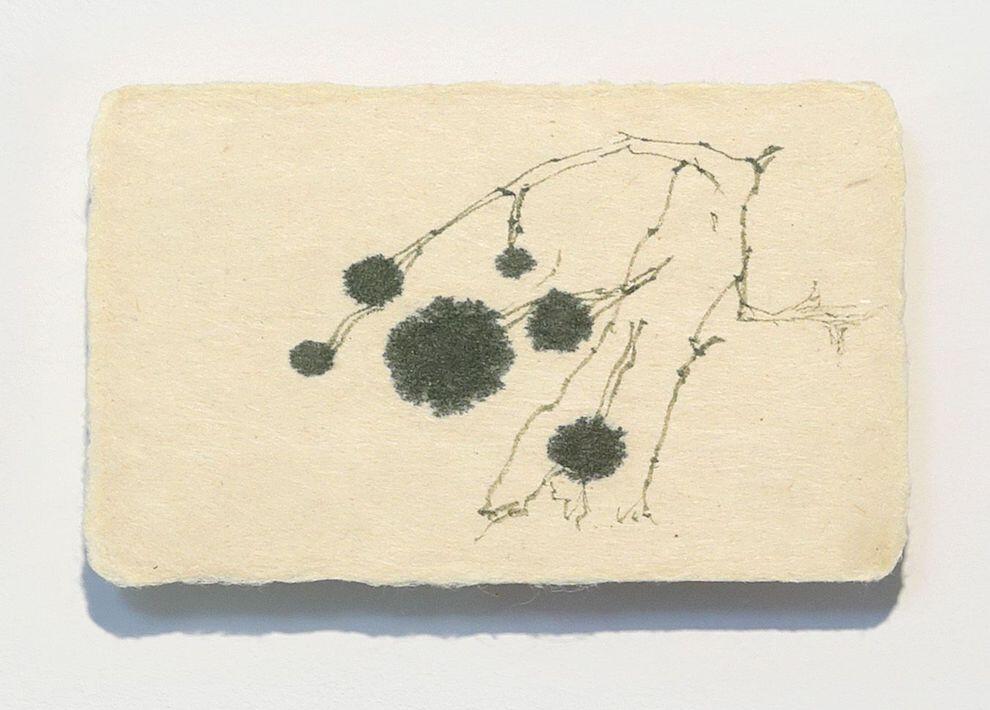 Spectacularly intricate new paintings by Hun Kyu Kim will debut in a presentation by High Art (Paris). Kim crafts vast fantastical universes laced with intense imagination, reflecting upon a post-globalized world grappling with the effects of technological neoliberalism.
Kukje Gallery (Seoul) presents a number of works by world-renowned contemporary artist Haegue Yang. The display includes Sonic Rotating Whatever Running on Hemisphere #19 (2022), a new wall-hanging sculpture covered with stainless steel bells and water taps that generate unique visual patterns and acoustics when activated. 
Main image: Detail of Hun Kyu Kim, Empty Paintings of the Broken Hearted, 2022, Pigment painted on silk, 175 x 115 cm, Courtesy of the artist and High Art, Paris / Arles