Featured in
Veronica Ryan's Flamboyant Fruit
At Alison Jacques, London, the Turner Prize-nominated artist recasts Caribbean flora and quotidian objects as symbols of interconnectedness and care
After an object is thrown up into the air, there is a moment of complete stillness which bridges the peak of its ascent and the beginning of its fall back to earth. This brief pause, one of the few things I remember from high school physics, resurfaced in my mind during my visit to Veronica Ryan's first solo show at Alison Jacques. The exhibition contains more than 50 works that are – in the truest sense – spread across the space: mounted on walls, suspended from the ceiling, stacked in corners and laid out across the floor. The Montserrat-born artist's works are brightly coloured and often composed of multiple elements, many of which are replicas of Caribbean flora, including mango seeds, cocoa pods and guavas. There is a lot to see. However, despite the array of colours, materials and shapes, calmness emerges where you might expect frenetic energy.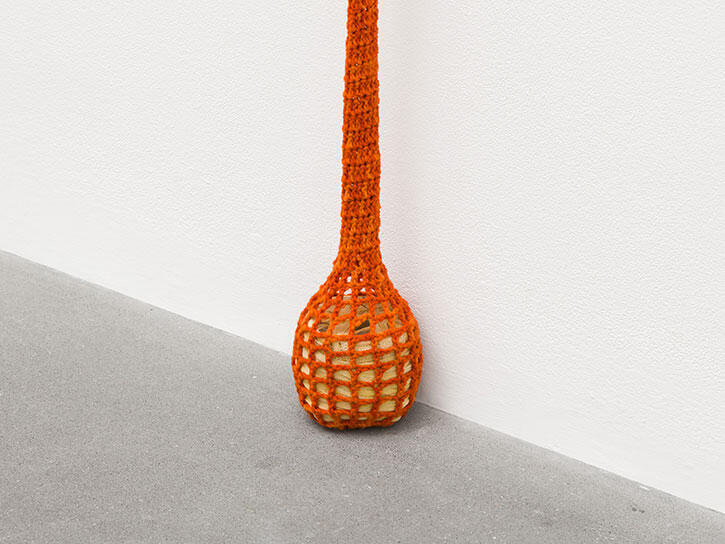 This serenity hinges in part on the positioning of objects that compose Ryan's works. Discarded Seeds Reconfigured (2022) consists of many ceramic mango seeds lying in a neat pile of concentric circles on a woven jute mat. The arrangement makes clear Ryan's deep thoughtfulness toward objects that, as the work's title suggests, would typically be considered waste. The seeds all lean against and balance each other and, in doing so, create a fragile structure wherein order and repose are temporarily achieved. This delicate placement affords these objects, which are often seen as disposable, a reverence they may not otherwise receive.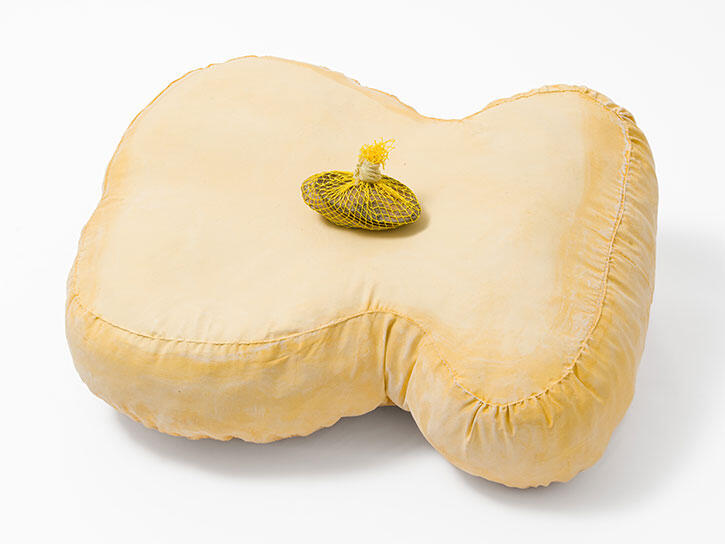 Ryan's interest in food stems from her work in Nigeria, where she travelled on the Boise Travelling Scholarship in 1980 after graduating from London's Slade School of Fine Art. While there, she studied how everyday materials that facilitate life are transformed into ritualistic objects. The impact of this trip is evident in all her work since, including in her landmark 2021 show 'Along a Spectrum' at Spike Island, Bristol, which won her a nomination for this year's Turner Prize. The influence of what she learned in Nigeria is also evident in the materials she uses and the objects she references in this show. Aside from food, which she casts in ceramic and bronze, Ryan repurposes a range of familiar utilitarian items – plastic bottles, fishing nets, teabags, light bulbs – elevating their function and meaning from quotidian to precious. By halting their transition from utility to obsolescence, the artist renders these objects metaphors not only for consumption but also for interconnectedness and care.
The titles of Ryan's works often demonstrate a desire to broach broad concerns. In Momento Mori I (2022), for instance, two bronze fruits are snugly cradled in bespoke pockets sewn into a lap-sized medical pillow placed among other pieces on the floor; the remedial nature of the cushion suggests not only care, but repair. This sense of mending is present in many of the other works, where Ryan wraps, folds, ties and knots materials together. In Collective Moments XVI (2022), sheets of cartridge paper, cut in the same irregular shape and stacked together, are held in place by red twine wound around the stacks several times – just as a cast might support and protect a broken bone as it heals. Ryan's work offers an opportunity to reflect on resolving the universal issues that affect us in everyday circumstances. If not overtly, the artist seems hopeful: we already have everything we desire, she suggests, we just need to look for it. 
Veronica Ryan is at Alison Jacques, London, until 12 November
Main image: Veronica Ryan, 2022, exhibition view. Courtesy: © Alison Jacques, London; photograph: Eva Herzog