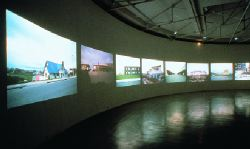 There's often something debilitating about blockbuster exhibitions in summer. Aiming to pull audiences, it's when museums like to gather together big names or easily identifiable movements. However, 'Voilà', Paris' summer treat this year, was more complex than it first appeared, gradually disclosing a subtle and original subtext. It recalled a sort of sociological study, a time machine, or a large-scale work-in-progress.
Annette Messager's installation was one of the exhibition's highlights. En Attente, Dépendance/Interdépendance (Waiting, Dependance, Interdependance, 1995-2000) - a site specific re-working of an older piece which consisted of hand-sewn puppets and abstract shapes hanging from the ceiling - attempted to recreate the atmosphere of the artist's studio. The artist chose to arrange the objects, (of which there were about 100), as a shapeless accumulation on the floor. They seemed to be suspended in time, as if caught in the moment of indecision before the artist finally decides when and how the work should be displayed. Exhibited in the centre of the museum and accompanied by an explanatory wall text, the piece embodied the intention of the show, which was to explore compiling, archiving and classifying.
'Voilà' was filled with sprawling installations by about 50 art stars, including Matthew Barney, Christian Boltanski, Rosemarie Trockel and Fabrice Hybert. Groupings of facts, objects, words, images, and people led you through the show, enabling you to follow different threads of ideas, all of which created a dizzying and blurring effect that corresponded to the gargantuan proportions of the project. One sub-grouping was Bertrand Lavier's La Peinture des Martin (The Painting of Martin, 1900-2000), a collection of paintings by artists whose surname is 'Martin'. Besides Agnes and Michael Craig, this gathering of pictures excavated from the depths of regional museums was like an overview of 20th-century styles. Douglas Huebler's Variable Piece No. 70 (ongoing), which records the artist's attempt to photograph the largest number of people in the world, complemented August Sander's photographs of individuals. Gilbert and George explaining their filing system to a rather dazed Hans Ulrich Obrist in The Secret Files, (2000), and Andy Warhol's Time Capsule No. 214, Air France, Nov. 78 (1978) are both exemplary in the way they play with the more absurd elements of classification.
Although it appeared that many works seemed to be included simply to occupy as great an expanse of museum floor as possible, the show still managed to encourage the viewer to become an active participant in its construction of meaning. There was a fair deal of walking to be done, looking at documents, reading labels and flipping through books. These fragments, extracts and sketches provided an insight into a kind of mental universe. Joseph Grigely's White Noise (2000), for example - an environment made from the scribbled notes the artist uses to communicate with - was suggestive of the effort it takes to grasp the world, while Barney's selection of objects documents a finished work: Cremaster 2 (1999). Fischli and Weiss' collection of images and Gerhard Richter's Atlas (ongoing) similarly lay bare the reflective moments that precede a final decision. In both cases, as in many others, the displays touched on the grey area that lies between the original medium and the completed art work: something caught at one specific moment in time, and which almost imperceptibly reflects upon the creative process. In this sense, Chantal Ackerman and Jonas Mekas' autobiographical pieces were very moving. Combining and rearranging fragments from their own films, they both sought to extricate an objective interpretation of the passage of time through their subjective and personal material in an attempt to stimulate the memories of viewers. Mekas' Autobiography of a Man whose Memory was in his Eyes (ongoing) is a collection of images that we are free to associate and complement with our own. The period of time covered in this three-part video piece echoed the physical expansiveness of many of the works in the show. Mekas - along with many of the other artists - seemed to suggest that maybe we could all be artists, working through and merging subjective and objective time scales, at least for the duration of an exhibition