What Does the Future Hold for Nigeria?
After the most contested elections since the country's return to democracy in 1999, what should Nigeria's artists and citizens expect from their new Trumpian government?
The dust is yet to settle on the Nigerian elections, but enough time has passed to be clear about the violence and misinformation that followed the polls. On 1 March, the incumbent president Muhammadu Buhari wrote in a Twitter thread that 'the results reveal democracy's ripening in our country.'
Buhari neglected to mention that on election day supporters of the ruling party (All Progressives Congress), to which Buhari belongs, threatened opposition voters with violence. Some were shot at by unknown assailants, in incidents documented live in an NPR broadcast, and others assaulted. In some cases, election officials simply did not show up at polling stations, denying citizens their right to vote. Worse still, the electoral commission failed to produce a working digital system that would have provided a live tally of the voting record, which would have assuaged concerns of electoral fraud.
Buhari's response? 'None of the issues registered represent a challenge to the freeness and fairness of the elections,' he tweeted. 
These 'free and fair elections' have produced a winner, Bola Ahmed Tinubu, a veteran political savant and kingmaker to whom Buhari owes some of his ascent to power. A former governor of Nigeria's commercial capital, Lagos, home to its burgeoning visual art, film and music industries, Tinubu has been accumulating power for nearly four decades. Now, finally, the top seat in the land is his. The status quo was preserved in this election, but it's the extremes to which the ruling party has gone to retain power that make me afraid for my country.
One need only briefly consider Buhari's rule over the last eight years to notice a rising trend in repression and the manipulation of public opinion. On 20 October 2020, the military opened fire during an #EndSARS protest where young, unarmed Nigerians had staged a sit-in demanding an end to police brutality and the dissolution of the Special Anti-Robbery Squad (SARS). Unable to sleep, I watched livestreams in disbelief as the shots rang out. I will never forget a young man singing the national anthem, crying, as he scurried away. I do not know whether he survived. I cried myself to sleep that night. When I woke up the next day, the tears were still there.
That morning, the military claimed on its official Twitter account that soldiers were never present. Buhari gave a televised public address calling for an end to the protests but made no mention of the attack. What's more, the minister of information and culture, Lai Mohammed, denied there had been any deaths, even after CNN reported, with graphic imagery, that the opposite was in fact true. Some people began to doubt whether the Lekki Massacre, as it has come to be known, even happened at all. With this government's Trumpian approach to politics, only one question remains: what does the future hold for the country? And for Nigerian artists?
I do not see an administration under Tinubu protecting freedom of speech, protest and other democratic rights. I see a world where artists, frustrated by their inability to respond to the politics of the times, will leave Nigeria. They are already, in any case, frustrated by the slim opportunities for experimentation or the production of challenging work. Some will conform for self-preservation and stay away from commentary as a whole. As it is, Nigerian art – barring some sterling exceptions – Peju Alatise, Olu Amoda, Jelili Atiku – is barely political. Dissenting public opinions, in creative practices such as literature, film, music or art, are not encouraged or fostered. How then will  society hold a mirror up to itself? This lack of room for engagement will continue to breed cynicism. People are unlikely to use their voice if they don't believe they have one. I look forward to a day when more of Nigeria's contemporary artists take up the mantle of political agitation, but social divisions and ethnic tensions are currently the country's biggest barrier to progress. 
The elections took a dark turn when supporters of the ruling party employed bigoted language against one ethnic group, the Igbos, to discredit the opposition party's presidential candidate, Peter Obi. In 1967, similar anti-Igbo sentiment led the group to call for secession, resulting in civil war. Lamenting the state of the nation in The Trouble with Nigeria (1983), Chinua Achebe wrote, 'Nigerians will probably achieve consensus on no other matter than their common resentment of the Igbo.' It appears Tinubu and his supporters were counting on this to secure the presidency.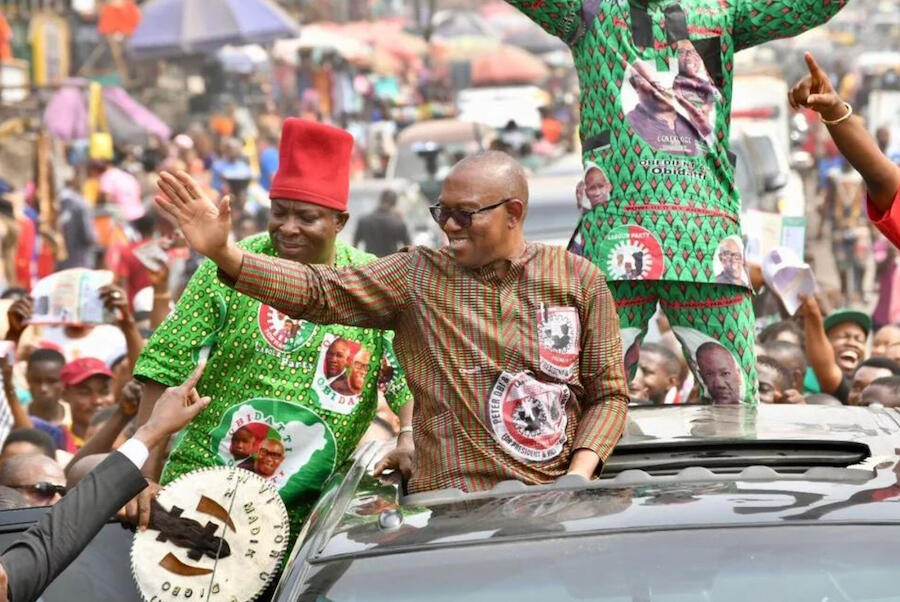 When the highest office in the land legitimizes hate towards one group, a country can only spiral into chaos. We saw it in the US with Trump's rhetoric around COVID-19 and the subsequent spike in anti-Asian attacks. The next few years will be dire. It may require bottomless moral courage from Nigerians and their friends abroad, to set aside personal interests and demand nothing less than what is right and just. It will not be easy. Hope will be scarce. Although I am deeply pessimistic, I am desperate to be proven wrong.
Main image: A campaign poster in front of various shops on Lagos Island on 23 February 2023. Courtesy: Getty Images; photograph: Benson Ibeabuchi