Yu Ji's Poetic Approach to Mapping Cities and Ideas
The artist's exhibition at Chisenhale Gallery shows how entangled and dependent our lives are upon one another
In April 2019, in preparation for her first solo exhibition outside of China at Chisenhale Gallery, Yu Ji travelled from Shanghai to London to take part in a residency at Delfina Foundation. Although she did not know it at the time, the development of her show would be much like a meandering river: slow, and not without its twists and turns.
Yu's sculptural work and installations often respond to specific geographic locations and social conditions, which she deciphers through a poetic form of field research. A usually solitary undertaking, this involves tracking the physical and temporal zones between human-made and natural landscapes. This time, however, as she took to London's streets to explore its markets and water systems, Yu was not alone. With her five-month-old baby son strapped to her chest, she started her investigation into the city's inbetween places.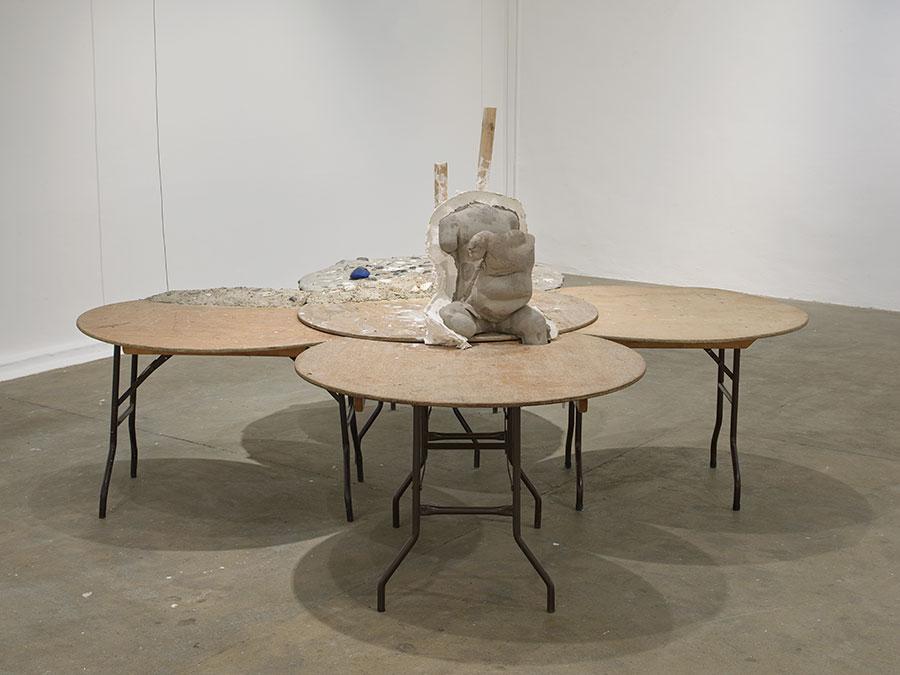 Created partly in London and partly in Shanghai, the four interrelated, site-specific works comprising Wasted Mud (2021) explore the material and spiritual ramifications of industrialization and contemporary networked capitalism. Two years on from her residency, and following countless postponements of the exhibition due to COVID-19, Yu tells me on WeChat that she has just completed a tough, three-week remote installation of her show. Though the exhibition did not change much formally in this time, the artist believes that the concepts she explores feel even more significant, given the wide-ranging impact of the pandemic over the course of the last 15 months.
Constructed from nylon webbing, fishnet and black tarpaulin, the monumental central sculpture in Wasted Mud is the largest of Yu's works to date. Taking the form of an oversized hammock, suspended from the gallery walls by 12 sections of aircraft cable, Jaded Ribs (2019–21) reflects a lengthy process of preparation and collaboration. Made with an elderly craftsman, the net is loaded with found building debris including breeze blocks, pieces of rusted metal, broken plasterboard and foam. Peeking out from this rubble are fragments of sculptures made previously by the artist, including a broken, flesh-pink fleur-de-lis – pointing, perhaps, to the brevity of human existence relative to geologic time. Burdened by the detritus in its belly, Jaded Ribs droops, nearly grazing the floor. Standing at its centre and looking outwards, the semi-reflective black tarpaulin conjures both a watery abyss and a womb, carrying the weight and complexity of life in the Anthropocene.
Since 2012, Yu's ongoing series of cast-concrete sculptures, 'Flesh in Stone', has portrayed headless, dismembered torsos and bodiless limbs, suspended from walls and floors by rusted iron structures. Referencing ancient sculpture from China, Cambodia and India, these incomplete bodies appear as prisoners, implicated in the relentless drive for industrial growth, and made from the very stuff that fuels it. The two new additions to this series, Flesh in Stone Ghost No.8 (2021) and Flesh in Stone–Rema Rema 2001 (2020), however, depart from this narrative. The bodies are fragmented but no longer shackled by, or dependent on, metal straps or supports. Instead, each sculpture is freestanding and composed of a primary figure onto which a smaller body has been attached. Though the works do not specifically depict Yu and her son, the artist has said they are a reflection of the 'weird, intimate but also contradictory' nature of familial bonds.
Extending out of two stainless-steel industrial milk cans, plastic tubes slither up the walls of the exhibition space to the beams. Foraged (2021) is an apparatus that, through a process of heating and condensing, turns weeds that have been gathered from the galley's surrounding areas into a 'tea'. The resulting liquid drips from above, covering portions of the Chisenhale's concrete floors in dark, wet stains. Weaving in and out of the other works in the exhibition, Foraged exposes the rift between divergent metabolic processes, as well as the omnipresence of decay. With an exchange of energy and the transmutation of matter, the work is a chaotic system that gestures towards regeneration.
Thrown into even sharper relief by the conditions of separation and isolation that have resulted from the COVID-19 pandemic, Wasted Mud demonstrates how we operate in a system of perpetual ontological entanglement and interdependent exchange. Though our increasingly digital world has a tendency to isolate us, Yu's work deconstructs contemporary life, stripping it down to its elements. In this process she uncovers a soft and loamy place, where, although things are murky, there is the possibility of a slowness in which new life can begin.
'Yu Ji: Wasted Mud' is on view at Chisenhale Gallery, London, until 18 July. 
Main image: Yu Ji, Jaded Ribs, from the 'Wasted Mud' exhibition, 2019–21, installation view. Courtesy: the artist and Chisenhale Gallery, London; photograph: Andy Keate