As Zona Maco Opens, the Best Exhibitions to See Across Mexico City
From art world funnyman Michael Smith's alter-ego to Ambera Wellmann's fleshy configurations, a selection of shows not to miss
Helen Escobedo: 'The Potential of Sculpture'
Proyectos Monclova
5 February – 9 March
A vanguard of her time, Helen Escobedo's shadow looms large on the idea of monumental sculpture and public art in Mexico. Internationally, she is best remembered for her immense works that still stand, such as the snaking Coatl (1978) at National Autonomous University of Mexico and Puerta al Viento (Gate of the Wind) from the 1968 Olympic public art project, 'Route of Friendship.' This exhibition and Proyectos Monclova will be her first solo show in Mexico since the Museum of Modern Art showed her work in 2010, and the first since her death in 2012. Her primary interests were in the environment and the perceptual interactions the public might have with her work. So, although known for monumental works, she was an artist undaunted by ephemerality and empty space.
For this exhibition, Proyectos Monclova presents 75 pieces from the late 1960s to the early '80s, including sketches on paper, maquettes, or otherwise miniature samples of potential larger works. This show is like peering through the slats of a fence to glimpse a field of cohesive sculptural theory, or like glancing through a peephole in a door, where everything appears smaller than it should. An imposing sculpture stands as a centerpiece: at almost seven feet, Eclipse, de la serie Muros Dinámicos (1968) (Eclipse, from the Dynamic Walls series), leers over the heads of even the tallest in the gallery space. It demonstrates the artist's preoccupation with a kind of double vision between presence and absence, the lacquered wood having been painted with stripes and semicircles to look as though the solid, organic material might be transparent, artificial, and slightly reflective.
Noe Martínez: 'The demands of memory. Body, passage, and intrusion'
Parque Galería
2 February – 23 March
Noe Martínez's second solo show with Parque Galería is the result of his research-based practice on colonialism and indigeneity and demonstrates how holes in history manifest as wounds in the contemporary social body. Gallery texts identify the specific subject at hand as Spanish conquistadors' trade of enslaved Africans to the ports of Huesteco, Mexico, and the brutal colonization of the indigenous people of the region. Broken into three parts: body, passage, and intrusion, the exhibition is most successful while depicting the latter two. Black-and-white analog photographs reveal empty and rugged landscapes of the coastal region. Cast-iron reproductions of the tools used to brand slaves (El intruso (The Intruder), 2019) are scattered on the floor and made more pronounced alongside the absence of figures in the photographs hung above. An unobservant wanderer might trip on them. Although art objects, they hold the potential to function like the real thing. They are shocking, disgusting, and a necessary confrontation.
'BLISS'
Escuela de la Paz
4 February – 30 March
'BLISS' is the second exhibition by the non-profit curatorial platform LAR, and is held in the recently inaugurated Escuela de La Paz, a former high school now used for various artistic endeavours. This group show, spanning three exhibition rooms, brings together 9 female-identifying artists whose work celebrates and interrogates the history and practice of female utopia. On the left-hand wall of the second room hang three large photographs by director Leilah Weinraub, documenting the dancers and purveyors of LA black lesbian strip club Shakedown in the early 2000s. In an interview about her work, Weinraub advised, 'Not only do you have to have a concept and an idea that people really respond to but you have to have the whole infrastructure there to even be able to benefit off of it.' 'BLISS' is responding to this call to action, not only by using the exhibition space as a metaphor of feminine self-expression and fantasy, but by making space to realize it. As such, LAR have transformed the space at Escuela de la Paz into a beauty salon, complete with a functional hair wash station. White, swiveling salon chairs face a triptych of Casey Jane Ellison's mirrors (Together Apart Together, 2019), works that use a unique process to transfer blown-up images of intimacy onto the reflective surfaces. Elsewhere, Frieda Toranzo Jaeger presents a triptych of paintings (Dreamline 1, Water Lily, and Dreamliner 2, all 2019) that depict the discrete anatomy of an automobile, fractured as if in a chop shop, flora creeping through the windows. Depictions of fragmented bodies, built of metal or flesh, point to the exquisite corpse quality of the idealized feminine form. Known for designing a menswear brand that deconstructs notions of masculinity, fashion world provocateur Barbara Sanchez-Kane straddles the line between play and power with her XXL steel barrettes (Cucas, 2019), which suggest the weight of girlishness.
Peter Fischli: 'More cans, some bags and boxes'
House of Gaga
5 February – 16 March
Peter Fischli has made a career out of a simultaneous irreverence and admiration for the everyday object. While anything placed on a pedestal is raised in the esteem of a viewer, Fischli continues using this sculptural feature as a punchline, bringing to mind the jungle of pedestals installed in Fischli and David Weiss's 2016 Guggenheim show, 'How to Work Better.' In the lineage of Dadaists such as Kurt Schwitters, Fischli has recently dedicated himself to the poetry of detritus. The title of the current show at Gaga, 'More cans, some bags and boxes', is a play on his last solo show at House of Gaga's LA location and at Reena Spaulings in New York, titled 'Cans, bags and boxes'. What you read is what you get. That is to say, more cans, some bags and boxes. There are some monkeys, too. Based on a drawing of a monkey in a jungle that the artist made when he was 10 years old, he now presents three polyurethane foam reliefs based on the composition. Embracing his inner child in the most literal way, these sculptures (all untitled, 2019) and their configurations feel pioneering and fresh.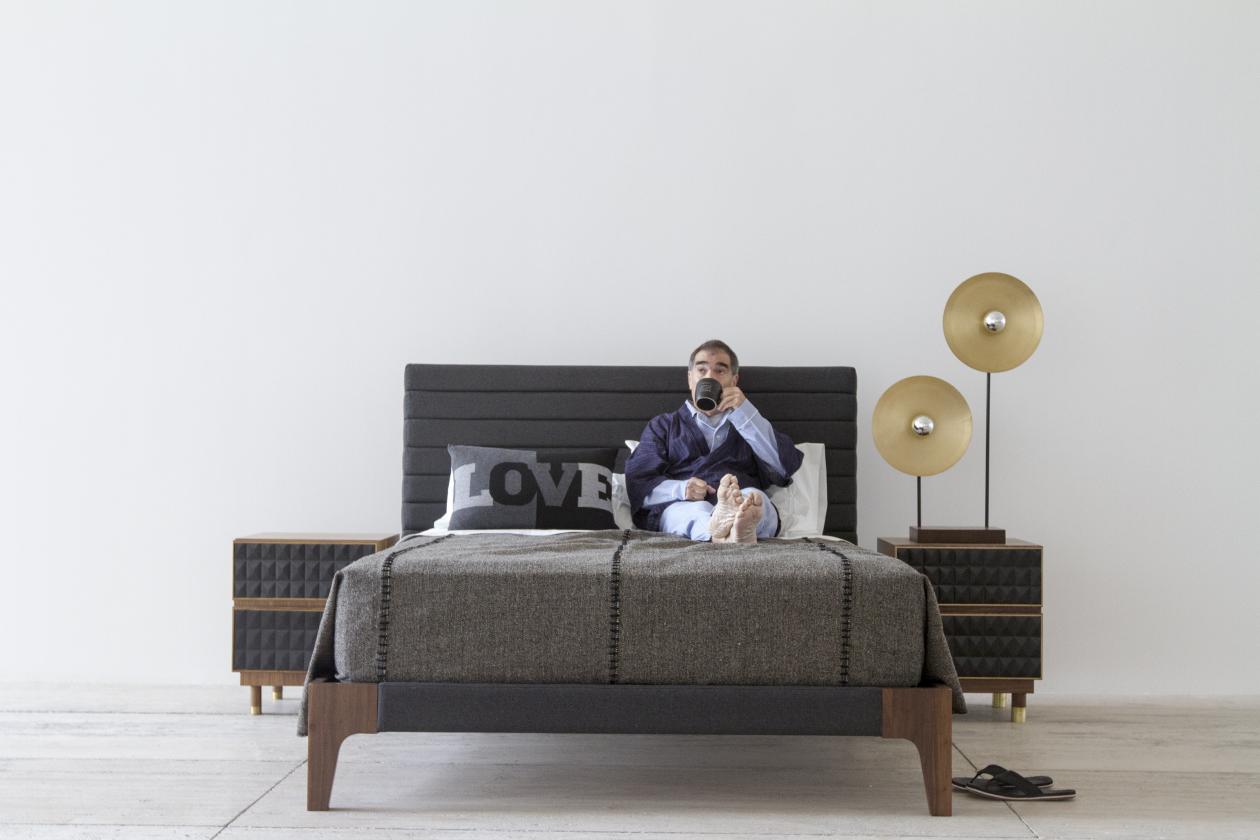 Michael Smith: 'Imagine the View from Here!'
Museo Jumex
8 December  – 3 March
Performance artist and artworld funnyman Michael Smith brings out his banal alter-ego everyman Mike to play again, placing his alias directly within the walls of the museum as a character in several videos and slideshows. A booth to the right advertises an easy and affluent life in Nuevo Polanco, the museum's neighbourhood. Clunky corporate graphic design meets the architecture of a trade booth, and it's easy to be lulled into delirium by the royalty-free music playing in the background. It might take a moment to realize that the product being advertised is the exhibition space itself; 'a fully curated timeshare,' reads a billboard advertising the Jumex terrace. One might wonder, like I did, whether you are in on the joke or the butt of it. Most likely a bit of both. The artist uses his persona to lay bare his own privilege while dragging in the complicity of the Jumex conglomerate in the corporatization of art and the gentrification of the neighbourhood. That he does so within the safety of the museum's walls makes him a jester of sorts, entertaining the powers-that-be with tongue-in-cheek. In the central video, Imagine the view from here! (2018), Mike is seen fumbling and stumbling through the lonely luxury of resorts and cafes in both Mexico City and the nearby San Miguel de Allende, a town popular with retired Americans. The exhibition's curator, Kit Hammonds, makes frequent appearances in the video, the relationship between curator and artist humorously turned into that of a real estate agent and buyer. When viewing this exhibition, I suggest stepping out onto the adjacent terrace and taking in the view.
Ambera Wellmann: 'In medias res'
Lulu
5 February – 6 April
The female gaze is a term that gets thrown around a lot whenever a woman makes work, especially work dealing with the figure. The viewer occupies just one role in the gaze's trifecta of looking; in painting, there is also the painter and the painted subject's acts of seeing. If you decide to engage in this visual choreography, Ambera Wellmann's paintings don't give you a chance to blink. This collection of seven paintings come together like cumulus clouds against an ebullient sky. Full and fleshy figures are molded in erotic configurations and plastered against saturated chromatic backgrounds, realized with oil on linen. Lulu, being a small space, demands that you get close to the action. In Impingenous (2019), the figures are amid wrestles of love, seemingly bathed in canary yellow sunlight, while a lavender field is suggested as their bed of flora. Body parts shift in and out of focus, a mix of emotional expression and anatomical observation. The blurring of queered violence and earth trembling intensity recall Francis Bacon's paintings, but such postured masculinity need not enter the frame of these compositions.
Yann Gerstberger: 'Ice News and Freeway Fetishes'
Galería OMR
5 February  – 30 March
In an ambitious first solo show with OMR, Yann Gerstberger weaves an immersive alternative reality with tapestries, murals, and sculptures. When asked about the title of the show ('Ice News and Freeway Fetishes'), an alliterative fragment not meant to be translated, he mentions the visual language of roadside graffiti, along with the behaviour of itinerant animals and shifting climates, icebergs and ice cubes melting alongside migratory species. Birds and their migration patterns serve as the central theme of a floor-to-ceiling chalk mural that extends across the gallery's four walls, their figures fusing and dispersing in a colourful geometric flux that approaches the language of a landscape. Tapestries, made of the dyed cotton cord used for mop heads, feature street hawkers selling their wares, portraits in which they sit on blankets and under tarps, surrounded by bags of beans and herbs and potted plants. Many sculptures combine natural and artificial found objects, from rubber wheel tubes to tall blue-and-white police cones or pieces of driftwood. These assemblages use a cardboard papier-maché technique, new for the artist, that gives an earthy, adobe-like appearance. There is a maximalist quality to the symbols and influences, from Mexican folk art to Yoruba mask making and the modernist turn in landscape architecture. One wonders whether these links go deeper than simply aesthetic cohesion. Whatever the case, it feels refreshing to get lost in the show's complex logic and find unlikely niches in this fictional ecology.
Main image: Ambera Wellmann, Impigenous, 2019, 
oil on linen. Courtesy: the artist and Lulu, Mexico City