The upstate New York home of contemporary artist Francesca DiMattio is a study in contrasts: a bold, bohemian contemporary home and studio complex sited on a verdant slope near the Mount Washington State Forest.
Initially planned solely as a place for the acclaimed ceramic artist and her painter husband, Garth Weiser, to work, the artsy couple's love for spending time in the countryside led them to transform a structure initially intended to be a garage and wood shop into living quarters for themselves and their young children. In the latest Building Stories video, in collaboration with Sotheby's International Realty® DiMattio explains how they 'switched gears' and created a sense of homeliness in this formerly functional structure,  lining the interior in a seamless layer of blonde plywood. The exterior, however, they left in its original state of unadorned, deeply corrugated black steel. 'I've always been interested in opposites,' says DiMattio, 'so there was an appeal in coming to this idyllic sweet rolling hills landscape and putting this big black box right in the middle of it.'
Another home that offers the same surprising conjunction of setting and style is 347 Overlook Trail, in a gated equestrian community outside Gunnison, Colorado. With 35 acres of views over a meadow and onto the Anthracite Mountains, this site offers all the romance of ranch living, though the house itself eschews the traditional for a fusion of rustic and modern. Outside, rich wooden surfaces add warmth to the house's geometric, window-filled pattern, while interior touches like a dramatic floating staircase, exposed pendant lights and a sleek gas fire create – like DiMattio's home – a sophisticated, modern take on rural living.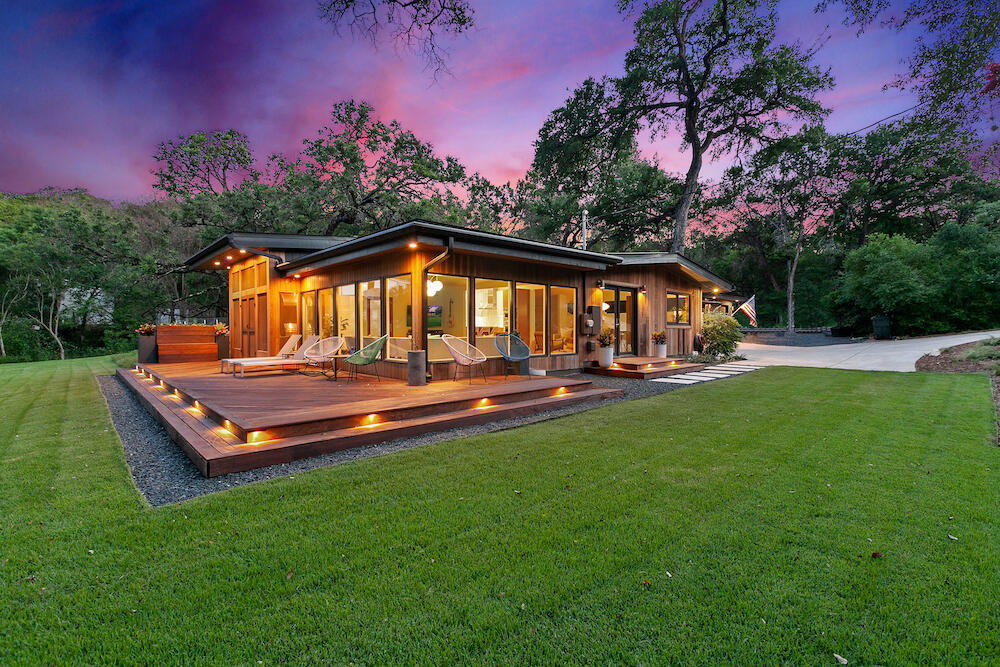 In the tranquil and coveted Austin, Texas an enclave of West Lake Hills draws power from contrast – not the contrast of home and setting, but exterior and interior. From the outside this three-bedroom, two-bathroom suburban ranch-style home – listed by Kuper Sotheby's International Realty – looks like a classic, with its beautifully preserved 1965 Redwood siding . Within this period exterior, however, the house abounds with mid-century modern style with up-to-the-minute finishes, including Thermador appliances and a Tesla charging point. A portion of the detached garage – painted on the exterior to create a striking black box recalling DiMattio's home — contains a home office.
In Milan, Italy, an early twentieth-century apartment block on Via Mercato also conceals a jewel behind its unassuming facade. On the fourth floor penthouse apartment offered by Italy Sotheby's International Realty, contrasts with the historic trappings of its immediate surrounds with a modern use of materials: like including lacquer in the kitchen and ebony panelling in the bedroom. The glory of the home, however, is surely its rooftop, maximized by a stunning conservatory and 240 square meters of terraces. Passing from the street, you might never imagine this home here – as with DiMattio's unapologetic black box in the countryside, the surprise makes it all the more glorious.
Discover more remarkable homes worldwide with Sotheby's International Realty®
Discover more Building Stories: Francesca DiMattio's Creative Domesticity
Main image: 347 Overlook Trail, Gunnison, CO, USA. Courtesy of LIV Sotheby's International Realty