The Erotic Affinities between Eva Hesse and Hannah Wilke
At Acquavella Galleries, 'Erotic Abstraction', curated by Eleanor Nairne, presents the works of both artists together for the first time

 

 
Writing in The Hudson Review in the spring of 1967, Lucy Lippard distilled a nascent strain of erotic abstraction in her essay 'Eros Presumptive'. The critic – who had just curated her first show, 'Eccentric Abstraction', at Fischbach Gallery in New York – had found the explicitly titillating work at two recent exhibitions in the city to be less than rousing: 'Hetero Is, Erotic Is' at Nycata Gallery and 'Erotic Art 66' at Sidney Janis Gallery. In response, she described an emergent tendency, seen in 'Eccentric Abstraction', which sensuously fused the absurdity of the surrealist object with minimalism's phenomenological approach, and was extended to new materials like liquid latex and fiberglass.
Two young New York-based artists, Eva Hesse and Hannah Wilke, crossed paths in the early drafts of Lippard's essay. Hesse, who was included in 'Eccentric Abstraction', was held up as an example for her sensorial transmogrifications of cool minimalist idioms. Meanwhile, Wilke's contribution to 'Hetero Is, Erotic Is' – a slotted terracotta form that readily evoked both a vulva and a penis – was highlighted as one of the show's rare successes, albeit 'conceptually less advanced than other works mentioned'. When Lippard's essay was reprinted in Gregory Battcock's Minimal Art: A Critical Anthology the following year, the Wilke reference was cut.
This summer, Hesse and Wilke are being shown side by side for the first time in an exhibition at Acquavella Galleries, New York, titled 'Erotic Abstraction'. The pairing of the artists, who art-history often siloes into the categories of 1960s post-minimalism and 1970s feminist art respectively, is a remarkably generative one. Deftly curated by Eleanor Nairne, a curator at London's Barbican Art Gallery, the exhibition presents Hesse and Wilke's oeuvres in separate rooms and features works on paper, video and sculpture, all made between 1965 and 1977.
With loans from institutional and private collections, 'Erotic Abstraction' presents a rare opportunity to see works that are seldom lent out due to their fragility. Hesse's Sans III (1969), a chain of flaccid latex boxes, has become particularly brittle and discoloured over time, recalling the artist's words on impermanence in an Artforum interview with Cindy Nemser from 1970, the year Hesse died from a brain tumour aged just 34: 'Life doesn't last; art doesn't last.' Wilke's enclave opens with her oldest work on view, Untitled (c. mid-1960s), a light pink terracotta 'box' that is ridged, folded and wrinkled so as to evoke a vulva. The inclusion of this awkward object, coeval with the example cited in Lippard's essay, handily indicates that Wilke's early 'cunt sculptures' predated much of the 'central core' art of the late 1960s and '70s, arising from a minimalist context as well as a feminist one.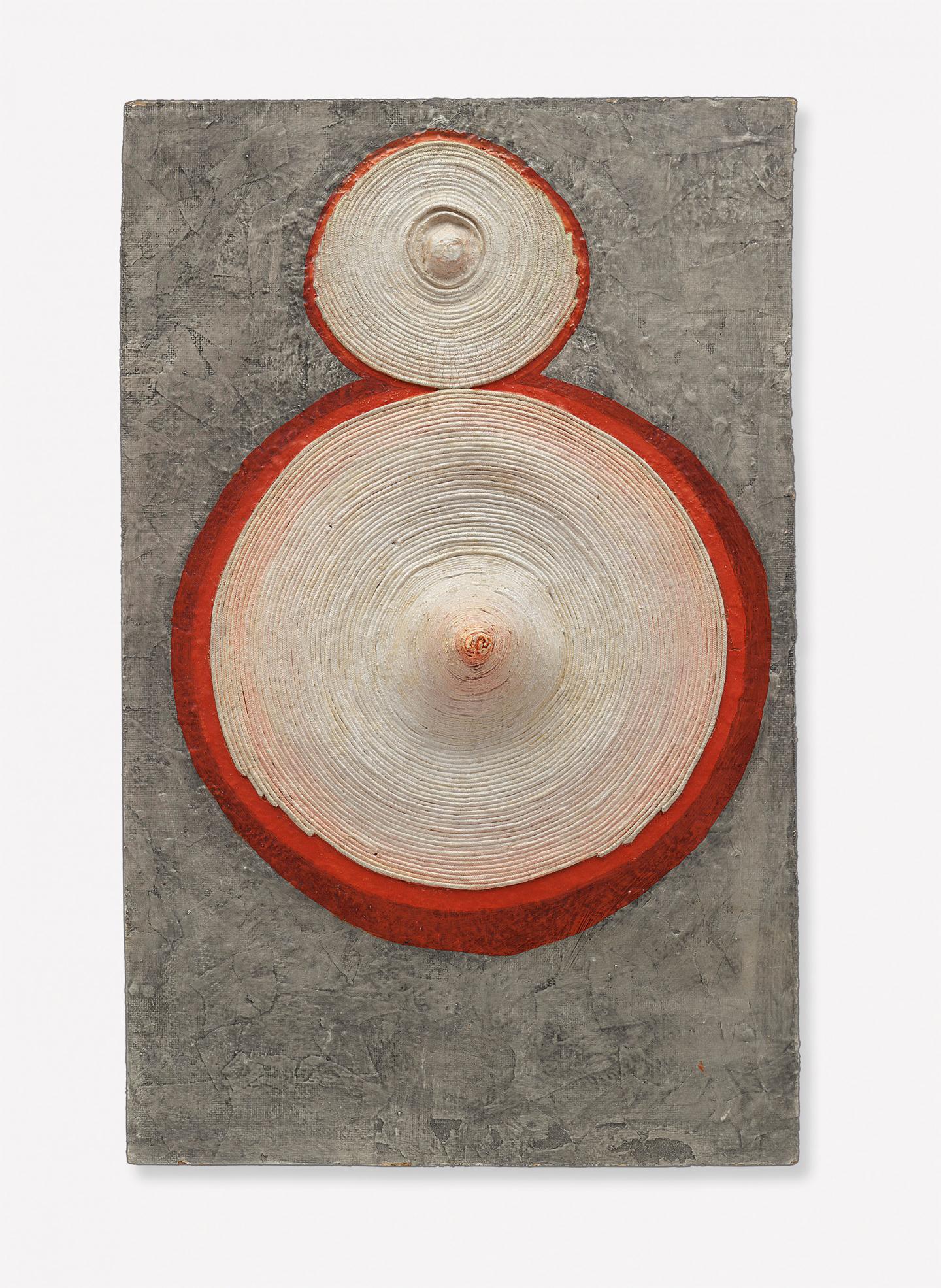 Folded yonic forms likewise populate Wilke's 'Needed-Erase-Her' series (1974–77). Made from kneaded erasers, these small grey objects, variously arranged to mimic or break the modernist grid, overtake plinths or blot out tourist destinations on vintage postcards, rendering a tool for effacement additive, if not acquisitive. Wilke referred to her vulvic erasers, and related works in materials from ceramic to chewing gum, as one-fold gestural sculptures, a term that both emphasizes process and keeps the forms unforeclosed.
Where Wilke offers up folds, Hesse gives circles. Ringaround Arosie (1965) is Hesse's earliest –and arguably most iconic – work on view. During a sojourn in Kettwig, Germany, Hesse expanded her painting- and drawing-oriented practice into three dimensions. An early experiment with relief, Ringaround Arosie features two circles built up from precise coils of cloth-covered cord on a grey Masonite ground. Hesse, who titled the work after her pregnant friend Rosie Goldman, wrote in a letter to Sol LeWitt that the fleshy circles resembled both 'a breast and a penis'. At the same time, Hesse often insisted that the circles which populated her work in the mid-1960s were abstract. 'I think it was a form, a vehicle,' she told Nemser in 1970. 'I don't think I had a sexual, anthropomorphic or geometric meaning.' With a minimalist commitment to seriality, Hesse repeated the circle within and across the works on view, reconstructing the shape in mounds of cord, delicate ink washes, pen on graph paper and rubber washers. The curiously erotic washers – open circles in slightly irregular rows arranged on a low table – have resonances with the fields of folded erasers that Wilke would make seven years later.
What might Hesse, who only began sculpting in earnest in 1965, have done with seven more years? How might her work have evolved? In 1970, Wilke forayed into performance and performalist photographs, which would occupy her until her own untimely death in 1993, at the age of 52. Wilke's final body of work, the searing 'Intra-Venus' series (1991–92), documented her late-stage lymphoma. At Acquavella, two of Wilke's early performance videos play on loop: Gestures (1974), in which she kneads her face into gestural sculptures with her hands, and Intercourse with … (1977), where she picks off her bare skin, as if they were scabs, the names of people who have left voicemails for her. In an endnote to her catalogue essay, Nairne observes that Hesse had also expressed an interest in experimenting with film towards the end of her life.
Two-person shows run the risk of flattening both artists by equating them or slotting them into a dialogue that feels manufactured. 'Erotic Abstraction' instead builds an open-ended space for connection. The exhibition draws out the pair's shared affinities, such as an emphasis on process, interest in the body and investment in humour – the latter a characteristic that often goes underrecognized in both of their oeuvres. At the same time, it leaves visible the areas where the artists decidedly don't mesh: the place of feminism in their projects, for one, or the levity of Wilke's work relative to that of Hesse. Largely eschewing didacticism, the pairing is an open invitation to look at two trailblazing artists working in 1960s New York in a new light. They both shine.
'Eva Hesse and Hannah Wilke: Erotic Abstraction' is on view at Acquavella Galleries, New York, USA, through 18 June.
Main image: Eva Hese and Hannah Wilke in the catalogue essay of 'Eva Hesse and Hannah Wilke: Erotic Abstraction', 2021, Acquavella Galleries, New York