Featured in
10th Alberta Biennial of Contemporary Art
Various venues, Edmonton and Banff, Canada
There are many ways to measure two years, the arbitrary art-world standard for major exhibitions: a million minutes, a billion miles (the distance the earth travels twice elliptically around the sun) or, in Alberta, the extraction of 1.6 billion barrels of oil. The 10th Alberta Biennial of Contemporary Art, titled 'For the Time Being', has been mounted in two of the Canadian province's topographical extremes – its vast prairies and the Rocky Mountains – at the Art Gallery of Alberta (AGA) in Edmonton and the Banff Centre's Walter Phillips Gallery. Purporting to address the capitalist distribution of wealth and labour, the exhibition includes works by 24 artists – some born, raised and currently based  in Alberta, others from Alberta but residing elsewhere, and others from outside the province who are navigating its complicated contours as new residents.
In keeping with the exhibition's broad theme, at times the work feels disparate, despite the efforts of curators Peta Rake and Kristy Trinier to mitigate this through the 'Banff Biennial Sessions': a four-day mini-residency that brought the artists together a year before the exhibition to meet and brainstorm. Yet, the biennial's most impactful moments transcend this sense of disjunction in quiet, tender and sometimes heartbreaking works that explore the personal. From the local clays used in Taryn Kneteman's sculpture In Hospitable Home (2016–17) to Kristopher Karklin's Home (2016) – a large-scale vinyl photograph of a naked white couple staring at a towering, beige suburban home – the familial and the domestic abound in this biennial. For instance, in her series 'In the Skin of a Painting' (2015–17), Tia Halliday – inspired by materials that belonged to her father, the expressionist painter Richard Halliday – transforms paintings into various skins worn in performances that are documented and then re-presented as two-dimensional works.
Suspended from the ceiling at the AGA, Akohp: A Blanket (2016), by Tamara Lee-Anne Cardinal, weaves together the personal – the artist's intimate knowledge of and relationship to Cree ceremony and tradition – with colonial politics. In the shape of a seven-pointed star, the work is comprised of discrete sheets of handmade paper, sutured with sinew and embedded with medicines – tobacco, fungus, muskrat root, sage and hair. Its seven points represent the four cardinal directions, the earth beneath our feet, the sky above us and all that lies between them. Visitors are invited to find shelter under the blanket and experience an embodied sense of space, an important aspect of indigenous belief systems.
In order to see Mark Clintberg's Do I Still Cross Your Mind? (2015–17), which has iterations in both Banff and Edmonton, one must look down to read what lies above. Clintberg's tender, titular query – written incomprehensibly backwards in splotchy black ink on the ceiling at the AGA – is only legible when reflected in a collection of tarnished, antique metal serving plates, installed on small wooden stools. Clintberg's question bounces as if in a funfair house of mirrors – the kind that makes it look like your body repeats ad infinitum, vertically from floor to ceiling, horizontally from Banff to Edmonton:  do I still cross your mind?
In Banff, small slabs of soapstone sit atop an expanse of mirror in Justin Waddell's Float in Space and Drift in Time (2017). Like the stony palisades that surround the gallery building, Waddell's forms are doubled, reflected back as though in the numerous glassy glacial lakes that sit quietly in the region's valleys. In an accompanying 16mm film, the artist transmutes the static stones into flickering, colourful, grainy shapes. Waddell's grandparents were held in a Japanese internment camp throughout World War II; they kept a carved soap-stone figure they made in the camp in their sand garden. Waddell's soapstones remain uncarved: a gesture of both remembrance and hope.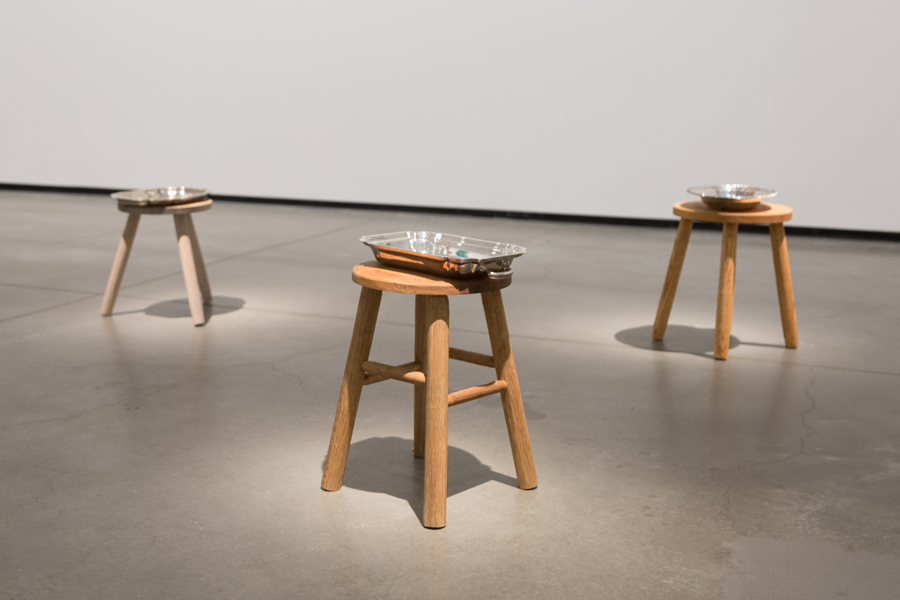 In the span of a single year, Nicole Kelly Westman lost more than can possibly be measured; If You Weren't There (2017) traces the outlines of that loss. Two chairs face a projected film of the artist's handwriting that flashes and fades as a memory might, in which she asks visitors to imagine the unimaginable: life without those you love. An acoustic sound work emanates from between the chairs and washes over those sitting in them. Two eulogies sit on a small table between them, written by the artist for her grandmother and brother; they wind through memories – beautiful and unremarkable, happy and hurtful. When coping with trauma, time and its measurement cease to matter at all.
As these works suggest, the threads of personal narrative woven throughout the exhibition tie it together in more poignant ways than the broad themes of its curatorial premise. Perhaps this biennial would have better measured the passage of two years by focusing on such narratives and the complexities of individual experience. 
Main image: Kristopher Karklin, Home, 2017, (detail), vinyl. Courtesy: the artist