Featured in
Grand Designs
Fashion designer Hussein Chalayan talks about his new role as professor at the Angewandte in Vienna
JAN KEDVES You've recently been appointed professor of fashion at the Universität für angewandte Kunst – the Angewandte – in Vienna, starting in October. Have you taught before?
HUSSEIN CHALAYAN Not on a regular basis, no. But I give a lot of lectures and talks, and years ago I did a big project at Central Saint Martins, my old school in London. So I don't think teaching will be difficult. Unless I get really bad students that I can't deal with.
JK The Angewandte is one of the most prestigious fashion cour­ses in the world. Karl Lagerfeld, Helmut Lang, Jil Sander and Vivienne Westwood have taught there, to name but a few. Despite this impressive roster, the course has produced only a few designers who have established their own successful labels – Petar Petrov, who studied under both Viktor & Rolf and Raf Simons, for example.
HC Petar who? I've never heard of him.
JK Has it become too difficult to establish a fashion label today? The 1990s seems to have been the last decade when new labels really had a chance to grow: Raf Simons, Alexander McQueen and your own brand were all founded in the early- to mid-90s.
HC Yeah, when we first started, there was definitely room for new designers. We did it by trial and error; we learned how to run a business from actually doing it. When I graduated from Saint Martins, I hadn't really planned to start my own collection, it just sort of happened. One commission led to another and suddenly I found myself selling in Japan. In London now, there is hardly any­one left from my generation. In the '90s there were Pearce Fionda, Sonja Nuttall, Copperwheat Blundell, Sonnentag Mulligan. Designers Clements Ribeiro still have their own collection, but many from that time don't. It's very difficult to survive.
JK So would you discourage your students in Vienna from launching their own labels?
HC For me the idea that you have to have your own brand to be a successful designer is very old-fashioned. Not everyone is cut out for it. Fashion is an expensive business, and having your own brand requires a lot of sacrifice and, in many cases, accepting a low quality of life. Lots of people start their own label and when they can't cope, they stop. So I think having your own brand is a commitment which goes beyond being a good designer. There are lots of designers who work behind the scenes and who make things happen. If you're a creative person and you work in a company where you feel respected, I think that's as good as having your own brand. You enjoy your job and you don't have to worry about paying salaries!
JK What probably helped you get the job in Vienna is that you bridge the avant-garde and the market. While running your own label with a strong conceptual approach, you're used to working in big corporate structures as well – namely as creative director for Puma between 2008 and 2013. What can students learn from your example?
HC My experience shows that to have a place in the industry you don't have to compromise. You can be an experimental designer and still be successful. My biggest goal in my new role in Vienna is to help connect students to the industry while they're still studying. Students these days want to make contacts and already have one foot in the industry so that they're not scared of what to do after graduating. I also want to help my students to be individuals and not look the same. I'm finding that in a lot of fashion schools, the students' work tends to look very similar to the tutor's. I hate that. There are so many designers around today – if you really want to participate in this industry long-term, you have to stand out and do something different. You have to work very hard to develop your own identity.
JK You had a solo show at Lisson Gallery, London, in 2010, and you represented Turkey at the Venice Biennale in 2005. Talking about the challenges you've faced to keep your own business going, you said in a recent Wall Street Journal interview: 'It's my choice to carry on. The easiest thing would be to become an artist.'
HC I've always had a parallel art career as well. Often selling my work as limited editions to collectors has funded my business. I could have continued to just do that, but I've always thought carrying on with the collections is more interesting because wearers will combine my clothes with other clothes – I think that leads to more interesting outcomes than if I just did art.
JK Do you really think that being an artist is easier than being a fashion designer?
HC I'm only speaking for myself here. I'm not saying that being an artist is easy. For me, it would be the easier option. For example, I think the fact that most artists are not caught up in an industrial situation is a little bit easier. As an artist, you don't necessarily have to pay other people's salaries every month. If you make films, for example, you can work from home, and you hire studios, actors and so on only when there's a commission. It's project-based. Your costs are much lower. When you're running a fashion business and do eight collections a year, as in my case, the costs are ongoing.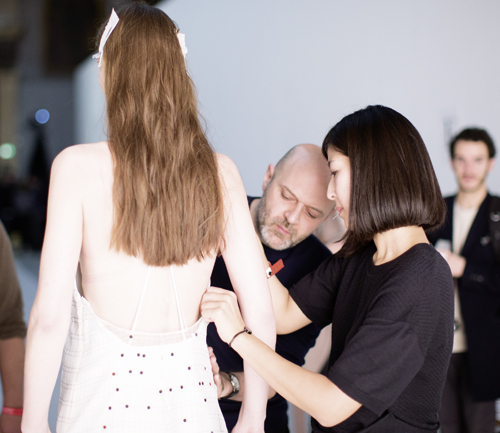 JK There seems to be a strong flirtation between fashion and art recently. Last year Karl Lagerfeld cooked up an entire modern art museum as a backdrop for the Chanel spring/summer 2014 show. Recently Raf Simons collaborated with Sterling Ruby for a collection, and Acne printed Hilma af Klint paintings on sweaters. What do you make of all this?
HC Well, why shouldn't there be crossover? As long as there are good results coming out of it – why not? In my case, I've had a relationship with the art world since the early 2000s. At that time, there were hardly any designers having that kind of contact with art. But I wasn't collaborating with artists or using their work as prints, it was actually the other way around: I was creating my own work that became part of that discourse. So I don't really see myself as part of this current trend.
JK Do you approach art commissions in a different way to designing collections?
HC No, for me it's part of the same world. If I'm preparing a collection and there's something in it that I can turn into an installation, and I have a commission and I think it's worthwhile, I'll do it. Fashion and art are both about ideas, and there's a lot of scope for ideas to extend into other mediums. That's what really excites me. In the past there was much more of a correlation between different disciplines. If you look at movements like Bauhaus or Fluxus, there was always disciplinary interraction. There's not enough of that going on today. People don't mix enough with each other.
JK A university with different departments, like Angewandte, could be an ideal place for interaction.
HC Definitely. I've already said to the Rector that I'm very excited by the prospect of having access to other departments that the students can engage with. The nature of my thinking has always been to think about fashion in a broader context and not just as this isolated thing. Of course, the students might resist, they might say: 'I'm fashion, fashion, fashion – don't talk to me about architecture!' Who knows?
JK Some students at Angewandte might first have become interested in fashion through Lady Gaga. An iconic stage outfit she wore during her first tour in 2009 was a dress made from transparent plastic bubbles. Will you tell your students: actually, Lady Gaga copied that dress from my Spring/Summer 2007 collection?
HC Oh God … Yes, I did the bubble dress, and Lady Gaga's version of it looked very similar to mine. Maybe her stylists told her to wear it and maybe she didn't know where it came from. But honestly – who cares?
Hussein Chalayan is a British/Turkish Cypriot fashion designer. He is a two-time winner of the British Designer of the Year award (1999 and 2000). Currently, he designs collections for French couture house Vionnet and is relaunching his own menswear collection for Spring / Summer 2015. He is based in London.