Featured in
Athens Biennale Enters the Metaverse
Curated by Larry Ossei-Mensah and Omsk Social Club, the 7th edition of the Biennale highlights the African diaspora and imagines new worlds
As someone whose gaming experience is limited to playing a bit of Sonic the Hedgehog as a child, I must admit to occasionally feeling out of my depth at this year's tech-savvy edition of the Athens Biennale. Co-curated by Larry Ossei-Mensah and Omsk Social Club – an artist collective known for their interactive role-play performances – the world-building potential of video games is utilized throughout the multi-venue exhibition. Nowhere is this more evident than at former department store Fokas, the largest of the biennial's four venues, which opens with a seizure-inducing video installation by Huntrezz Janos, an artist who lives, according to her biography, 'mostly in the metaverse'. True to form, in the exhibition's opening weekend, Janos danced alongside the physical artwork in a performance animated in real time using live motion capture and streamed online (ECLIPSATRIX EXUVIA Part 1 and 2, 2021).
For the Afro-Hungarian trans-fem artist, the ability to perform as a non-binary avatar is, we are told, a form of 'digital resistance' to the anti-LGBTQI+ rhetoric in the physical world, not least in Hungary, where she is partly based. Another glitchy video installation with an all-caps title, XENOMILITIA: THE ANTIFA CHRONICALS (2021), is a similarly spirited response to another world leader trying to repress dissenting voices: namely, former US president Donald Trump designating Antifa a terrorist organization in a Tweet. In the three-channel installation, devised by Yessi Perse in collaboration with Shell Lucky Ocean, visitors are invited to role-play as a 'queer-terrorist alien' fighting 'fascism and totalitarianism' to an ear-splitting drone soundtrack straight out of a sci-fi film. Elsewhere, a quieter, more complicative viewing experience is offered by Lito Kattou's contribution, Red Lake (2018), in which a genderless animal/human hybrid named San wanders around the work's titular lake in tribute to seven female immigrant murder victims, including two children, whose bodies were disposed of there by former Cypriot Army officer Nikos Metaxas between 2016 and 2018.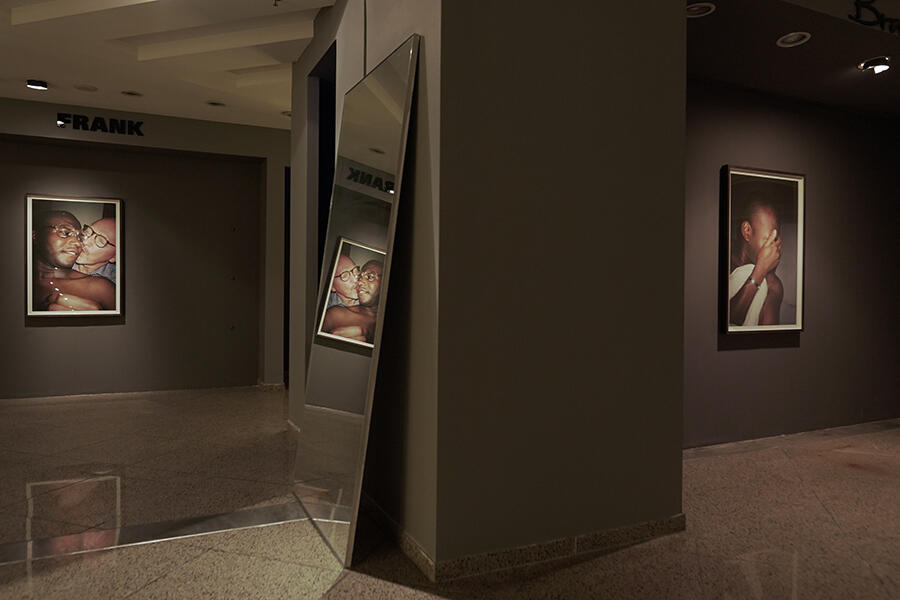 For these artists and the biennial's organizers, new technology is, as director Poka-Yio writes in his catalogue essay, 'a valid alternative weapon to change ingrained beliefs and stereotypes about race and gender'. For me, however, some of the most successful attempts at transporting viewers to another reality were accomplished without screens. I didn't need to read a complicated curatorial text, for example, to be moved by Zanele Muholi's photographs of the queer community in South Africa (Selection from Faces and Phases, 2007–16). Likewise, Paul Mpagi Sepuya's intimate mirror self-portraits ('Exposure', 2017), which appear to be digitally manipulated but are shot as a single exposure in his Los Angeles studio, brought me immediately into the artist's world, as did Kayode Ojo's glossy photographs of anonymous figures showing off, amongst other designer goods, a Cartier bracelet (Scorched Bedroom, Paris [Cartier], 2018).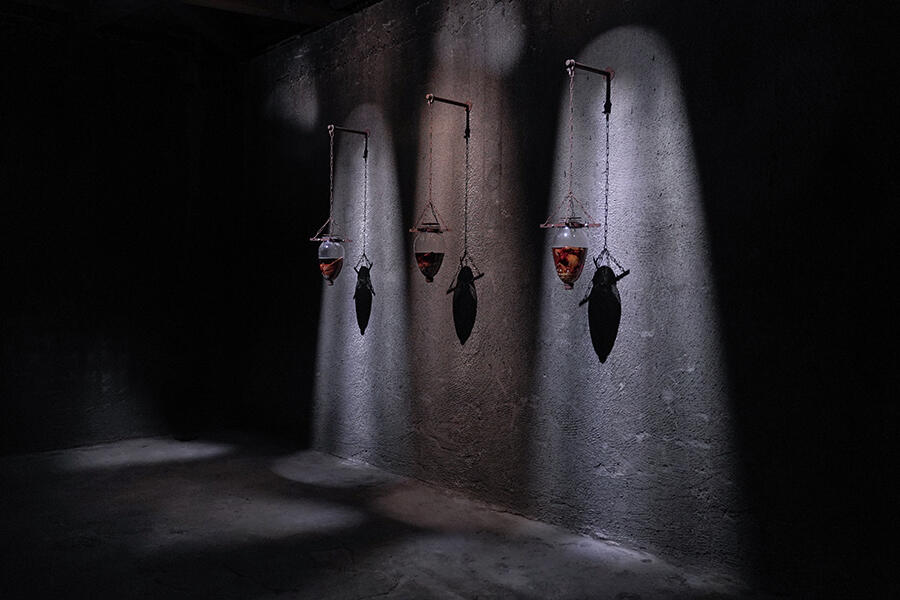 This welcome focus on works by artists of the African diaspora, alongside those traditionally 'pushed to the periphery', continues at the biennial's other venues, which include a creepy former courthouse and the dilapidated Schliemann-Mela Hall. Here, in the ruins of the city's past, the tone feels more sombre and reflective, from the inclusion of Ana Mendieta's black and white photographic series of body-shaped etchings she made in cave walls in Escaleras de Jaruco, Cuba, to Doreen Garner's sculptural exploration of the history of racist violence done to Black bodies in the name of science. Peering into the artist's truly gruesome glass jars strung from the ceiling and filled with objects made to resemble pickled organs (Known But To God: The Dug Up, Dissected and Disposed for the Sake of Medicine, 2017), I can understand why some young artists might choose to live in a different reality than the one they were born into.
The 7th Athens Biennale is on view at various locations until 28 November.
Main image: Jakob Kudsk Steensen, Aquaphobia (detail), 2017, video still. Courtesy: the artist 
Thumbnail: Olalekan Jeyifous, 12 Encounters, Part 1, 2021, augmented reality sculpture, commissioned and produced by the Athens Biennale. Courtesy: the artist