BBC's Civilisations: From Cheery History Travelogue to Apocalyptic Terror
The new television series invokes violence and fear as defining forces of civilization, just like the Kenneth Clark original
The history of humankind is a mess of wonderful, strange stories, told in ingenious, sometimes twisted ways. These stories help us make sense of our world and our place in it. So, it's no surprise that we choose to tell ourselves the most seductive, comforting tales over and over again. But stories can also upset us, mislead us, and sometimes they confuse us by doing all of that at once.
Take BBC Two's new nine-part Civilisations television series – a reboot of the original Civilisation series written and presented by the late historian Kenneth Clark in 1969. The latter was a watershed production for the BBC that left a strong legacy.
'A blessing and a curse' is how Director of BBC Arts, Jonty Claypole described that legacy to me in 2014. A blessing because it helped position the BBC as a standard in producing entertaining and educating television that was broadcast around the world. A curse because that standard drifted into the mythic realm of an unreachable golden age of British television; a dream of a holy mountain that can never be scaled back up again.
The new Civilisations certainly doesn't fail in approachability or watchability. The new title's acknowledgment of our pluralistic age isn't the only tweak. Civilisations is written and presented by three fellow historians – Simon Schama takes five episodes, Mary Beard, and David Olusoga take two each. Civilisations also celebrates human creativity and culture, now on a global scale and in a more updated critical spirit. If ever there was a seductive story, humans being civilized is one of our most powerful. But for that story to really give us shelter in this often-brutal world, it must always be told in tandem with an outside or opposite – a dark, chittering wilderness or abyss of unknowably violent annihilation.
The first episodes are a romp across the world – utilizing the travelogue, academic-on-holiday approach that Civilisation helped popularize back at the start of the age of mass tourism. Civilisations also updates the stiffness and awkward TV persona of Clark to the impactful-yet-personable figures of knowledge who swarm our contemporary non-fiction television landscape. From Palmyra to Minoan ruins on Crete, from Petra to Mayan ruins in the jungles of Mexico, to a marble quarry on the Greek island of Naxos, Civilisations is off!
There's Simon in a jumper down a Spanish cave, investigating 40,000-year-old stone age paintings and discussing the sound of prehistoric rituals with an archaeologist. Schama has written numerous books, and made countless more television programmes, so is confident and generous on camera. He speaks about his subjects – cities and trade, depictions of battle in art, landscape, and more – naturally and with a passion that sometimes turns florid.
His riffing gets silly. 'Big it up to the max until it is something epic, heroic, almost spiritually meaningful to everybody who's gonna look at it,' gushes Schama, channelling a version of Dutch Golden Age painter Jacob van Ruisdael conceptualizing the windmill in his landscape The Windmill at Wijk bij Duurstede (c.1670).
Here's Mary in China, visiting the Terracotta Army. 'It's a menacing sight,' she tells us, lounging in a pair of glittery gold trainers which offset the grim-faced clay mob of soldiers behind her. (Beard's trainers are a glimmering star through her episodes.) Beard grasps the dramatic impact of critical concepts clearly, and her episode 'How Do We Look?' is a nod to John Berger's Marxist-inspired 1972 BBC series and book Ways Of Seeing.
Beard shows how sculpture reinforced the worldview of the male-only ancient Athenian citizenry. Speaking about an eroticised Aphrodite sculpture, Beard describes how it signalled 'that edgy relationship between a statue of a woman, and an assumed male viewer that has never been lost in the history of Western art.'
Elsewhere, Beard wanders the ruins of Thebes. Shots are crowded by gargantuan statues of Pharaoh Ramses II inside his temple, away from ancient public view. She wonders who this was built to impress: 'The person who really needs to be convinced that he is preeminent and above the herd is that ordinary human being who is masquerading as omnipotent.' Here, civilization is an autocrat's self-esteem building project.
Civilisations is fun, interesting, and enthusiastic, but its generally cheery narrative is also shot through with some old-fashioned apocalyptic terrorizing, just like its parent.
Clark famously opened his series by side-stepping any definition of civilization, then invoked Vikings and nuclear war to define it in negative terms. Schama opens the new series in a Clarkian echo, describing how ISIS soldiers beheaded Khaled al-Asaad, chief curator of the ancient city of Palmyra in Syria, and put his corpse on public display after he refused to show them where ancient artefacts had been hidden. 'A lot of us spend our days talking about art,' Schama explains solemnly. 'I doubt if very many of us are willing to lay down our life for it.'
He continues: 'We can spend a lot of time debating what civilization is or isn't. But when its opposite shows up, in all its brutality and cruelty and intolerance and lust for destruction, we know what civilization is. We know it from the shock of its imminent loss, as a mutilation on the body of humanity.'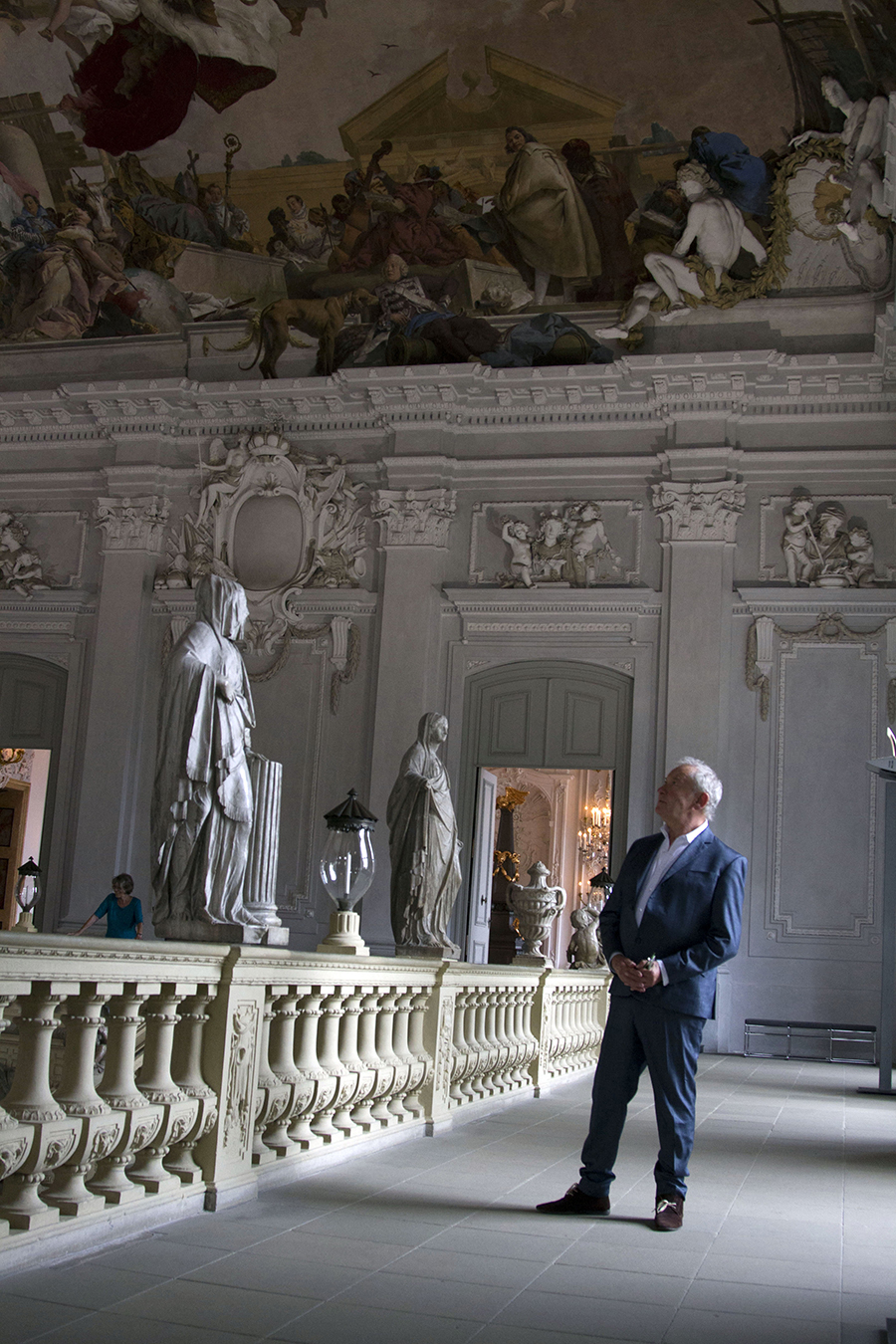 It's intended as a compelling statement of values to the world, delivered by an historian with a respectable career behind him. But Schama taps into some incredibly uncivilized forces at work in our society to make his argument more convincing.
Civilization and the work of defining it are separate from terrorism – the only time they are combined is in perpetuating some incredibly questionable 'clash of civilizations' symbolism. And implicitly equating nuclear war (or even Vikings) with global terrorism – as Schama seems to do in an opening that can only be read as being in dialogue with Clark's first episode – is a shaky comparison for any historian to make, no matter how you spin it.
Bearing in mind that the old Civilisation was shown in classrooms for years, employing fear to argue your point shuts down discussion right in the context where it should take place. By invoking ISIS to create a striking contrast for his vague shape of civilization, Schama, like Clark, unwittingly seems to propose violence and fear as the defining forces of civilisation. That contrast helps in telling a story, but a story that only ever ends back in darkness.
This article appears in the print edition of frieze issue 194 April 2018 with the title 'The Return of Civilisation'.
Main image: Civilisations, 2018, film still. Courtesy: BBC