The Best Shows to See in New York Right Now
From a sweeping Robert Colescott survey at the New Museum to an exhibition of drawings by Luchita Hurtado at Hauser & Wirth Southampton, these are the must-see shows in New York after the Armory Show
Luchita Hurtado
Hauser & Wirth Southampton
13 August – 24 September
For most of her 80-year career, the late Venezuela-born artist Luchita Hurtado developed her practice in private. An illustrator at Condé Nast, she participated in a few Los Angeles-based exhibitions and counted artists such as Frida Kahlo, Isamu Noguchi and Rufino Tamayo among her circle, but she worked almost entirely independently. At Hauser & Wirth's Southampton outpost, rarely seen drawings from Hurtado's 1970s series 'I Am' (all Untitled) reveal a glimpse into her lifelong fascination with themes of solitude, domesticity and the quotidian. Hurtado made some of these works within the closet that doubled as her studio in Santiago, where she lived with her husband, the painter Lee Mullican, and their two sons. She conveys the quiet beauty of everyday moments – intimacy, reflection, even boredom – through first-person perspective self-portraits drawn looking down from a standing position. Fleshy legs play counterpoint to geometric tiles; suspended, biomorphic fruit appears almost surrealist. In some works, where the curves of Hurtado's breasts and belly resemble landscapes, we see hints of the magical realism that pervades her works in colour. While this exhibition may not convey the breadth of styles and movements Hurtado traversed, it sheds some much-needed light on an intimate aspect of her wide-ranging practice.
'Eros Rising: Visions of the Erotic in Latin American Art'
Institute for Studies on Latin American Art
16 June – 30 September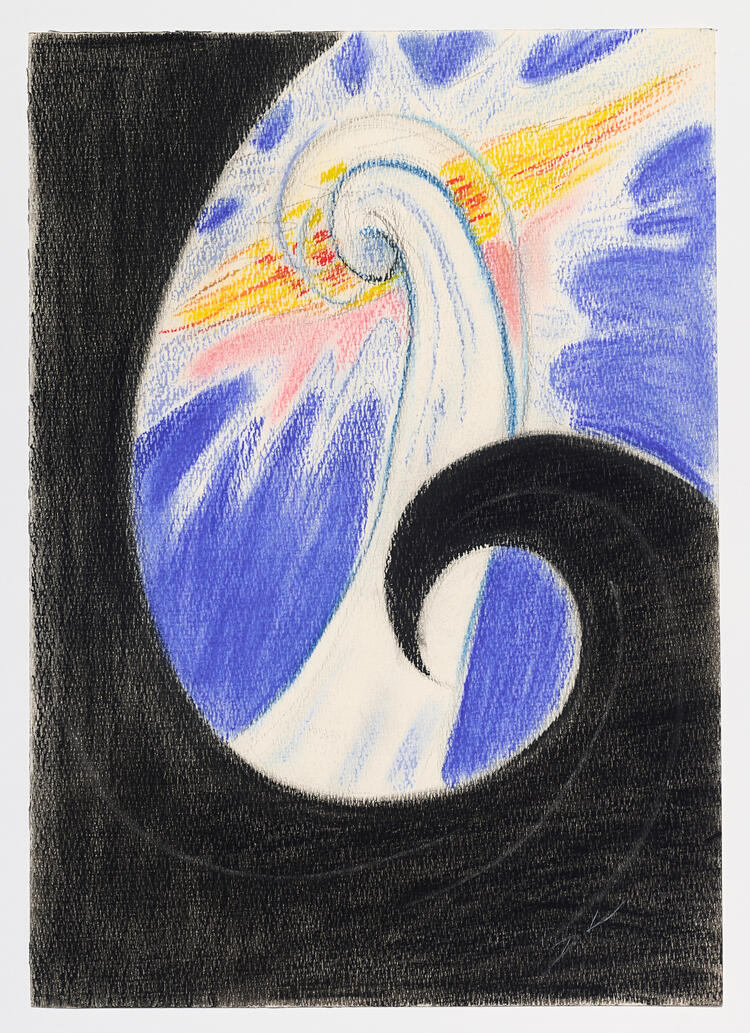 Three little-known pastels – At Sunrise; On the Moon, Crash of Light and Lluvia de estrellas (Meteor Shower', all 2015) – by Argentine conceptual artist David Lamelas inspired this sweeping exhibition devoted to representations of the erotic by Latin American artists. In Lamelas's small works on paper, such as At Sunrise, human forms transmute into flowing meteor showers and rising suns: the mundane becomes cosmic; the body is figured as radically open. The nine other artists on view similarly visualize the ungraspable feelings and ideations of sexuality and erotic encounters. Focusing mostly on works on paper, the exhibition charts fluid and expansive conceptions of the self that flow beyond conventional (read: white, European-American) modes of representing the body, with all its desires and fantasies. Rather, much of it is rooted in Indigenous cosmology and mysticism, such as La Chola Poblete's Untitled (2022), which incorporates symbols from Andean mythograms. A rare drawing by Luso-Brazilian artist Artur Barrio – best-known for his performance works, such as Trouxas ensanguentadas (Bloody bundles, 1960–70) – depicts an abstracted body floating between the ocean and the sky (Composição erótica, 'Erotic Composition', 1967). While the large watercolour by Peruvian artist Wynnie Minerva, Formas de alargar un pene (Ways to Enlarge a Penis, 2021), presents a humanoid figure with a warped and elongated penis in various shades of pink, red and orange. 
'Art and Race Matters: The Career of Robert Colescott'
New Museum
30 June – 9 October 
'Art and Race Matters: The Career of Robert Colescott' is the first museum exhibition of Colescott's work in Manhattan since 1989. A light-skinned Black American who was raised to pass for white, Colescott did not embrace his Blackness until the mid-1960s – after which he made few, if any, works that did not explicitly reference race or racism in ways that continue to shock and confuse. The New Museum exhibition, expertly curated by Lowery Stokes Sims and Matthew Weseley (and originally organized the Contemporary Arts Center, Cincinnati) traces Colescott's career from his early undergraduate experiments in abstraction to the provocative send-ups of canonical Western artworks for which he is best known. Now-iconic pieces such as Eat Dem Taters (1975), a blackface recasting of Vincent van Gogh's Potato Eaters (1885), or the meta-critique Beauty Is in the Eye of the Beholder (1979), in which Colescott depicts himself distracted by a white woman undressing before him as he re-creates Henri Matisse's La Danse (The Dance, 1910), disturb in the best way possible with their crude, comedic exaggeration and sharp satire. 
'Tiona Nekkia McClodden: The Trace of an Implied Presence'
The Shed
3 August – 11 December
The relationship between the archive and dance, particularly Black dance in America, is a slippery one. In The Shed's second-floor gallery, four dancefloors – one made of black Marley (a thin, roll-out vinyl), another of white Marley and two of hardwood – form individual stages for black and white videos of Black performers rehearsing, improvising and performing. Tiona Nekkia McClodden's exhibition weaves portraits of artists such as Audrey and June Donaldson, two revivalists of Philly Bop, a Black dance form originating in Philadelphia, and Michael J. Love, a tap dancer and scholar, to create a network of contemporary Black dance that runs counter to 'official' narratives codified by predominantly white institutions. The empty dancefloors were activated at the exhibition's opening by a Philly Bop class, led by the Donaldsons, and will host additional performances by Love, Leslie Cuyjet and the Rod Rodgers Dance Company throughout the exhibition's run, underscoring how embodied presence on the dancefloor connects us to the past in a way the archive alone can't. 
'Charles Atlas: The Mathematics of Consciousness'
Pioneer Works
9 September – 20 November 
To say that Atlas has made a significant – and prolific – contribution to film and video art would be an understatement. He has created a seemingly infinite number of shorts, features and video installations in collaboration with dance and performance legends such as Leigh Bowery, Michael Clark, Yvonne Rainer and, most notably, Merce Cunningham, with whom he worked as a filmmaker-in-residence for more than a decade. 'Charles Atlas: The Mathematics of Consciousness' at Pioneer Works might function as a career retrospective for Atlas, who remarkably has never had one. Extending across 30 metres of the institution's brick and window-lined interior, the titular newly commissioned multimedia work interweaves Atlas's sustained exploration of portraiture, performance and dance with his more recent interests in science and math. The commission builds on previous works, such as Geometry of Thought (2019), and incorporates collaborations with artists such as Lazar Bozic, who composed the score, and Mika Tajima and Chadha Ranch, who created a stage set and scaffolding, respectively, to be used for musical performances and science lectures. Atlas, who has always been a skilled adaptor of new technology, maps the exhibition space as a brain, combining sequences of rapidly ascending numbers with dance footage culled from both his own archives and the internet (including TikTok videos of people dancing to Lizzo's 2022 hit 'About Damn Time'), in flickering videos meant to recall bursts of memory and inspiration. One of Atlas's largest installations to date, The Mathematics of Consciousness is a rare, beautiful portrait of his unflagging approach to formuating ideas in step with contemporary culture.
'Marta Minujín: A Survey'
Henrique Faria Fine Art
9 September – 29 October
Trailblazing Argentine artist Marta Minujín has participated in nearly every avant-garde movement since the 1960s. This tight survey at Henrique Faria begins with Minujín's informalist works of the early 1960s: tactile paintings made of ephemeral materials – such as mud, cardboard and tar – meant to convey the passage of time. These monochromatic early works, which provided a crucial testing-ground for Minujín's ideas regarding the body and experimental actions, soon gave way to the fluorescently painted colchones ('mattresses') for which she is best known. Though the exhibition skips over these, we see her growing spatial awareness and navigation towards Pop in two works titled Laberinto Minujinda (1985) – both part of a maze-like installation of the same name meant to induce an experience approaching the expanded consciousness brought on by an LSD trip through bright colors and geometric patterns. The show ends with Minujín's more recent return to futurist abstractions and colchones, demonstrating her penchant for spectacle and fun throughout multiple transformative periods in Latin American politics and art.
Main image: 'Tiona Nekkia McClodden: The Trace of an Implied Presence', installation view, 2022. Courtesy © Tiona Nekkia McClodden and The Shed; photograph: Maria Baranova