The Bizarre, Thrilling Sketch Comedy of Netflix's 'I Think You Should Leave'
US comedian Tim Robinson is changing comedy – a few minutes at a time
Mood lighting casts over a stage. A sequin tuxedoed man, played by comedian Sam Richardson, sings into a retrofuturist microphone: 'Look at their toes like some curled canned shrimp'. He's referring to babies' feet, one part of the complete baby package the judges are looking for at the 112th Annual Baby of the Year Competition, which he hosts. Despite the large crowd present and its century-long run, you've probably never heard of this pageant. If you have, that's concerning. The programme is the opening sketch of the first episode of I Think You Should Leave (2019), a six-part series that premiered earlier this year from writers Tim Robinson and Zach Kanin.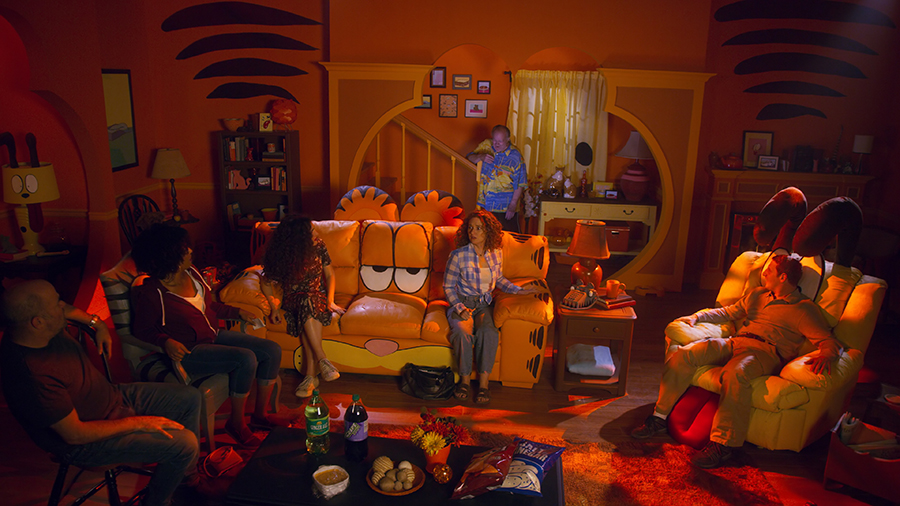 It's the finale of the competition; three babies remain. Judges Greg, Kim and Jennifer weigh in, each agreeing that Bart Hartley Jarvis, one of the finalists, is a heel. Tensions in the audience are running high. One man screams 'I hope you fucking DIE Hartley Jarvis!' before someone else attempts to assassinate the kid. He's a six-month-old dressed like a motorcyclist, with a leather vest and bandana. He stares ahead, trying to keep his small head upright. Animosity towards Jarvis only builds, until finally Richardson declares, 'You know what? This is garbage. Dump it.' The four-minute skit ends, and a template for the series has been set: scenes of breathless absurdity and clenching stupidity, all written just for a quick, nervous laugh. 
An array of characters populates I Think You Should Leave, all of whom embarrass themselves and dig in their heels, rather than ever admit they are wrong. Various creeps, desperate losers, nervous outcasts and the occasional 'cool guy' are played by a cast of Twitter comics, past co-stars of Robinson's from his days on Saturday Night Life and indie comedians, like Connor O'Malley and Patti Harrison. Each adapts Robinson and Kanin's words to their own comedic style, turning his brute anger or flailing embarrassment into snotty convulsions (in O'Malley's case) and constipated teeth-grinding (in Harrison's). But years of comedic training pale in comparison, ultimately, to the real-life weirdo featured in a memorable Ford focus group sketch.
Over the course of the series, a man takes a magician's on-stage teasing as true humiliation, eventually returning weeks later, caked in sweat and shame to scream, 'You ruined my life!' A man in a hotdog suit wonders, amidst the chaos of a men's suit store he's crashed his hotdog-shaped car into, who could have crashed a hotdog-shaped car into a men's suit store: 'You know what's driving me nuts, it could be literally any one of us…', he tells a crowd dressed in business attire. As the human wiener goes around the store collecting shirts and suit pants, he moralizes about people addicted to their phones. And during a party game, a 40-something boyfriend chides his girlfriend and her younger friends for not knowing Roy Donk. You know, the drummer on the Munsters theme song. No?
Each sketch goes in about three different directions, with odd behaviours explored but never overtly named or repeated. Robinson contradicts traditional methods of sketch-writing – perfected in a show like Key & Peele (2012–15), where there's a joke or dynamic that plays out to its logical end. Instead, Robinson's sketches feel like four Key & Peele sketches happening at once, with each of the games spiralling off of a single character or event.
Almost all sketch shows – from live skits in Sid Caesar's Show of Shows (1950–54) to the pre-taped ones of Chappelle Show (2003–06) – intermix sketches in a half-hour programme (or 90 minutes, in Caesar's case) with cuts of stand-up, monologues or unscripted interviews (Kroll Show (2013–15), Inside Amy Schumer (2013–16), Mr. Show (1995–98), Key & Peele). Even the alt-comedy cult standard, Tim and Eric Awesome Show, Great Job! (2007–17), which used the television format to stage a faux local-access show, intermingled straight sketch, fake adverts and late-nightesque segments. Robinson's show moves directly from sketch to sketch, save a ten-second title sequence and brief jazz interlude between segments. Part of this fast-paced mode results from the luxury afforded by only producing six episodes on a streaming service; Robinson doesn't need to bulk out a timeslot. And while comedy shows like Master of None (2015–ongoing) have used Netflix's platform to expand each episode into feature-length events, Robinson has swung the other way. We thank him for it.
Unlike other absurdist or 'alternative' sketch shows like Tim and Eric and The Eric Andre Show (2012–ongoing), I Think You Should Leave brings a bizarre voice to sketch. His characters humiliate themselves with a complexity that allows each sketch to avoid extreme inhumanity. Robinson, in one of the show's most typical sketches, sits on a whoopee cushion at the office. The fart is out of the ordinary for Robinson's character, he reports to his colleagues; usually his flatulence is so loud and long and brutal that people vomit from the smell. The deep embarrassment, for him, isn't his social faux-pas, but that he might not be in tip-top shape for his family photo that night. The phrase 'family photo' punches. The character expands out from simply a gassy man to someone with real, if strangely emphasized, priorities and anxieties. It's a novel approach to absurdist male comedy that feels viable as viewers become more politically minded and comics like Eric Andre just appear violent. Think you can't be a white straight cis man in comedy? First of all, completely shut up. Second of all, this is how you do it. The laughs get deeper, so much so you might have to ask: 'Permission to go home, watch some TV, and rest up so my face isn't beet red for my family photo tonight?'
Main image: Tim Robinson and Zach Kanin, I Think You Should Leave, 2019, film still. Courtesy: Netflix