Featured in
Black in Bloomsbury: What Duncan Grant's Portrait of Patrick Nelson Reveals
The movement that is traditionally understood as white and privileged was more racially mixed than is commonly accepted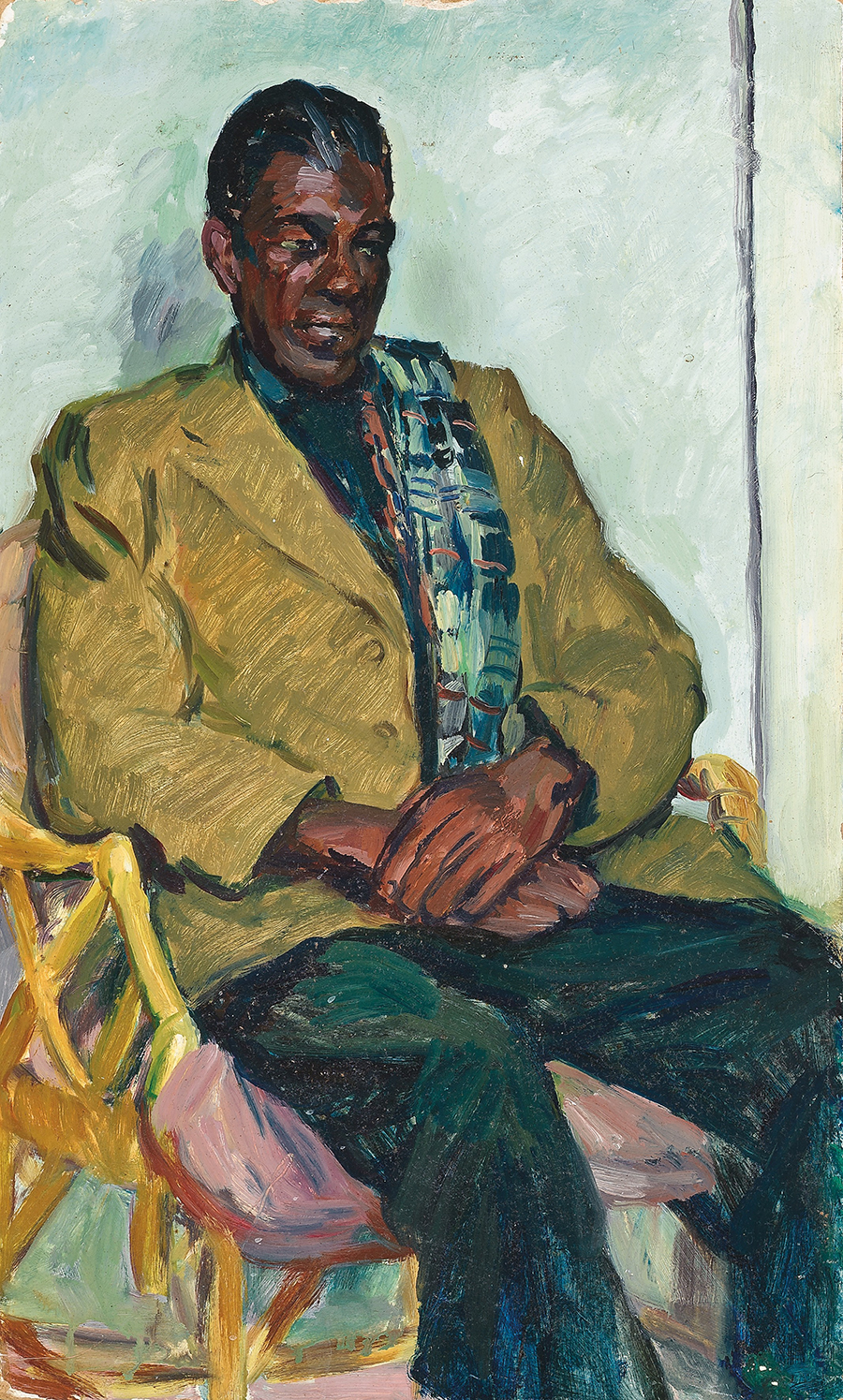 London between the wars was an uneasy home to a sizeable Black community; the working class harboured in the East End, where people from Africa, the Caribbean and Asia took up arduous employment at the shipping docks: a hub of the UK port economy, built in the early 1800s to receive steam ships importing goods made by enslaved people in the West Indies. Further west, Chelsea, Soho and Bloomsbury boasted another Black presence: a network of expatriates living, working and socializing in the centre of the 1930s and '40s London art world while manoeuvring the inequalities of imperialism. These figures include the poets and writers Claude McKay and Una Marson, historian C.L.R. James and jazz musician Florence Mills, whose performance in the 1926 all-black musical revue, Blackbirds, piqued a special interest in British painter Edward Burra.
Concurrently, the famed Bloomsbury Group artist Duncan Grant worked from his studio at 8 Fitzroy Street, known for its large windows, high mirrors and, as art historian Richard Shone described it in Bloomsbury Portraits (1999), 'untouched 18th-century atmosphere of great fires and candlelight'. A welcome guest was the ex-valet and aspiring law student Patrick Nelson, who was born in Kingston, Jamaica, and journeyed to the UK for the second time in March 1938, settling in Chelsea. He would frequent Fitzroy Street to work as a model for Grant and the Omega Workshops artist Edward Wolfe. It was not unusual at the time for Black Londoners with minimal options for employment and housing to work as models, posing and pandering, when required, for portraits. This exchange, albeit uneven, is widespread in 19th- and 20th-century portraiture, where the Black model is subject to hypersexualization and exotification, relegated to the role of muse without a name. Nelson was just one of a few queer Jamaican sitters, including his friends Berto Pasuka and Richie Riley, who would go on to found the all-Black ballet company Les Ballets Nègres in 1946.
In the case of Grant and Nelson, a romance unfolded – neither officially pronounced nor completely hidden – in the studios and social clubs of metropole London; it would be documented through a lifetime of mailed love letters. Overlapping this devotion was Grant's relationship with Vanessa Bell, with whom he had a daughter, Angelica, and shared a home, Charleston, in the Sussex countryside. Grant's first known portrait of Nelson was completed in August 1938; it is presumed that they met sometime in the preceding months at Shim Sham Club or Café Royal, two of the popular venues for queer social life in London. The two exchanged notes of poetry, news and directions to meeting places that could offer some seclusion. In one 1938 letter, Nelson wrote to Grant: 'It is only because we can't see each other as we used to at the old studio O – Duncan, I wish we could once again be intimate and once more enjoy life – do you think the days gone by will ever come again? We must hope.'
Grant did not regularly depict Black people, unlike some of his contemporaries, though, as Frances Spalding explains in her 2011 biography of the artist: 'As a painter, Duncan was fascinated by the colouristic possibilities of dark skin tones, but it also had for him an erotic attraction, that of the forbidden fruit.' His other lovers of African descent included Jack Moore and Charles Boyle. Although immeasurable, it is still worth questioning to what extent Grant's racialized, homoerotic desire delineated his art.
Gemma Romain's extensive archival sojourn, Race, Sexuality and Identity in Britain and Jamaica: The Biography of Patrick Nelson, 1916–1963 (2017), charts Nelson's remarkable life in Jamaica and the UK. Motivated by his quest for education, Nelson joined the British military in 1940, only to be captured by German forces and detained as a prisoner of war for more than four years. Along with other sick and wounded POWs, Nelson was returned to London in 1944, where his ill health made him vulnerable to a nervous breakdown, forcing him to leave for Jamaica in 1945. Nelson and Grant continued to exchange infrequent letters about film, art and their lives.
Grant's Portrait of Pat Nelson (1960–63) depicts a mature Nelson soon after he had returned to London in the early 1960s; he died there in 1963. Sitting with his fingers interlaced, he leans backwards on a wooden rocking chair with a pink seat cushion, dressed in forest-green trousers and an olive blazer, with an Omega Workshops scarf draped around his neck. His gaze does not meet the painter's, but he is smiling, seemingly content with his chosen company.
This article first appeared in Frieze Masters issue 8 with the headline 'Black in Bloomsbury'.