Cape Town, Africa's southernmost metropolis, is a city adrift. The seat of South Africa's parliament, it is also an opposition party stronghold, the only political constituency not dominated by the ruling ANC government. Blame it on demographics: the Western Cape province has a minority black population, the mixed-race community constituting more than half the demographic. Cape Town's history is bound up in race, its distinctive colonial architecture the ideation of white colonists who first settled the subcontinent in 1652.
'Nothing about it feels African,' wrote A.A. Gill of the domesticated garden republic. This inauthenticity masks more fragile relations. A sprawling, horizontal city, Cape Town inhabits a shrubland ecosystem reliant on fire for renewal. Fire is also the scourge of the city's mushrooming shack settlements, interstitial zones that are the outcome of post-apartheid migrations by rural poor. Economic desperation here does not easily accommodate difference; last year, the city's poorest suburbs were drawn into the xenophobic violence that blazed across the country. All of which lends to Cape 09's claim to being a showcase of 'contemporary African culture' an air of aspiration and defiance, rather than fact.
Held over May and June, this dispersed, episodic biennial kicked off with a slipshod exhibition by young trainee curator Loyiso Qanya. Look Out Hill, the host venue, is a community hall in the peripheral black neighbourhood of Khayelitsha, which Qanya unimaginatively filled with figurative wood sculptures, second-rate expressionist paintings and, briefly, choir song. Jane Alexander's contribution, Survey Khayelitsha (2003–8), a bound collection of photomontage compositions depicting post-colonial African landscapes populated by her stunted sculptural figures, came to typify Cape 09's rough and ready approach to spectatorship and display. Visitors could scribble their thoughts directly onto the blank facing page in Alexander's book.
Community participation being an important objective for this financially unstable biennial, the organizers favoured projects that prompted reciprocity and 'convergence' (a not entirely unwise decision given that the 1997 Johannesburg Biennale, the last, closed prematurely due to audience disinterest). Projects ranged from a public banquet and mass street parade to a temporary museum dedicated to indigenous flora and appropriation of the city library by a pan-African literary magazine.
Founded seven years ago in Cape Town by Cameroonian expatriate Ntone Edjabe, the cultural and literary journal Chimurenga is everything Rasheed Araeen's Third Text is not. 'It has the poetic anarchism that is absolutely necessary when things are in such a state,' theorist Achille Mbembe has said of Edjabe's polymorphic creation. 'It's the kind of thing you need on the continent to say "Fuck you! I'll do what I like. I don't give a damn."' Provocation came in the form of a project titled 'Why must a black writer write about sex': a literary exhibition focusing on sex scenes from African literature. Other offerings included a documenta-style display of pan-African periodicals and series of public talks.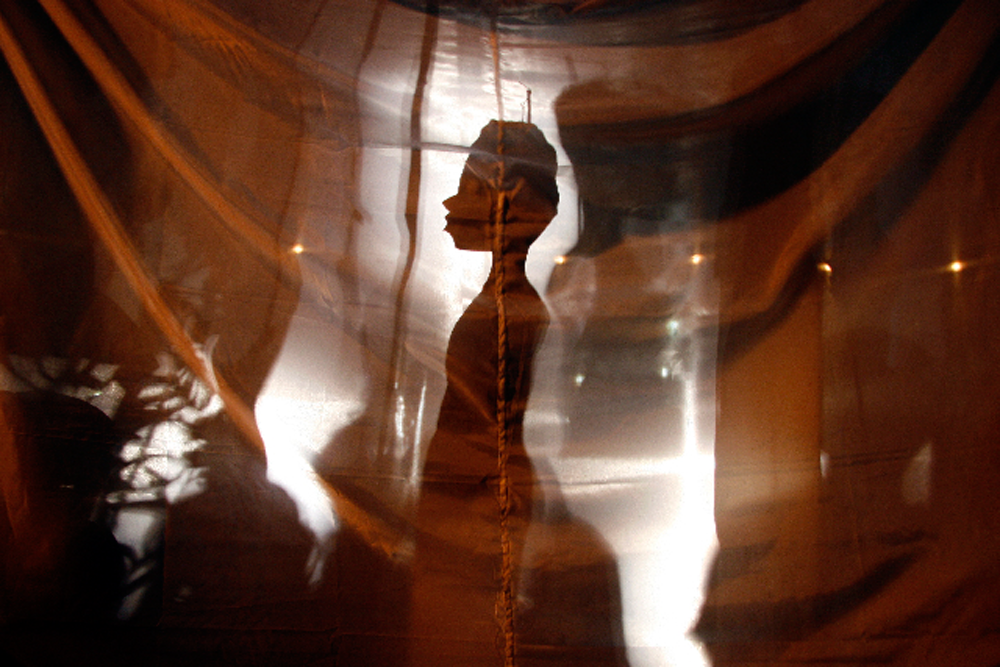 The remit of local artist Nicola Grobler's 'Small Victories' (2008–9), notionally a project aimed at archiving the banality of everyday life, was disarmingly simple. Over successive Saturdays Grobler wheeled a mobile kiosk into the main thoroughfare of Cape Town's busy central railway station and asked passers-by to record, in writing, a significant achievement from their day. Sceptics were won over with the offer of a free mug. 'I was dumped by my boyfriend and now I'm trying to recover from that stress', offered one commuter, while another celebrated a meeting earlier on with a long-estranged father.
Far less intimately scaled, A Walk Into the Night (2009) reprised curator Claire Tancons' interest in political demonstrations, Caribbean carnivals and New Orleans' funeral processions. A curator on last year's 7th Gwangju Biennale, Tancons, working in conjunction with Trinidadian artist Marlon Griffith, created a performance informed by the history of forced removals in Cape Town and the aesthetics of Trinidadian carnivals and West African shadow puppets. Despite its magical play of light and shadow, the marshalled procession of school children hoisting cut-outs of feminine figures and dinosaurs behind a wall of white linen ended-up feeling transitory and slight.
A generally low-velocity biennale, Cape 09 achieved some impact with a commemorative exhibition devoted to pop singer Brenda Fassie. For an event straining to connect Cape Town with the larger continent, the feisty pop diva represented the perfect foil: her death five years ago in May touched fans across Africa, prompting former president Thabo Mbeki to describe her as 'not only a South African singer, but a pan-African griot'.
Installed in a classroom at Langa High School, a few blocks from Fassie's childhood home, young curator Nkuli Mlangeni's 'So who is Brenda Fassie?' was compelling, partly because of its unashamedly community-arts line. Archival family photographs and a gold record hung nearby a chalkboard with an extract from author Njabulo Ndebele's 2000 essay on Fassie: 'We are compelled to confront in ourselves the implications of the ups and downs of her life: marriage and divorce; drugs; homosexuality; and healing.' Death too.
Of the few interpretive works vying for space between the work of local graffiti artists, the best pieces use figurative murals decorating the exterior of the school, Swiss designers Sarah Kueng and Lovis Caputo created a live performance space, home surveillance technology allowing remote viewing of the cramped stage. Matthew Kalil and James Webb's endearing five-channel video installation, There are far too few Friday nights left in the world (2004), shows five young women, each wearing headphones, their head-bobbing silence broken when they belt out the chorus of Fassie's break-out hit, 'Weekend Special' (1983). It recorded a moment of sublime convergence, never mind the cracks in the architecture of the framing project.