Featured in
Chioma Ebinama's Afro-Diasporic Mythmaking
The solo exhibition at Maureen Paley, London, expands the artist's long-established interests in animism, cosmology and non-Western folklore traditions
Chioma Ebinama's solo exhibition, 'A Spiral Shell', at Maureen Paley's east London space, expands the artist's long-established interests in animism, African cosmology and non-Western folklore traditions. The two-room show – containing watercolour paintings, installation and sound works – takes its title from Italo Calvino's short story 'The Spiral' (1965).
The Empress (all works 2021) hangs from the ceiling; the sky – or waters – she inhabits are barely distinguishable from the blue wall behind her. In suspending the works this way, Ebinama designates the gallery walls as mere suggestions of spatial boundaries. The black, hirsute figure of The Empress could represent a hominid life form, something pre-human or distantly related but still legible to the scientific, rational mind. Her elongated body and numerous lactating breasts place her outside of our reality. The curving, golden flower-serpent she holds with her elegantly adorned left hand alludes to the Judeo-Christian creation myth. She is simultaneously within and beyond our knowing and the dimensional limits of form.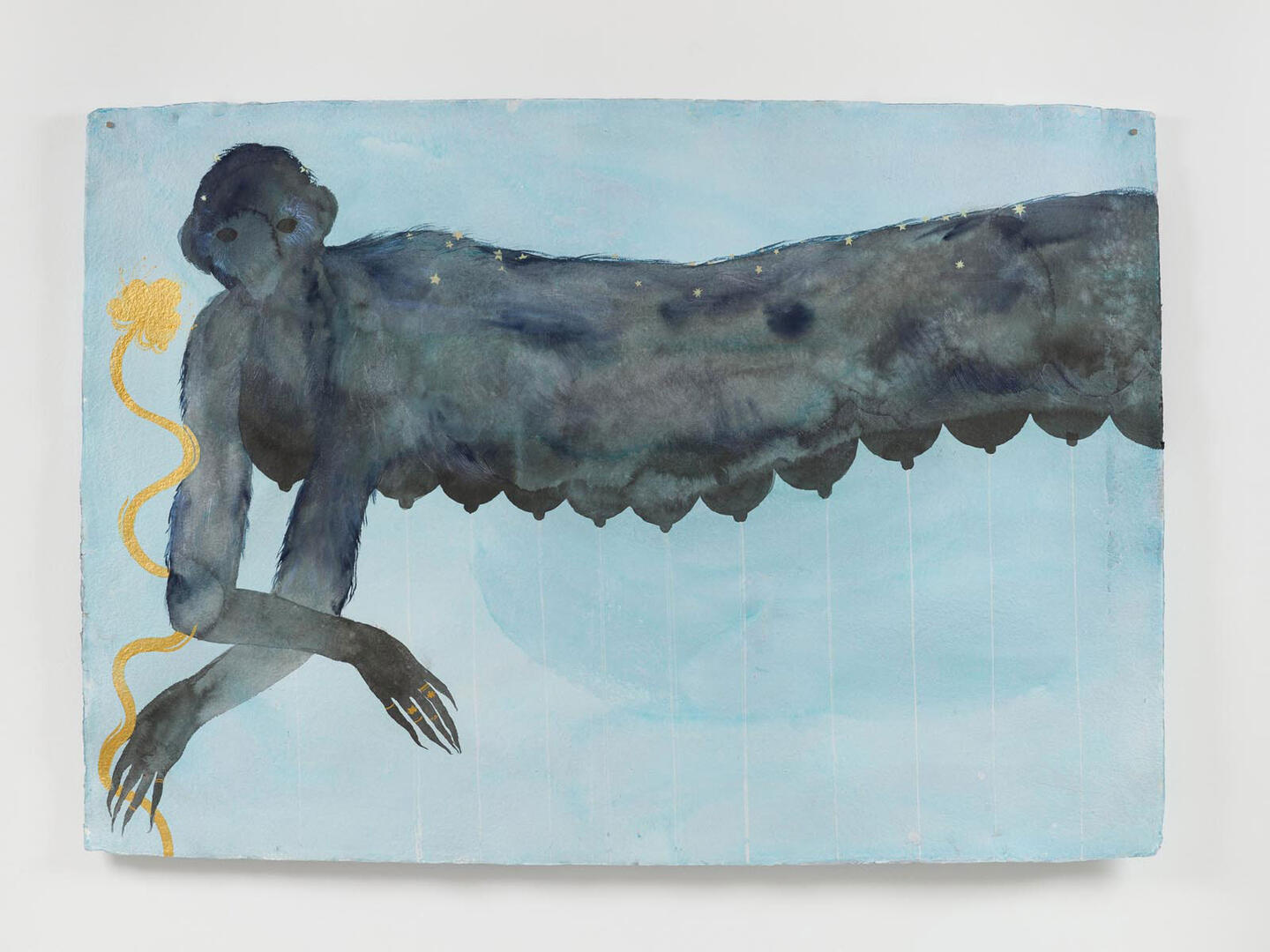 On the gallery floor beneath The Empress, Ebinama has placed mounds of rice: the staple grain here presented as a life-giving substance leaking from her breasts. Another essential crop appears in An Exquisite Yam, where the artist presents the hairy tuber – common in tropical regions and widely used in Afro-diasporic cooking – surrounded by flowers and their pollinators. Throughout the show, Ebinama offers the viewer multiple encounters with objects of succour – whether literal (foodstuffs) or metaphorical (religious creation tales) – while pollinators appear repeatedly. Ebinama reminds us of the slipperiness of the food chain and our ecologies, the foundational nature of reciprocity, the looping, the spiral. In Obi Uto (Joy), a feminized figure looks out at us with deep, black-hole eyes; overhead, a large butterfly hovers, wings outstretched. Petting a Bumblebee sees a reclining figure gently stroking the titular insect as it gathers pollen from a white lily, while giant white mosquitoes set to work on the woman's exposed flesh.
Ebinama's underscoring of our sense of the food chain – the relationships between plants, insects, birds and human-mammal figures – is particularly successful in My Life as a Seed in the Wind. A small, centaur-like figure stands looking out across a seemingly barren land populated by giant pollinators: multiple butterflies soar high above and outsize the centaur. Perhaps they are close and he is far. In any case, why shouldn't butterflies outsize man-horses? The occasional dragonfly joins the butterflies, both a relative and a predator, undermining their task by eating efficient pollinators. There are red birds, too, either large or small, depending on whether you take the perspective of a centaur or a butterfly. Yet, whichever we take, what we know of the world does not necessarily apply here. 
A person, or person-like figure, can be as large or as small as their world requires. We give a little and take a little. All worlds slip into all others. A seating niche is embedded in the gallery wall – an opportunity to take a load off and, perhaps, gather yourself before going back out into the world as we know it. From this resting spot, however, Ebinama's voice unexpectedly emerges reciting Prayer for when Fear Strikes at Dawn, the opening and closing lines of which remind us: 'There are many ways to live a life.'
Chioma Ebinama's 'A Spiral Shell' is on view at Maureen Paley, London, until 9 January 2022.
Main image: Chioma Ebinama, An Exquisite Yam, 2021, watercolour, sumi ink and coffee on paper, 65 × 94 cm. Courtesy: © the artist and Maureen Paley, London