Christian Petzold Negotiates Labour and Leisure in 'Afire'
The film director speaks about trilogies, COVID-19 lockdowns and his Protestant work ethic
Director Christian Petzold has made films across many genres, from the Hitchcockian thriller Phoenix (2015) to the mythological romance Undine (2021). His newest film Afire (2023) begins as a comedy in which opposite-minded creatives – the stern novelist Leon (Thomas Schubert) and convivial photographer Felix (Langston Uibel) – vacation at Felix's family home near the Baltic Sea with a perplexing guest Nadja (Paula Beer). Wildfires trap the core cast and the comedy takes a turn towards drama.
Written during the COVID-19 pandemic, Petzold's new film attends to the angst and social anxiety that characterised the period. He analyses how we regain active creativity and desire despite isolation, and how artists negotiate leisure and labour in their daily routines.
Afire opens in New York and Los Angeles on 14 July. I spoke to Petzold last week about trilogies, making a comedy and Leon carrying 19th-century literary tropes and beliefs.
This interview is translated in part with the help of Margaret Keppler.
Edward Frumkin Afire is the second entry in your 'Elements' trilogy. When did you begin to think of Undine and Afire as part of a trilogy?
Christian Petzold I'm half-educated by Protestant ethics. When I finish a movie, I think to myself, 'the work was great, and this was a fantastic time, but I need more work.' I have a difficult time feeling okay with being free.
When we make something, it opens a door. I can't allow myself to pause. The trilogy came from this feeling. But I also like the trilogy form. When you are an architect and you just make one house, it's usually for a rich person; making trilogies is like building cities and streets, because you're thinking about society and social possessions, not about private possessions. When we made Undine, I thought, 'this is about water and German romanticism'. It was a memory of the societal crisis in Europe when the industrial era began, with new machines, and the poets and artists were thinking about myths and wanting to reinvent the world.
It was interesting for me to think about the Romantics. And I told myself, 'Okay, the next movie has something to do with this.' I have an artist, Leon, with this 19th-century behaviour, but we set it in the present.
I don't have an idea for the third part of the trilogy, I must say – perhaps in a few years.
EF Afire feels like a product of the changes in social dynamics that followed state-ordered lockdowns for COVID-19. Did your experience of the early stages of pandemic influence your making of this film?
CP After we made Undine, Paula Beer and I had to go to Paris for three days to do press work. This was around the time that COVID was coming to Europe, directly after the Berlinale. Everybody spoke about it in a joking manner, but I think they didn't realize what it would mean to our society. Soon after, though, Paris went into lockdown. Paula and I got on the last plane to Berlin. We had a gift from the distribution company Les Films du Losange with us– the complete works of Éric Rohmer. Back home, we were infected with COVID and watched the Rohmer movies during our four weeks of quarantine.
When I regained my smell and taste after having COVID, they were better than before. It was a little bit like watching the Rohmer movies: afterwards, I saw the world more clearly and was filled with more desire. With this feeling, I started to write Afire.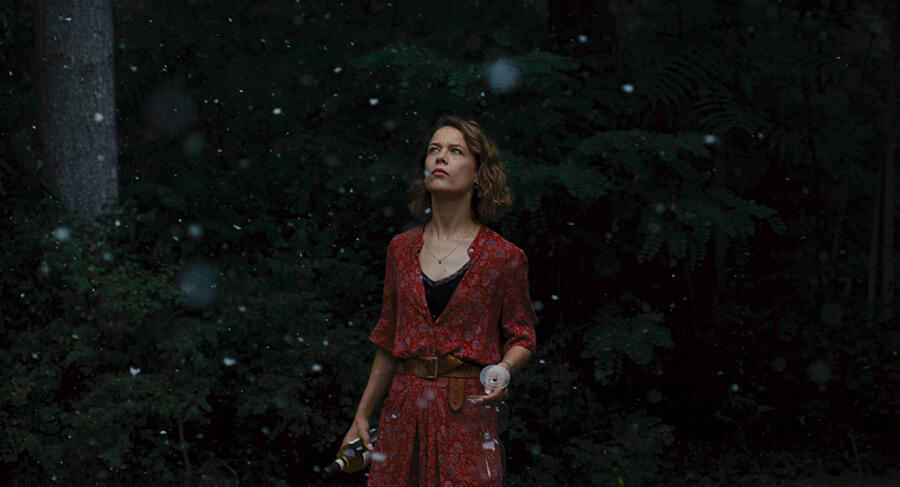 EF Afire is your first comedy. What led you to have comedic elements in the film?
CP When I wrote the script, it was not a comedy. For me, it was a melodrama. I was proud about the end: the voiceover, the [Ryuichi] Sakamoto song and the dream-like quality. Sometimes, a story just writes itself, and you can feel that it is great.
When I rehearsed with the actors, they laughed throughout the first 45 minutes. They loved it. I told them that it wasn't a comedy, but because of the way they timed some of the dialogue during that first cold reading, I knew I had to laugh too because of what they were doing with it. I was recognizing the comedy for the first time.
EF The film follows Leon as he attempts to finish his second novel. It's interesting to see how he takes in his surroundings. He does a lot of assuming and not so much asking, often thinking the worst of others. What did you see as motivating this behaviour?
CP German literature has long been concerned with the bildungsroman, a work that follows a young artist through a journey of self-education. While these protagonists think they are the centre of the world, they are also afraid of something and want to overcome this fear. They're found in Goethe's Wilhelm Meister's Apprenticeship (1795–96), Gottfried Keller's Green Henry (1855, revised in 1880), Wim Wenders's films and Peter Handke's stories. But they all derive from this 19th-century type.
In Germany, you have to write a novel to gain respect in the literary scene. Everyone can write one novel. But a second novel, that is the writer's passport: they must do it. Goethe had to write a second Wilhelm Meister book [Wilheilm Meister's Journeyman Years, or the Renunciants, 1821], for example. These 19th-century ideas are deeply embedded in Leon's consciousness, while he works on his second novel. He can't join his friends to drink red wine or swim in the sea. If he did jump into the water or laugh at someone's story, for instance, he would lose his identity as a writer of this 19th-century model, which ultimately is his problem, and is one for many young people in Germany as well as in the cineaste world. I can tell you many stories about myself and others that are from Leon's.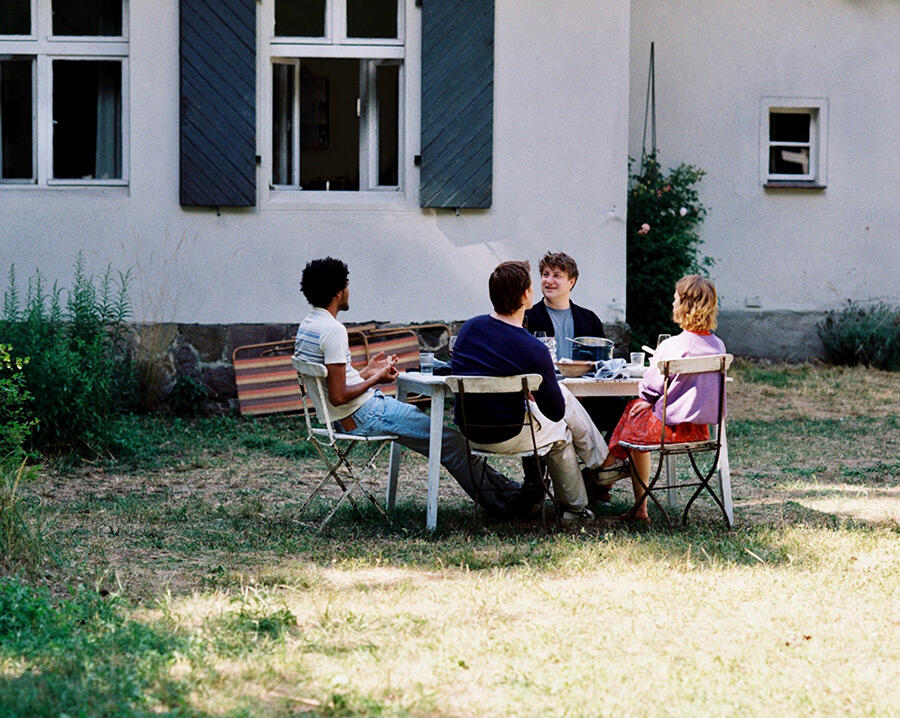 EF Afire is about the battle between leisure and labour, but also mental health. As a filmmaker, how do you take care of yourself?
CP It helps to be surrounded by actors like [those in Afire] who are very intelligent and full of humour, as well as a crew that I've worked with for many years. It's a group to make many things with and to trust. And I can open up to them. I've never told so many stories about myself in a movie before – so many things about class and about my youth. These characters are rich people with parents who have cabins in the woods or by the sea. I would also like to take holidays, although I'm from the working class. The rich can take time off, drive their parents' cars, and if the car breaks down, [like it does for Felix and Leon,] it's not a problem. I was on a scholarship, and had to work very hard. I told the actors many things about my life, and I found room for it to resonate.
Main Image: Christian Petzold, Afire, 2023, film still. Courtesy: Sideshow and Janus Films