Featured in
The Creative Resistance of Czech Screenwriter and Costume Designer Ester Krumbachová
An exhibition at CCA Glasgow explores this icon of 1960s Czech new wave cinema by inviting contemporary artists to respond to her work
Where to start with this brilliantly busy exhibition? Perhaps firstly to say that, while Czech screenwriter and costume designer Ester Krumbachová's name is in the title, this key figure of 1960s Czech new wave cinema, who died in 1996, is not the only artist featured. Commissioned works by Prague's Marek Meduna and Glasgow's ACID PRAWN (Sian Dorrer), Sally Hackett and France-Lise McGurn are prominent throughout, mingling with Krumbachová's film work, drawings, purposely unsent letters and even items of her clothing, draped over the backs of antique-looking chairs. Secondly, this is an archive show that wears its research lightly; there are no museum-style vitrines, no lengthy wall labels. Like the woman it celebrates, 'A Weakness for Raisins: Films & Archive of Ester Krumbachová' is playful, daring and at times feels pleasingly chaotic. An exhibition with a satisfying air of performance, it's a fittingly collaborative endeavour, co-curated by Prague's Are (Zuzana Blochová and Edith Jeřábková, keepers of the Krumbachová archive), CCA and the Glasgow-based curatorial practice Panel (Catriona Duffy and Lucy McEachan).
Krumbachová's story is one of creative rather than political resistance – an individual artistic spirit stifled but not stopped by former Czechoslovakia's communist authorities. Her career in film was prematurely curtailed after the crushing of the 1968 Prague Spring, but even before the period of 'normalization' that followed she had attracted the disapproving eye of the authorities. Films such as The Party and the Guests (1966) and Daisies (1966) were deemed highly subversive and, unable to work in film except occasionally under a friend's name, Krumbachová turned to making amulets to get by. Living in the small Prague apartment she shared with her cats, she also drew, painted and created a body of esoteric writing, some of which was published in 1994's The First Book of Ester.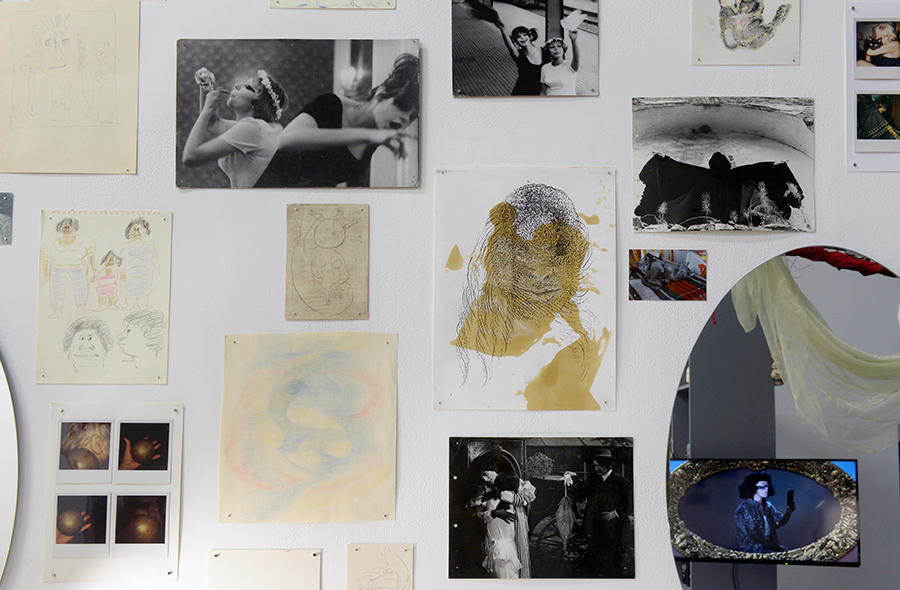 The first of CCA's three gallery spaces features a bikini worn in Daisies and a series of pen on paper line drawings by Krumbachová. Mostly, though, the space is dominated by large ('double-bed sized', we're told) figurative paintings by McGurn and Hackett's humorous clay ceramic sculptures. Responding to the line drawings, Daisies and 1970's The Murder of Mr Devil – the only film Krumbachová directed and from which the show's title is derived – the works feel like love letters to an artistic muse, in particular evoking the anarchic feminism of Daisies' central characters Marie I and Marie II. In fact each artist, along with Panel, has written their own 'Dear Ester' letters, which are available to take away: 'Your work is encouraging like a drunk girl in a nightclub toilet,' is one memorable line from Hackett. The floor, meanwhile, has been painted by McGurn (The Party, 2018), creating a riot of messy colour.
It's in the next, main gallery space that we get a clearer sense of Krumbachová's creative output. Turn left and there's a wall full of her beautifully drawn costume designs and a table strewn with reading matter from her archive; turn right and the designs are brought to life in clips from 14 films she worked on, presented on five separate screening loops. Hanging from the ceiling are tree branches wrapped in fabric and newspaper, part of an installation by ACID PRAWN titled The Murder of Mr Devil Kitchen Shelf (2018). A freestanding shelving unit features books, cooking utensils and sacks of raisins. There's more to read – script ideas, song lyrics – on a long wall-mounted desk. On the wall are her drawings, film stills and Polaroids, and positioned throughout the gallery are five monitors playing short videos by Meduna that feature the artist as Krumbachová, exploring with wit her life and character.
Where to finish? Perhaps to say that this exhibition feels like a beginning. And that, as her archive evolves under Are's direction, recognition of Krumbachová's work surely deserves to grow.
'A Weakness for Raisins: The Films & Archive of Esther Krumbachova' runs at CCA Glasgow at 27 January 2019. 
Main image: Film still of Marek Meduna as Ester Krumbachova. Courtesy: CCA Glasgow; photograph: Alan Dimmick