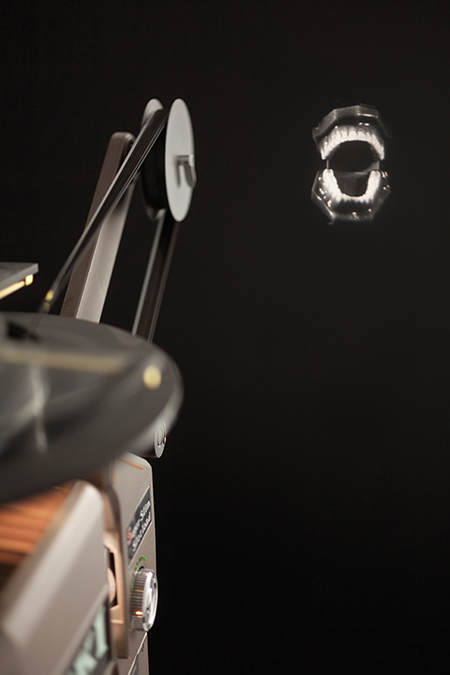 The first part of the title of Damir Očko's exhibition 'Studies on Shivering: The Hunt', which inaugurated Warsaw's Kasia Michalski Gallery earlier this year, referred to the Croatian artist's survey show at Künstlerhaus Graz in early 2014. Here, however, rather than making his film TK (2014) the centrepiece, Očko, who is representing Croatia at the Venice Biennale this year, chose to exhibit a series of works conceived as preparatory studies or as parallel explorations in a variety of media.
To be sure, Očko's works all reference TK – an austere, slow-paced, high-definition video that cuts between shots of four, almost-naked men in a misty winter landscape outside of Zagreb, and the hand of a man suffering from Parkinson's disease struggling to write passages from Očko's own poem, which we hear in voiceover. But none of this was included in the Warsaw show – at least, not directly. Instead, the first work on view was a series of nine collages ('TK', 2014) featuring the text of Očko's poem, surrounded by geometric, oscillator-like shapes inspired by TK's soundtrack, along with instructions on how to perform it. 'Numb and silent', read the first line, and this is exactly how the works seemed – visually dynamic yet mute.
This almost palpable silence was soon broken by a disquieting sound coming from two loudspeakers placed on tall plinths, filling the gallery with a gradually intensifying, high-pitched tapping (Study on Shivering No. 5, 2014). This 'tk' noise – a sound the artist has often referenced – is a phonetic representation of chattering teeth, or stones as they clatter to the ground. In an adjacent room was Study on Shivering No. 4 (2013), a 16mm-film of the ghostly apparition of a set of animated, chattering false teeth.
Očko's practice brings to light the ways the human body is confined by social regimes and modes of expression. His 2010 video The Moon Shall Never Take my Voice starred a deaf female performer interpreting songs that were originally written in English, then translated into German and then into a shorthand for German Sign Language. 'Studies on Shivering' is a similar effort, teasing out a bodily reflex triggered by deprivation: of warmth, as with the men in the woods, or physical capacity, as in the case of the man writing the words of the poem. In each instance an individual faces a condition that imposes physical limitations. In the Warsaw instalment, however, Očko went even further.
Scattered across the gallery were black and white photographs (Untitled, 2014) taken on the set of TK. There, amidst snow-covered fields, a group of dark silhouettes carrying film equipment followed the nearly nude men. You could sense the cold; my own teeth almost began chattering involuntarily. But, aside from the landscape, the photographs were obscure – the faces of the film crew were either turned away from the camera, or had been torn from the surfaces of the photographs, like someone had unsuccessfully tried to remove a price tag from a record cover. Other works were more obscure still, resembling old, fatigued posters on advertising hoardings.
In one of these photographs we see the artist, partially covered by a black rectangle: to the right is a young man, his fists clenched in the cold; to the left are two more men, pointing the camera at the nude. But, affixed to the surface was an intriguing detail: a tiny shard of mirror in which I noticed my own reflection. This was the missing piece in the whole seemingly disjointed exhibition. Suddenly, it became clear that 'Studies on Shivering: The Hunt' implicated Očko himself in the 'study on shivering'. A study, he seems to say, is never innocent but, once you realize this, it is nothing less than a hunt.