Do They Know It's Not A Documentary?
The telling literalism in Western reviews of China's summer blockbuster hit
Wolf Warriors 2 (2017), written and directed by Wu Jing (who also takes the lead role), is the most successful movie in Chinese history. It's made USD$800 million and counting in China, since its release on 27 July. The protagonist Leng Feng (literally, 'Cold Wind' in Chinese) is a former soldier who's been dishonourably discharged. When we meet him, he's living in exile in Africa (the dialogue refers to the setting only as 'Africa'), where he spends his days importing Chinese groceries, playing beach soccer, and challenging the locals to drinking competitions. (There's prominent placement for the Chinese liquor Maotai baijiu.) But a civil war interrupts Leng's decadent lifestyle, and he activates into hero mode. First, he evacuates his African child sidekick and a group of Chinese ex-pats from the warzone. Then, he proceeds to rescue a hot female doctor, a child whose DNA holds the cure for a flesh eating disease, and a factory staffed by African and Chinese workers.
The enemy here is a group of mercenaries hired by rebel forces. They're pretty hip: a diverse group of English-speaking guns for hire. They have braids and mohawks, inexplicable Palestinian scarves, and ridiculous names: Big Bear, the hulking Russian; Athena, the woman; and Big Daddy, the white, American leader.
The movie feels like a standard, dumb summer tentpole: it's too long and farfetched; the characters never become more than sentimental caricatures; the script serves only to move us to the next plot point, or else bait the audience. Bait the Chinese audience: 'You think United States marines are the best in the world? Where are they now?' Leng says while escaping the rebels. 'People like you will always be inferior to people like me. Get used to it,' the white villain Big Daddy tells Leng, when he appears to have the upper hand. 'That's fucking history,' Leng shouts as he bursts into action, apparently energized by the prejudice. 'I guess the Chinese military isn't as lame as I thought,' Big Daddy concedes, when the Chinese navy launches a series of missiles that miraculously take out only mercenary forces and spare the civilians.
You can almost see the fist pumps. The film seems tailored for a Chinese audience raised on American fast food. Wu Jing enlisted Sam Hargrave, action coordinator of Captain America: Civil War (2016), and the underwater photography team of the Pirates of the Caribbean series. The action sequences combine highly choreographed hand-to-hand combat – a Chinese speciality – with grand-scale Hollywood explosions and carnage.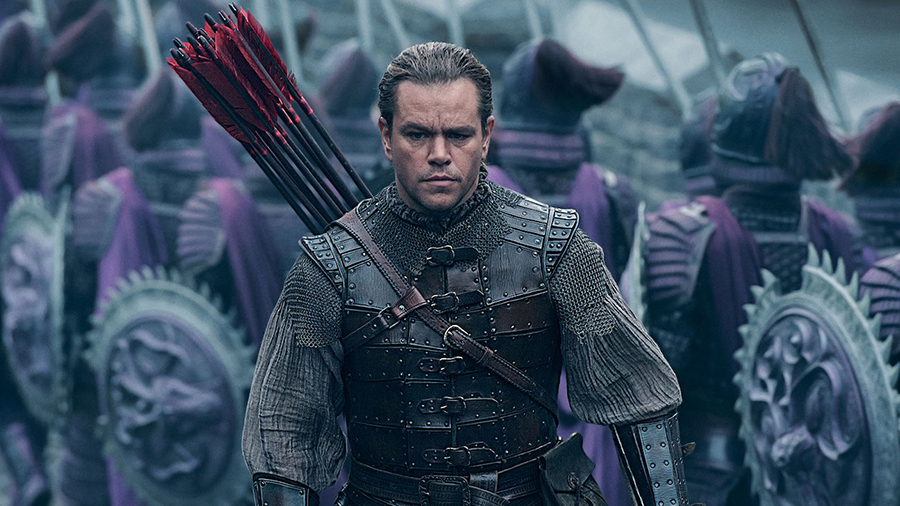 Hollywood is understandably threatened by Wolf Warriors 2's success. 'Hollywood is suffering its worst-attended summer movie season in 25 years,' a report in the Los Angeles Times bemoaned. For years, American movies that bombed domestically got bailed out in China. It's a critical and financial flop? Dump it in China. China is where garbage is converted to gold. China has a limitless appetite for tired franchises, unnecessary remakes, and disgraced movie stars. China is where the studio embarrassments go to save face, where cynical cash-grabs can be extended at least a few more weeks. This year, the Chinese box office bailed out Pirates of the Caribbean 5 (2017), Transformers 5 (2017), and the Tom Cruise-starring The Mummy (2017). 'That's pretty much run its course, too,' the media analyst Doug Creutz told the Los Angeles Times.  What happens when the safety net goes away? Consider The Great Wall which came out earlier this year, looking like an act of desperation. It employed mainland China's most esteemed filmmaker, Zhang Yimou; Chinese stars, Jing Tian and Andy Lau; and, of course, Matt Damon. It was the biggest Chinese-American co-produced film, openly targeting the world's two largest film markets. The result? An underperforming film with mixed reviews that satisfied neither audience.
Cue the entrance of a Chinese solo venture that cuts Western studios out of its payday: Wolf Warriors 2 is drenched in 'full-throated nationalism,' according to a review in Variety, or 'ultra-nationalism,' a Forbes commentator says. 'Hyper-nationalistic,' according to the Los Angeles Times. Reports and commentary in the New York Times, Salon, and the BBC go a step further – juxtaposing film analysis next to statements from China's actual president Xi Jinping. One op-ed in Quartz even interprets China's foreign policy through Wolf Warriors 2 – comparing the plot to recent events in Djibouti and Libya – and writing, 'if film historians of the future examine Wolf Warriors II, they are likely to view it as a reflection of China's growing confidence and assertiveness.'
They know it's not a documentary right? Analyzing a cinematic plot is no substitute for actual reporting. And the content of a movie cannot be mapped neatly onto the film-going audience's actual desires, moods, and lives. Similarly, this year's Guardians of the Galaxy Vol. 2 doesn't point to NASA's expansion plans and the television series Game of Thrones doesn't forecast a modern, relaxed attitude towards incest. The countless think-pieces devoted to Western entertainment consumption point to a discerning American audience capable of compartmentalization, enjoying high and lowbrow pleasure, and perceiving irony.
But with their reporting of Wolf Warriors 2, these same media outlets seem to assume that Chinese filmgoers have no capacity for figurative thinking, or appreciation of other cinematic pleasures (the muscles, the explosions). In actuality, these journalists reveal their own literal thinking. Hyper-literalism, ultra-literalism, full-throated literalism, if you will.
It's troubling that Western media commentary does not extend to Chinese audiences the same agency that's assumed in Western audiences in their pop-cultural consumption. It suggests a one-dimensional understanding of Chinese moviegoers, and perhaps by extension, of Chinese people in general. Just last year, Chinese moviegoers meant easy money. Now, they're the Yellow Peril. Chinese people are understood as caricatures, just as they are frequently portrayed onscreen in Hollywood movies.
Wolf Warriors 2 doesn't offer originality. It recycles Western film tropes – but everything once heroically American is now Chinese. It continues in the distinctly American genre of patriotic movies – for every movie about the horrors of war, Platoon or Apocalypse Now, there's always a queue of Rockys and Rambos. Emerging from the clouds of dust and blood, it is uncanny to watch an Asian saviour step in front of the lens, instead of a white one, to see China's red flag beating against the wind, instead of the tattered stars and bars. 
Main image: Wu Jing, Wolf Warriors 2, 2017, film still. Courtesy: Cine Asia; CMC Pictures