'Dorothy Towers': Uncovering Birmingham's Queer Heritage
Angel Lambo speaks to frieze Assistant Editor Sean Burns about his documentary film profiling the community and architecture of two legendary residential blocks
Clydesdale and Cleveland Towers – two residential blocks in Birmingham – have been a skyline staple since construction was completed in 1971. Owing to their proximity to the city's historic Gay Village, the twin buildings were colloquially rechristened Dorothy Towers because of the high proportion of gay men who lived there. From the AIDS crisis of the 1980s to redevelopment proposals that currently threaten the culture of the local area, the tower blocks have been witnesses to Birmingham's queer history. Angel Lambo spoke to artist and writer Sean Burns about his documentary film profiling the community and architecture of Dorothy Towers.
Angel Lambo How did growing up in Birmingham inform the production of Dorothy Towers [2022]?
Sean Burns I certainly think my knowledge of the city underpins the project. There are people in the film I've been aware of since I was a teenager; for example, a nightlife performer called Twiggy, whose drag is otherworldly. I have a deep engagement with what goes on in Birmingham but, equally, since I have lived in London for the past decade, the project is also about viewing things from a critical distance. 
AL How did you go about building relationships with local residents?
SB When addressing such personal – and often traumatic – stories, it's essential to gain people's confidence and trust. I've been talking to some residents of the towers for nearly two years about this project. The whole process has been a tremendous learning experience in both artistic and practical terms. It has raised ethical quandaries about coming into a space and representing it in a certain way, but it's important to not be overwhelmed into inaction.
AL Did you have an intended audience for the film in mind?
SB There's an interesting question around what happens when you take a story about queer people and make it universally accessible. I'm interested in how that process raises ideas of legibility. I want to retain the complexity of this history – rather than package, simplify or stultify it – so the film is for anyone invested in engaging with nuance.
Dorothy Towers is also about understanding the city. It's a place with many layers, particularly architecturally. Herbert Manzoni, the city engineer tasked with redesigning Birmingham after World War II, was obsessed with the car. There are many shots in the film taken from the perspective of a moving vehicle. The car is fundamental to the city – both in terms of industry and in how it's navigated.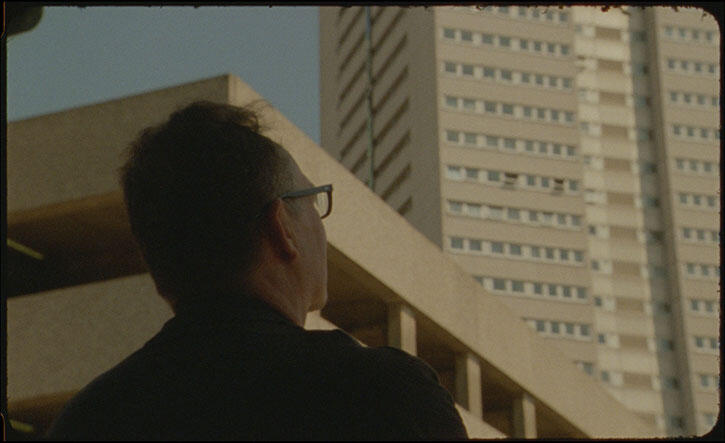 AL When I looked up the towers on the Pride of Place map – an ongoing, crowdsourced Historic England initiative launched in 2016 that identifies important landmarks of LGBTQ+ history – they weren't listed. Nor were many other sites across the city. Why does so much of Birmingham's queer heritage remain untold?
SB One of the key things to say here is that this is a predominately working-class history. We're not talking about the Bloomsbury Set. So, that's one reason, perhaps, why these stories aren't often celebrated. On a related note, shockingly the UK Aids Memorial Quilt does not have a permanent home. Earlier this year, Pride House Birmingham put sections of the quilt on display in the city. Ordinarily, however, this hugely important work of folk art lives in bags in someone's house.
But I also want to point to the many amazing things happening in the region today: performer and producer Fatt Butcher runs an accessible sober party for queer people (Mobilise); artist and writer Owain Harrison, who has contributed a brilliant text to this project, hosts an inclusive queer sex party (Temporary Cruising Zone); there's a vibrant drag community; and enough money has been raised to produce a permanent Birmingham HIV & AIDS Memorial, spearheaded by community organiser Garry Jones, which will be unveiled later this year. The film's inaugural screenings are being held at the Birmingham non-profit arts space Vivid Projects. I'd like them to be places where people can meet.
I want Dorothy Towers to inform people about the experiences of the queer community in the 1980s and '90s, to hear real stories straight from the mouths of those who lived through it. My project as an artist and writer is about creating a continuum and thinking about the role of the past in the present. Dorothy Towers is about the experiences of people who are not well remembered and about viewing architecture as a material container for those stories. Not in a way that weighs us down, but one that enlivens the present. 
AL Are there any anecdotes that particularly stand out?
SB One resident, Billy Gibson, saw a television being thrown from one of the towers which landed right in front of him. There are also incredible stories of parties being brought back from clubs and of people having relationships between floors. There are some very positive stories – not to mention some harrowing ones.
AL During the height of the AIDS/HIV crisis, the towers were vilified in some British tabloid newspapers. Despite this, gay men continued to move into the buildings like a refuge. 
SB When the buildings were completed in 1971, the idea of city-centre living, for better or worse, wasn't what it is today. As social housing, the site was appealing to gay men, in particular, as it's proximate to the scene. People wanted to live amongst their friends for all the reasons we might want and need that.
The whole film is full of dichotomies. You have these brutalist, 31-storey buildings housing characters steeped in the most transcendental glamour. It's also a marriage between image and artist Leo Francisco's music. The towers are surrounded by a warren of 1960s pedestrian underpasses, so you get this sharp contrast of high and low. The cars are elevated, where the people ought to be.
AL Where does the queer spirit of the towers live today? Are current residents even aware of the history these building hold?
SB There are hundreds of flats, so I'm keen not to reduce the buildings to a single narrative. It's not exclusively queer people, and the demographics have changed quite a bit. I'm interested in how history resides in the fabric of the space in an unannounced way. Dorothy Towers was shot in 16mm because, for me, this project is also about material memory. Having something physical was vital because it is so collegiate with the ideas and alchemy behind the film.
Sean Burns's Dorothy Towers will screen at Vivid Projects, Birmingham, on September 23, 24 and 25. To accompany the screening, Intervention Architecture, a local design studio, will mount an installation that references the design of the tower blocks. Burns will be in conversation with artist and writer Cathy Wade on Sunday 25 September.
Main image: Sean Burns, Dorothy Towers, 2022, 16mm still. Courtesy: © the artist and Vivid Projects, Birmingham