Featured in
Edi Hila: the Albanian Painter of Postwar Communism and its Aftermath
Discovering the painter's complex, intimate documentation of recent Albanian history at the National Gallery of Arts, Tirana
For many people, including me, documenta 14 was the first opportunity to experience the work of Albanian artist Edi Hila. Hila's symmetrically composed oils from his 'Boulevard' (2015) series – haunting renderings of Albania's landscape and architecture in a uniformly reduced colour palette – were displayed in documenta's two locations. It was only after seeing the same canvases as part of a much larger solo presentation in Tirana, 'Edi Hila: Painter of Transformation' – the artist's first retrospective in his home country – that it became apparent to me how shallow my understanding of the work had been one year prior.
The revolution that followed dictator Enver Hoxha's death in 1985, and the regime's subsequent collapse, brought about a difficult period of transformation in Albania. The specific experience of postwar communism and its aftermath was documented by Hila, who later became an influential professor at the National Academy of Art in Tirana and developed a unique, flat style of rendering space and shapes. The exhibition, containing works dating as far back as 1972, was curated by Joanna Mytkowska and Kathrin Rhomberg together with Erzen Shkololli, for his first exhibition as director at the National Gallery of Arts. Most of the works are supplemented by brief, descriptive labels providing commentary on their historical context, quoted directly from the artist.
The museum also enlisted Büro Meyer-Grohbrügge to design the exhibition's architecture. This subtle intervention – in which sheer construction gauze was wrapped on wooden framing that reached from the ground floor up to the first, extending and closing the open ledge that looked down on a central platform – complemented the works on the first floor. These depicted scenes such as landscapes in Albanian peripheries, which embodied the struggle to stabilize society after communism. It also sealed off the works in the central space on the ground floor, which contained drawings, paintings and graphic-design pieces by Hila following his imposed exile to the south, where he was ordered to labour as a sack hauler in a poultry factory from 1974–78, after his work was found to bear Western influence. One vitrine groups works under the heading Southern Sea, Return to Oneself (1972–89); it includes a drawing (Sunbathing, 1986) from a sketchbook of a beach scene in which a woman, presumably Hila's wife, lies nude on the sand on an adjacent towel enjoying the sun, with mountains and other silhouettes in the background. For these works, Hila's commentary, which connected almost every work or series in the exhibition, is especially poignant: 'The seaside village in the summer was the only place where you could escape from reality. I drew moments free of stress.'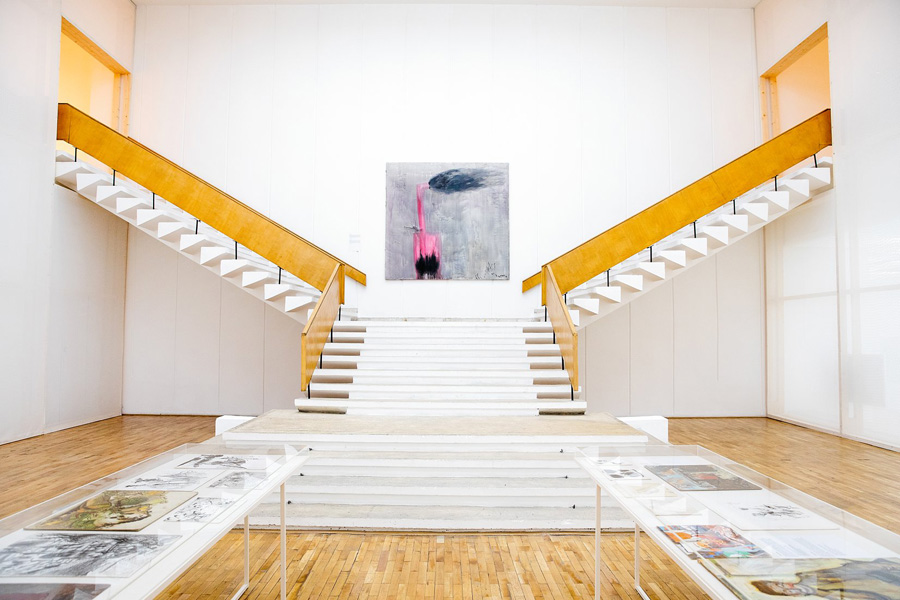 Another vitrine, titled Propaganda (1974–88), includes work made by Hila concurrent to his subsequent job, working in the city decoration unit, where artists were mandated to illustrate party messages. In the small, vibrant ink and tempera drawing Slogan Production (1978), a painter in the foreground, back turned towards an easel in front of him, looks out at a scene of destruction, piles of banners ablaze in front of backdrops of floating figures' heads. The works in these vitrines varied greatly in style from each other as well as the approach Hila would later develop from the 1990s onward. By centralizing and enclosing this important part of the artist's development, the exhibition demonstrates the complexity of life under political uncertainty and change. Through his depiction of the freedom that followed the communist regime, Hila's commitment to realism also captured the insecurity and fear that coloured everyday life. 'Painter of Transformation' is organized neither thematically nor chronologically but, instead, forms an afterimage: an impression of Albanian history composed of stark scenes and portraits just removed from reality through the artist's reduced tones and details.
'Edi Hila: Painter of Transformation' was on view at the National Gallery of Arts, Tirana from 24 May until 29 July 2018.
Main image: Edi Hila, The lab of slogan production (detail), 1988, aquarelle, tempera, ink, 29 × 23 cm. Courtesy: Museum of Modern Art, Warsaw