Gallery Climate Coalition Is the Green Conscience of the Art World
The initiative's 2023 plans promise to make industry leaders of art institutions and practitioners working to mitigate the effects of climate change
Gallery Climate Coalition (GCC) is an international charity and membership organization working to reduce the art sector's carbon emissions by at least 50 percent by 2030, in line with the COP 21 Paris Agreement. Founded in October 2020, GCC is comprised of hundreds of galleries and art professionals around the world who believe an industry-specific response to the unfolding climate crisis is a matter of urgency. GCC's strategy is to raise awareness, promote zero waste practices and provide resources for members to effect meaningful change. But going into 2023, GCC will focus more on lobbying groups and ensuring that tangible action is taken. Frieze associate editor Angel Lambo spoke to Heath Lowndes, co-founder and director of GCC, to find out more. 
Angel Lambo What are the biggest successes to date for Gallery Climate Coalition?
Heath Lowndes There are milestones that we can celebrate, but we won't be able to say whether GCC has been a success until 2030, which is when our targets are set for. However, our biggest win to date has to be growing from a small group of volunteers in London to becoming a charity with over 800 members around the world, committed to urgent action in line with principles of environmental responsibility, decarbonization and reducing waste. 
Another big win was our auction series Artists for ClientEarth with Christie's in 2021. We raised in excess of six million dollars for ClientEarth, an environmental law charity, selling donated artworks by Cecily Brown, Antony Gormley, Rashid Johnson, Beatriz Milhazes and Xie Nanxing. 
AL GCC recently announced the launch of Active Memberships. How is this different from the current membership model? Is it your way of combating greenwashing?
HL We have targets and commitments, which all prospective members agree to when registering, but simply signing up to the coalition doesn't guarantee these actions will be taken. [From Spring 2023, Active Memberships will mean that members must have completed a carbon report within the last two years, established a Green Team, and published an environmental responsibility statement.] The initiative marks the evolution of our strategy from raising awareness, building a community and sharing resources, to focusing on near-term tangible action. 
Greenwashing has been a concern but that's not the only reason why we introduced the scheme. We're trying to motivate with positivity, celebrate the actions that are being taken and incentivize those who haven't got started just yet.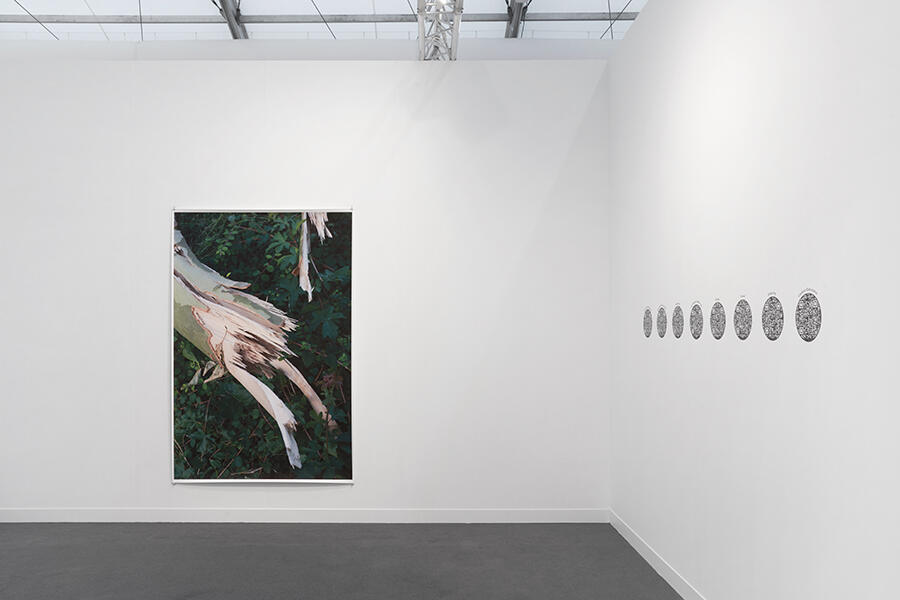 AL What is behind most of the emissions in the art sector? 
HL In 2019 before launching, we commissioned our fantastic environmental advisor Danny Chivers to do full carbon audits of some of GCC's founding members: Thomas Dane Gallery, Kate MacGarry Gallery and Sadie Coles HQ. From that initial research phase, it was clear that up to 95 percent of emissions for most arts organizations comes from just three sources: individual travel, freighting artwork and grid energy consumption. Things like local transport, publishing and packaging materials account for the rest. 
From those audits and the subsequent carbon reports our members have completed via our online carbon calculator, it is clear that for a typical commercial arts organization shipping artworks will likely be the largest single component of annual emissions. This is why we launched the Sustainable Shipping Campaign earlier this year. We've been collaborating with shippers, insurance companies, galleries and artists to build campaign targets and actions. Part of that included lobbying the insurance sector to adapt their policies on artworks going via lower emission methods such as sea freight, which has significantly less emissions than air.
AL But transporting work by sea is so slow. Is the art world ready for a change in pace? 
HL What you just identified there is our biggest obstacle. We keep coming up against it and it's not even a technological obstacle. It's a social obstacle. It really requires people to adapt their ingrained behaviours. There's an expectation that clients should receive artworks immediately, even if it's going into storage. Some elements of the art market are treated like a luxury service. We need to change that. 
AL In light of protests by Just Stop Oil and Extinction Rebellion in various galleries this year, why does it feel like it's up to the art world to save the planet? 
HL I don't think it's a new thing. There are historic precedents for that, especially in times of social change. Art can raise awareness of issues, engage audiences through storytelling and inspire action. This sets it apart from other sectors which might be much more polluting, like agriculture, construction or even fashion. We know that art alone will not solve the crisis but what it can do is set a precedent. I think it's quite unfair on artists that they are expected to be the torchbearers of social change but maybe that comes with the territory.
AL How have your members been dealing with the global energy crisis?
HL Non-profits, in particular, are facing a very tough winter. Where shipping is likely to be the main source of emissions for commercial organizations, it's grid energy consumption for non-profits, and most of that is associated with climate-control systems used in collection management. So this is an important issue for us. 
Earlier this month we partnered with Ki Culture to put on a two-day online conference on the issues surrounding climate-control systems. The regulations governing them were set in the 1950s and collection managers are still largely tied to these antiquated, irrelevant standards, which means they basically keep art in a fridge regardless of what the object is or where the collection is housed. It's very energy intensive and therefore both expensive and associated with lots of emissions. After speaking to a few institutions, some are spending more on their energy bills than they are on their exhibition programs, which is crazy.
AL What can regular people do? Should we start boycotting galleries and art institutions like some activists do with fast fashion brands?
HL Boycotting is a powerful tool for forcing change, but GCC would rather advocate for cooperation and mutual support leading to collective action and systemic changes. However, if organizations continue to engage in environmentally damaging activities, inevitably, they will be vulnerable to criticism and protest. Any organization that wants to exist in the future has to take environmental responsibility very seriously. I think, increasingly, there will be reputational risk for organizations that are associated with excessive emissions or receive funding from organizations that profit from environmental destruction. It seems inevitable that it'll become a bigger public image issue in the future. But there isn't one single way to solve the climate crisis. We need a tapestry of responses. 
Main image and thumbnail: Founding committee of Gallery Climate Coalition. Courtesy: Gallery Climate Coalition