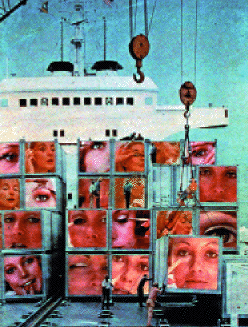 Mention the F word - feminism - to young women artists today and you're likely to clear the room more quickly than if you announced a Prada sample sale across the street. In a 1999 article in the New York Times (regrettably entitled 'The Artist is a Glamour Puss') sculptor Rachel Feinstein was quoted on the subject: 'All of these 70s feminist artists had to break through this territory in a violent way. Now we can make stuff about femininity and fashion.' In the same article painter Cecily Brown observed, 'My generation were born feminists. We don't have to keep proving it.' She has a point. In 1971 art historian Linda Nochlin analysed the lack of institutional support for women (among other issues) in her classic essay 'Why Are There No Great Women Artists?' Thirty years later artists including Cindy Sherman, Jenny Holzer and Barbara Kruger have all been the subject of major museum retrospectives.
These artists were included in the outstanding survey 'Gloria: Another Look at Feminist Art in the 1970s' at White Columns. Curators Catherine Morris and Ingrid Shaffner set out to combat the stereotype of feminist art as essentialist and humourless, while revealing that the precedent for much current artistic practice was set by first-wave feminists. In an intentionally revisionist strategy Morris and Shaffner eschewed the craft-oriented work produced by many artist of the period, such as Judy Chicago's epic installation The Dinner Party (1973-9) which was concurrently on view at the Brooklyn Museum. Instead they focused on video, photography and performance, with an emphasis on political action, sexually charged subject matter and self-portraiture.
Craft was embraced by many feminist artists because it signified women's work and the domestic, a subject that was addressed in 'Gloria' in works such as Martha Rosler's deadpan video Semiotics of the Kitchen (1975) - equal parts cooking show and murder manual. The curators excluded painting, sculpture and drawing, with the exception of a Nancy Spero collage, Codex Artaud (1972), and a sculpture of a leather-wrapped male head by Nancy Grossman, H.U.F. (1980). The latter invokes craft by way of mask-making, but with violent undertones and explicit reference to sado-masochistic sex.
In the 1970s, Feminist writer Gloria Steinem (one of the show's namesakes, along with actress Gena Rowlands who starred in the 1980 movie Gloria, Patti Smith's 1976 song of the same name and Archie Bunker's daughter) quipped, 'A woman reading Playboy feels a little like a Jew reading a Nazi manual.' But the artists in 'Gloria' disagreed, viewing sexualized self-representation as a way of wresting power from the male establishment. In one large black and white photograph a menacing Valie Export stares stone-faced at the viewer with
a machine-gun in her hands and her trousers unzipped to expose her crotch (Action Pants: Genital Panic, 1969-2001). In the original photograph for Lynda Benglis' infamous ad from a 1974 Artforum (a retort to a poster of Robert Morris decked out in S&M gear) the artist stands naked, holding a very large dildo. Viewers could also read an outraged letter from a group of the magazine's editors (including Rosalind Krauss and Annette Michelson) dismissing Benglis' gesture as 'shabby mockery'. (A pair of vitrines filled with archival material from publications to exhibition announcements to personal correspondence was one of the show's highlights.)
Another artist skewering pornographic conventions was Hannah Wilke, seen here in a series of six photographs entitled 'So Help Me, Hannah' (1978), for which she struck seductive poses in unlikely settings - above a toilet bowl, atop a generator - naked except for a pair high heels and the occasional toy gun. Ironic text superimposed on the images posed questions such as 'What does this represent?' and 'What do you represent?'. Across the gallery a poster of Wilke topless in a necktie warns 'Beware of fascist feminism'. The pioneering use of language by feminist artists was a salient theme of the show, introduced at the entrance in a grid of Jenny Holzer's Inflammatory Essays (1979-82). The piece originated as a guerrilla action, with Holzer plastering the pink posters in New York City streets. Carolee Schneemann's Interior Scroll (1975) combined text, performance and eroticism as the artist pulled a text from her vagina, reading as she went. A photograph (with typed text) was on view alongside the original scroll. By juxtaposing an explicit action such as Schneemann's with a mediated gesture like Holzer's, the curators forced a reconsideration of the relationship between seemingly peripheral 1970s artists and those canonized by the market place and museums whose roots are in the same revolution.