Featured in
Leila Hekmat's Descent into Madness
At Haus am Waldsee, Berlin, the artist's site-specific installation investigates the 'incurable experience' of being female
Consisting of a site-specific installation, zine and performance, Leila Hekmat's first institutional solo presentation, 'Female Remedy', affirms her reputation as a gifted director and exquisite maker committed to exploring societal definitions of madness: specifically, the connection between illness and women's sexuality, beauty and even their well-being. The artist has transformed Berlin's Haus am Waldsee into a hospital for what in the show's accompanying literature she calls the 'incurable experience of being Female', and although the exhibition struggles to capture what precisely the malady might be amidst such a broad claim, its accompanying performance and composite parts – costumes, script and music – convey the wonderfully dizzying spectrum of womanhood and make the compelling case that no remedy need ever be sought.
Hospital Hekmat (all works 2022), as the artist has rebranded the venue, is comprised of various treatment rooms and patients. Visitors wander through an infirmary lined with single cots, an operating theatre replete with a bed of nails, and a chapel collaged with historic clippings that range in their messaging from counselling self-help to seeking sexual satisfaction to decrying social indecency. Creating a strong aesthetic counterpoint to the lush, patterned curtains that cover almost every other wall, these visual clues emphasize the gaslighting to which women have been subject over the years as they encounter relentless calls to diagnose ailments and seek cures. In and between the rooms, immaculately costumed patient-mannequins stand and sit, in groups and alone. Through gestures and colourful face masks – pulled so taught over their heads that they might be holding them hostage – the mannequins appear at once individual yet expressionless, trapped in a state in which both feeling and logic remain elusive. Arranged against Hekmat's sumptuous decor, they also have the unintended consequence of making the space feel like a partially dressed theatre.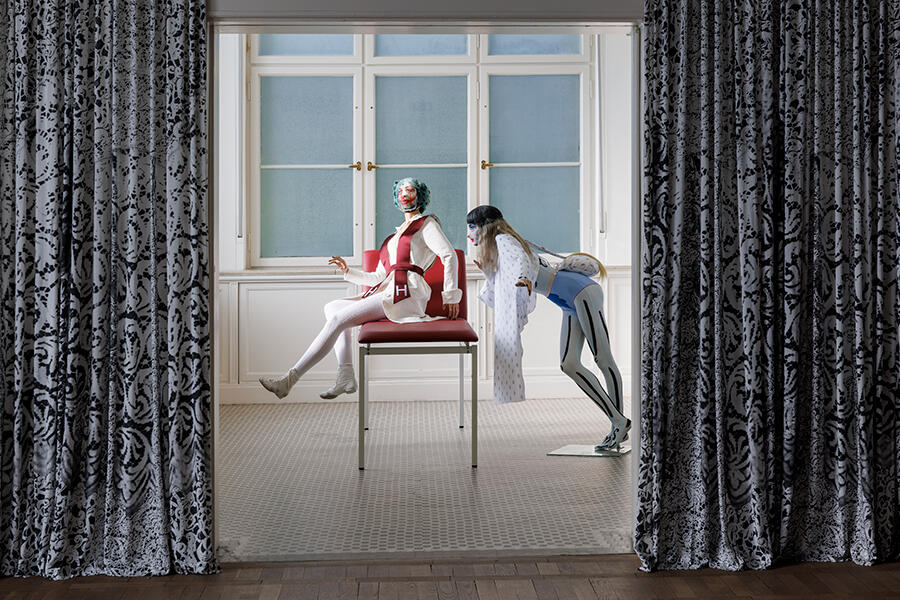 To that end, it's a missed opportunity that the artist's cabaret-style performance, Symptom Recital: Music for Wild Angels, is presented just twice during the show's three-and-a-half-month run, with most visitors only encountering a soundtrack of the performance played in the space. Hekmat's complex layering of experience and emotion is felt most keenly in the performance, in which the exhibition's unwieldy thesis on women is clarified as a carefully cultivated statement about the potential freedoms that may lie within hysteria. Inflected as much by 18th century Italian comic performances of opera buffa as by a reality-TV confessional, the 90-minute piece is raucous, intimate and acted by a brilliant cast, all of whom regularly collaborate with the artist. Love and sex are these characters' tickets into and out of the hospital wing they bring to life, their frequently shifting personalities presenting a campy, no-holds-barred politics. On stage, Hekmat's patients are, as the radical American feminist Vivian Gornick writes in her memoir The Odd Woman and the City (2015), 'divided against [themselves]. [They] both want to grow up and don't want to grow up; [They] hunger for sexual pleasure, [They] dread sexual pleasure.' Illnesses of both body and mind prove to be gateways to self-discovery or loopholes through which to avoid the broken logic of a decaying world.
Seen through the lens of its performance, Hospital Hekmat comes to life as a site for an important alliance between women and madness, women and pleasure, women and other women. It's an environment in which 1970s feminists such as Gornick might settle momentarily in their work to battle false dichotomies of the body and irrationality against mind and reason, and where, instead, a rich mix of erotic co-dependencies might glide joyfully and chaotically onwards into the dark night.
Leila Hekmat's 'Female Remedy' is on view at Haus am Waldsee, Berlin, until 8 January 2023.
Main image: Leila Hekmat, 'Female Remedy', 2022–23, installation view, Haus am Waldsee, Berlin. Courtesy: the artist and Galerie Isabella Bortolozzi, Berlin; photograph: Frank Sperling