For years, French author Michel Houellebecq's physical appearance has featured prominently in the media: long wispy grey hair, nicotine-stained fingers, hunched back. The Frankfurter Allgemeine Zeitung, for example, came up with the notion of 'the body as assault' to describe the unsettling quality of Houellebecq's bodily aspect: 'Among the billions of pictures of human bodies produced every day by television and other visual media, there is one body's image that doesn't seem to fit in.' The scrawny form of the bestselling author who 'refuses to play the game' – a body that 'is simply no longer distinguishable from its burden' resists the modern media imperative to look good. Publically refusing to conceal his physical decay, Houellebecq's own appearance is experienced by audiences as a form of aggression.
Something of this paradoxical aggression inhabits In Front Of (2015), the latest work by Berlin-based photographer Heidi Specker: a series of portraits exploring the fine line between flattering and unflattering portrayals, which elegantly takes leave of any prescriptive definition of beauty. For many years, Specker photographed of deserted, mostly modernist architecture. But there, too, she elevated architectural and urban photography to produce material and ideological studies. The history of street photography is built on observation of seemingly random social and architectural arrangements in public space. But Specker subverts this mode by training an infrared eye on her surroundings. Her gaze wanders through the city's surfaces, but without entirely negating this outer appearance: she photographs storefront displays, fake and real marble, distortions in panes of glass, light playing on asphalt and reflections in puddles (as seen in Re-Prise. 110 Photos de Heïdi Specker, Spector Books, 2015). 
In Specker's works, the city is a permanently changing and ephemeral constellation of shadows, colours and materials. She concentrates on the fragility and mutability of the material. In this way, for example by focusing on glass, liquid and shadows (as in her exhibition Re-Prise at Pinakothek der Moderne, Munich, 2015), she gives the viewer the feeling of 'looking through', as well as states associated with modularity. A benefit of this approach is that Specker's macro focus on urban features in her photographs highlights the universal qualities that are emblematic of all cities. We live in battered agglomerations, and Specker's pictures supply the anti-manifestoes and counterimages to today's often-repeated ideology of the virtual, 'smart' city and the sprawling, toxic visual debris of city or real estate marketing.
In Front Of also features this infrared gaze. For her first set of portraits (on show in an exhibition of the same name at Berlinische Galerie until July 2016) Specker invited friends and acquaintances into her Kreuzberg studio over a period of three years, shooting them with a digital camera in front of a bare wall – white at first, but later painted black – using a uniform, indirect flash. The resulting pictures look strangely casual, restrained yet concentrated at the same time. We see a woman on the phone in a squatting pose, several rear views, not much shadow, and not a single person looking directly into the camera. In some pictures in the series, the sitters are joined by a real Irish Setter and various animal likenesses: two comic-like painted pigeons, a stuffed pigeon, a cat T-shirt and a ceramic cat. And of course there are also references to art history: the Pollock drip pattern on a T-shirt, a Kippenberger 'shame' corner, frozen figures recalling Duane Hanson's sculptures, a repoussoir figure with a magnifying glass (a self-portrait by Specker), photographed pages of a Günter Förg catalogue, and a Renaissance portrait postcard from a museum shop. These references could almost be missed as they are discretely woven into the series of photographs in the Berlin exhibition and in its catalogue.
So are these anti-portraits? 'The grammar of the portrait is a grammar I haven't mastered,' Specker explains, 'but it soon became clear that I could do without certain things because I had already developed my own visual idiom. Since I didn't want to produce dramatic pictures, for example, there was no need for me to adopt dramatic staging techniques.' In this light, rather than calling Specker's previous work into question, the new series is more like a successful continuation on a different level. 
In her Berlin exhibition, Specker installed her series in a private-seeming space. 'I didn't find anyone on the street. My models are all people I know. It was clear to me that these people would eventually be sharing a space in the exhibition. A bit like at a party or event.' As a visitor, then, one stands in this strange, invented club, whose atmosphere seems a little enigmatic, fragile and morbid. The profane mixes with the peculiar, strangers and acquaintances come together in twilight and disappear again, as various types of distance and closeness emerge. Specker's work is a tableau of urban characters – showing their age, looking slightly vexed, marked by life, most of them over 40. 'Looked at positively, beyond a certain age people become wise,' says Specker. 'But that's something you don't see. It remains invisible.'
With In Front Of, Specker celebrates not youth but life afterward: a kind of class reunion of a greying 'Generation Berlin': people whose formative years were in the mid to late 1990s and early 2000s. This explains a certain serenity and coolness that is less a pose than a true demeanour. But the view does not learn much more about these people, as the pictures are titled only with the sitter's initials: C.W.M.W., A.K., B.W. Such anonymization fits well with Specker's repeated use of items of clothing as props: a fake beard, a wig, a pair of brown leather gloves. This introduces a dimension of comedy and play. Is this a way to resist the responsibility that comes with the work's slightly documentary quality? In any case, the isolated props seem to highlight the bareness of the photographed space, which resembles the bareness seen in historical photographs of conspiratorial apartments used by spies. Who are these people? What are they doing? Why are they doing it? Confusion and ambiguity are welcomed by Specker as diffuse noise and interference in the exhibition's narrative: 'There are pictures whose job is not to affirm what they show, but to question it: What am I looking at? What's this all about?' In this way, however, Specker imperceptibly links her portrait photography with the historical roots of the genre, since props, interiors and accessories were routinely used in historical portrait studios.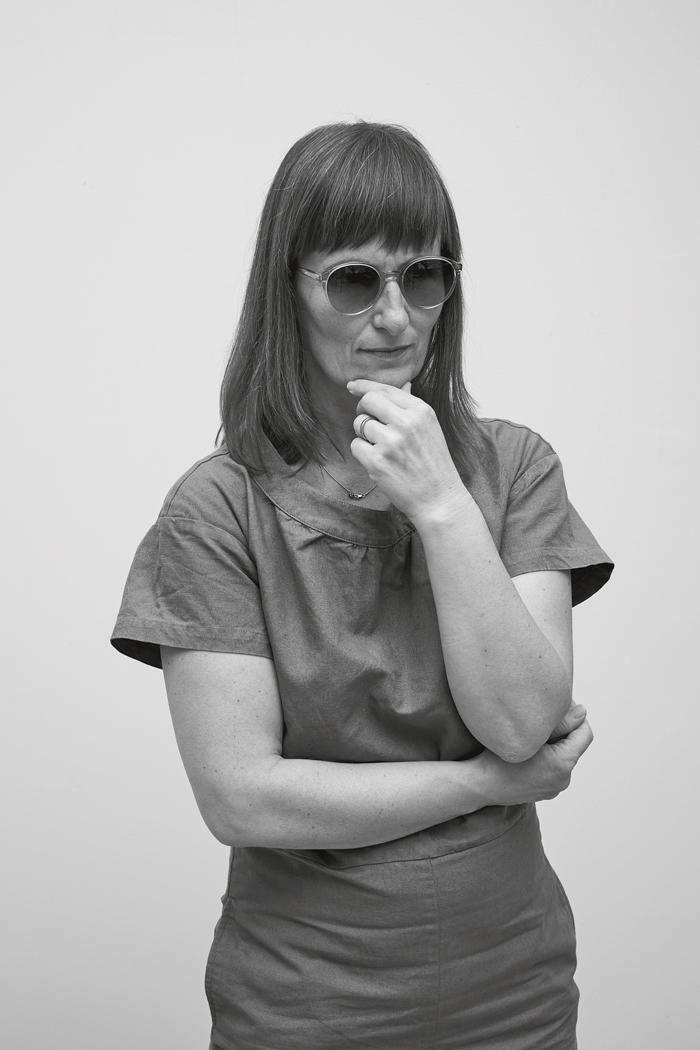 Both in terms of theme and presentation, Specker's current work addresses classical questions of photography, such as the polarity between black and white and colour, without pushing them too far to the fore. Some of the photographs are printed in colour, others in black and white and grey, while a third group of digitally collaged images feature both in the same photograph. The transitions between colour and non-colour are seamless and nearly imperceptible. The tone of these mostly earth-coloured monochromes – the chestnut brown fur of the Irish Setter, Liz Taylor's melon-yellow skin on a movie star postcard, the sepia brown leather gloves – lends the whole series a low-key, muted character.
Specker forgoes both filling out her scenes and styling her models. She presents them without added glamour, and if they have any stylishness to begin with – as they smoke or drink their coffee – then it is the slack coolness of the wasted and worn out, which for a few years, in Berlin at least, was something of a style paradigm. 'If you compared it to the theatre,' she says, 'it would probably be more like the Volksbühne in Berlin than La Scala in Milan.' In spite of this, the artist doesn't seek to expose her models. It is more about sounding out what is possible within the portrait genre and how these pictures relate to one another. The various personae are superimposed like the thinnest of layers. In today's world of ubiquitous, hyper self-portraiture, Specker's pictures look almost mannerist.
In her portraits, as in her photographs of architecture and objects, Specker searches for the paradoxical moment of controlled uncontrollability. In the context of a whole group of portraits, elements become increasingly complex. 'Of course I give each sitter their own portrait. But within the group as a whole, each individual occupies a place assigned by me. But in the way they show themselves during the sitting, they also assert themselves.' The gaze of the photographer seems just as important than the gaze returned by her model. They meet on equal terms. Sometimes they both look at an art postcard or the model's hands – in such cases, Specker takes her picture over the model's shoulder. 'When showing their hands, models look at themselves. This is a good psychological moment and an abstraction of what one may expect, as a model, from a portrait sitting.' By subverting well-rehearsed modes of looking and by making bodies visible in ways that are, paradoxically, rarely found in our image-saturated present, Specker develops a form of portraiture that reflects its own genre-specific conditions of production. And the disclosure of these mechanisms is the source of their singular aesthetic impact.
Translated by Nicholas Grindell