Holy Shit!
Released today on Semiotext(e), Holy Shit's album Solid Rain gets nostalgic for the freewheeling creativity of a pre-gentrification LA
Semiotext(e) is an avant-garde theory and fiction publisher, so why are they releasing their first ever album Solid Rain by the mysterious alternative band Holy Shit? The moniker belongs to Matt Fishbeck, who originally started making music under the name with fellow West Coast cult-musician, Ariel Pink. Fishbeck's offering with Semiotext(e), out on 27 May, is a set of 15 previously unreleased songs that swirl with psychotropic instrumentation, humming with a resigned yet playful depth. Hauntingly literary, it is rough and confident in its messy lyricism.
'It's a sad record,' says Fishbeck, on Skype from his Los Angeles studio. Recorded as he supported a friend and one-time bandmate through an emotional crisis, the album simmers with steady, careful wisdom. 'I realized that what I make is a private music … it's one-on-one music.'
To understand why the publisher of Julia Kristeva, Michel Foucault and William Burroughs is now releasing a record, let's rewind to 2006, when Janet Kim set up the gallery space Tiny Creatures as an anything-goes venue showcasing work from a loosely assembled collective of LA's freewheeling oddballs and art weirdos. Within its Echo Park space was an aura of frenetic, chaotic creativity. Matt Fishbeck was one of these artists, showing ink drawings, collages and prints at the space as it took its first drug-fuelled, DIY steps towards an exuberant, if makeshift, art programme. In 2010, Semiotext(e) editor Chris Kraus detailed the formation and dissolution of this scene – Tiny Creatures closed in 2009 – of ambitious and wildly creative friends in her 2011 book of essays Where Art Belongs, and Fishbeck is a central character. 'His work is so memorable and strong.  It became like a reference point. He wasn't pursuing practical concerns, or any particular career path – he was completely absorbed in creating and performing these songs,' Kraus told me, via email.
While this frantic energy lasted, Fishbeck was a cheerleader – for Tiny Creatures, for art, for the moment. 'It's a time when nobody slept. When you're up all night with people, you've got to do something and if you're not going to have sex, you're going to end up making something … It was orgiastic in the permutations of who would play together.'
Fishbeck's nostalgia is palpable – nostalgia for a moment just before the tide of gentrification that wiped out many possibilities for the voracious praxes and parties that LA's affordability had previous allowed. 'LA used to be cheap and it's just not cheap any more. There's no rampant creativity …' Fishbeck sighs, aware that his generous, if provisional, approach to making art is increasingly untenable. 'It's important to share what you know if you know it. To be miserly about culture is no fun – and it's certainly not creative.'
'I didn't set out to do a gentrification record,' he says. And yet it's there, on 'No Sweat', which is about a neighbourhood that feels like home becoming more expensive than you can afford. Meanwhile, 'I Wonder Why' asks why 'the sun don't shine like it used to/on everyone I know.' Things that used to be possible in LA just aren't any more.
Fishbeck describes himself as a 'footnote' compared to the other artists who rose to prominence out of the chaotically productive days from 2006–09. He's self-deprecating, but Holy Shit has collaborated with some of the West Coast's most well-known musicians: John Maus, Nite Jewel, Christopher Owens of Girls – previous members of his band number in the hundreds at the last count.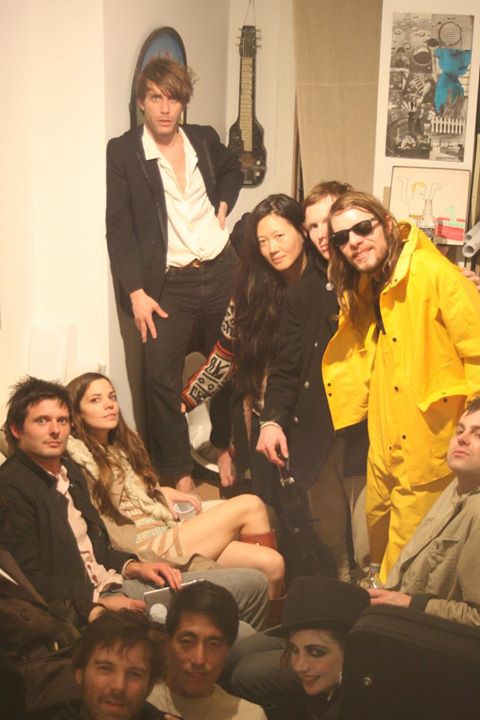 He describes Holy Shit, jokingly, as an 'academy' and a 'commune', that members pass through, once they start needing more payment than his own endless enthusiasm can provide. 'I didn't see that much difference between what we were doing and what the Dadaists were doing, or the Constructivists … who were doing what they were doing because of shared philosophies of life and art,' says Fishbeck. 'When there would be a Tiny Creatures event, I would insist that a photo be taken. I might fetishize the idea of the artefact because I understand posterity,' he says mentioning the untimely death of his twin brother. 'Everything that he owned takes on a presence in a way that I might not understand if that hadn't happened.'
It was over the manic period of Tiny Creatures' existence that Fishbeck met Hedi El Kholti – co-editor at Semiotext(e) along with Sylvère Lotringer and Chris Kraus – who became a big fan of Holy Shit. Further collaboration followed: an image of one of Fishbeck's sculptures is the cover for their reissue of Baudrillard's Fatal Strategies (1983; republished 2008); he co-edits the literary publication Animal Shelter (which he privately calls a 'sex journal') and worked on the publisher's recordings of Jack Smith for the 2014 Whitney Biennial. 'Putting out the record for us now that LA is rapidly changing into a gentrification nightmare is a way to acknowledge how important Matt has been to Semiotext(e) in the last 10 years,' says El Kholti. 'It's kind of a missing piece in that history.'
Although this is Fishbeck's second record in two years, his fourth in total, with another out later this year, and his records have always sold well, his music has not enjoyed the support of the mainstream music industry, perhaps because of the mystique that his project has always created.  'I think I have a weird reputation for being difficult,' Fishbeck says. 'It's all very clear to me, I don't know what's not clear to everyone else!' There's an intrigue that comes from pure disinterest in anything other that straight up intuition and sincerity. It isn't for everyone – but at Semiotext(e), it seems that Holy Shit has found an appreciative home. 'If I knew, ten years ago that I would have a record on Semiotext(e) I might have just retired then,' Fishbeck laughs. In fact, the more I talk to Fishbeck, the less surprising it is that his album is coming out on Semiotext(e). The only surprise is that it didn't happen sooner.
Holy Shit's album Solid Rain is released on 27 May by Semiotext(e).
Main image: Ariel Pink and Matt Fishbeck perfroming at a Fast Friends Inc. show, Los Angeles. Photograph: Eli Langer