How Cao Fei Predicted the Future
At the artist's first institutional show in China, real life slips into the shadows of a digital world seeking to supplant it
In February 2020, China became the focus of the world's media attention when a novel coronavirus was discovered to be spreading rapidly in Wuhan. In the early days of March, with travel to and from China restricted due to the COVID-19 outbreak, Beijing-based artist Cao Fei was uncertain whether she would be able to attend the opening of 'Blueprints', her solo exhibition at the Serpentine Galleries in London. Although she made it to the launch event, the show was forced to close just two weeks later, as the UK itself went into lockdown.
One year on, Cao is once again preparing for an exhibition – this time in China, where, unlike in many other parts of the world, most cities have returned to a normal pace of life. 'Staging the Era' at Beijing's UCCA Center for Contemporary Art marks the artist's first and, given her international renown, long overdue institutional solo show in her home country. Cao's multi-layered works – comprising photography, video, virtual reality and installation – address the rapidly changing social and technological landscape of China and its position as a 21st-century global superpower. In a recent Zoom call, the artist mentioned to me that she's been preparing for 'Staging the Era' for a long time: 'In the past years, my work has been shown quite extensively in the West and I received much feedback from that audience. Now, I'm very much looking forward to the responses of a Chinese audience as I believe they will relate differently to my work because – unlike Western viewers – the people here are very familiar with the contexts I address within my practice.'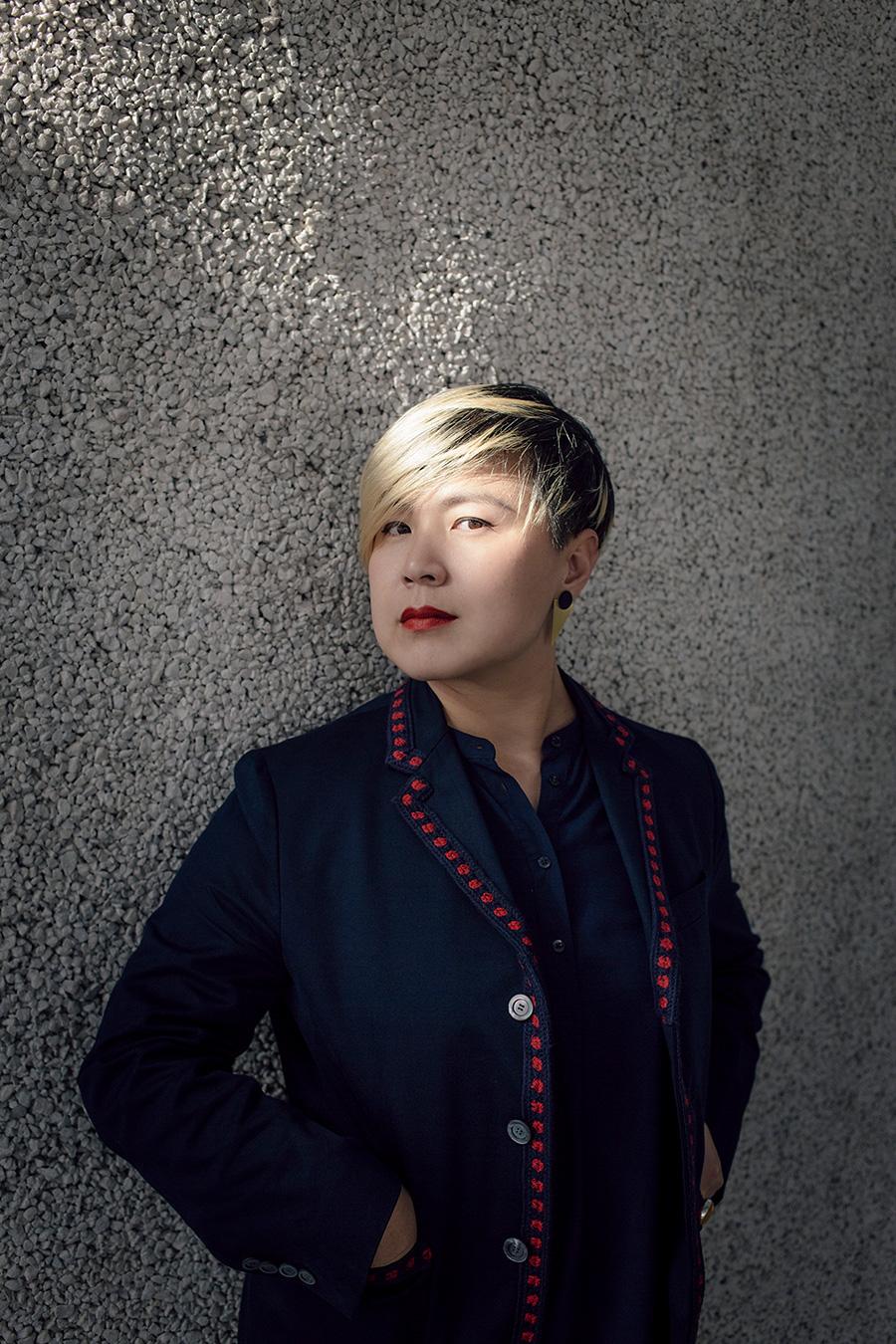 While she hasn't produced new work for the exhibition, Cao considers this an unconventional mid-career presentation. Works will merge with each other in the installation, so that each element of the show is perceived as part of a unified whole. This feels apt, since many of Cao's older works speak to our current reality. In RMB City (2007–11), Cao built a fictional city in Second Life, an online platform used to create new worlds or mimic existing ones. Named after China's currency, the renminbi (English: the people's currency), RMB City references the ideological framework of today's Chinese society, in which capitalism blends with communism. The city features re-creations of recognizable places, including the Beijing National Stadium, which Cao charged with new meaning by turning it into the virtual city's People's Park. 
When Cao began working on RMB City, she already sensed that it was just a matter of time until IRL experiences would soon be replaced with online activities and encounters. 'I don't really think that artworks can necessarily forecast future events but, as an artist, I'm very much interested in futuristic visions and how the perception of certain ideas can change throughout time,' Cao tells me. Ten years after she completed RMB City, we find ourselves meeting friends and family in the geometric grids of Zoom, or experiencing art through online viewing rooms and other digital landscapes. 'RMB City rehearsed what we are going through today,' she concurs.
Cao's interest in dystopian futures and the transformation of urban space is also at the heart of her film La Town (2014). Here, however, footage of a miniature cityscape diorama reveals its destruction by unknown forces, with collapsed buildings and piled-up cars left abandoned on the streets, as though the inhabitants have tried, and failed, to escape. Featuring a German supermarket, a McDonald's sign and a cinema screening Gone with the Wind (1939), the film's diverse cultural signifiers make it difficult to situate the city in time and place. La Town speaks to the destructive forces of globalization, which have seen urban areas across the world economically ravaged or transformed into universalized cities, with coffee shop chains on every corner.
When we speak about how the pandemic might change our understanding of internationalism, I ask Cao whether she thinks artists should produce more digital works, in case travelling becomes more difficult. She agrees. Most of her recent projects, such as The Eternal Wave (2020), are good examples of that shift. First presented as virtual-reality installation at the Serpentine Galleries, The Eternal Wave was turned into an augmented-reality work – accessible on any mobile phone – in collaboration with Acute Art, enabling audiences to experience it despite lockdown restrictions. 'As an artist, I always need to be thinking ahead of our present time and seeking the potential and possibilities of the future,' Cao tells me. When I ask her what that future could look like, she replies: 'I don't know yet, but I'm curious to find out.'
'Cao Fei: Staging the Era' will be on view at UCCA Center for Contemporary Art, Beijing, China, from 12 March – 6 June 2021.
Main image: Cao Fei, Nova, 2019, video still. Courtesy: the artist and Sprüth Magers, London/Berlin/Los Angeles